Commentary
Fantasy Football Index notably absent
Originally Published:
July 18, 2011
By
Jim Caple
| Page 2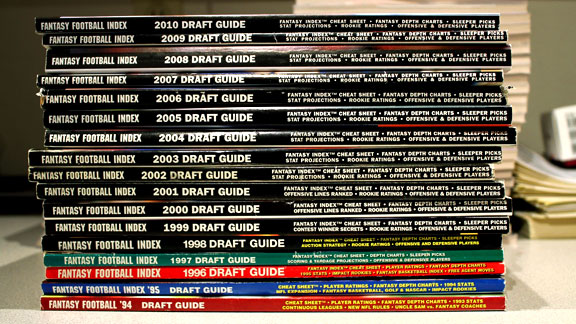 Courtesy of Bruce Taylor Fantasy Football Index won't publish its annual preview magazine for the first time since 1987.
If this were a normal summer, Texans running back Arian Foster would be peering at you from the cover of Fantasy Football Index magazine at newsstands and supermarkets across the country. But not this summer. The NFL is locked out, there is no Fantasy Football Index on the news racks, and this is how the whole miserable situation feels to co-owner Bruce Taylor: "There's a locomotive that may hit me or it may not. We're tied to the train tracks and Dudley Do Right is nowhere in sight. Will the train stop? I hope so."
All the signs point to the train stopping with a contract settlement between the owners and players soon (perhaps this week), but then again, if logic entered into the equation, the owners never would have locked out the players in the first place. They did, however, which meant Taylor and partner Ian Allan did not publish Fantasy Football Index this year, the first year the magazine hasn't been published since Taylor and Allan started it in 1987. Allan said they just didn't feel comfortable putting out a magazine when there were so many roster unknowns.
"We made the decision probably the third week of May, for a number of reasons," Taylor said. "We printed 430,000 magazines last year. When you print 430,000 200-page magazines, that's a lot of paper. That's multiple train cars of paper. And it has to be specially milled for you. It's not like guys have multiple train carloads of paper sitting around for you to buy. So there are all sorts of questions. Are they going to solve this? And when? How long will they have to sign free agents when they get it solved? Will there be enough time to get the magazines printed and in the stores?"
Other magazines dealt with the issue as best they could as well. A couple published as usual. ESPN is not publishing its fantasy magazine this year. RotoWire has a 2011 magazine, but it is not available on newsstands and must be special-ordered. "This cottage industry has really gotten beat up by the NFL," Taylor said.
Full disclosure: Taylor and Allan are old friends of mine. We met while working at the University of Washington student newspaper. We played football in all weather in front of the communications building, breaking windows with our errant passes. We also shared the same filthy house in the U District the summer Taylor and Allan started Fantasy Football Index.
I had spent one year working for a magazine at the time, and with my considerable experience and wisdom, I warned them they were making a huge mistake. It was just too difficult to get a magazine printed and displayed on the necessary racks. Besides, how many people were so obsessed with fantasy football that they would buy a magazine telling them what players to draft?
Fortunately, Taylor and Allan didn't listen. Instead, they sneaked into the UW computer labs at night to work up their first magazine, then paid to have 20,000 copies printed. I still remember the stacks of magazines filling our living room. Twenty-thousand magazines is a lot of magazines.
"We were so dumb," Taylor said. "Remember how you left a couch in the bushes when you moved out of that one house? When we moved out, we left about 20 cartons of magazines in the basement. But we had printed the address of that house in the magazine as our business address. After we had been gone four or five months, I went back to ask if there was any mail for us. And the guy there said, 'I just threw out a big stack of mail for fantasy football.' That was the first inkling to me that this idea could work."
Yes, it did. So well that Fantasy Football Index is the oldest and best-selling fantasy magazine (not counting Playboy or Maxim), and Taylor and Allan not only have been able to make a very good living printing FFI, but they have been able to provide full-time employment -- including medical coverage -- to five others as well. (I even wrote for them for a while.)
Make that four employees now. They recently had to lay off one worker due to the lockout, and Taylor says they probably should have laid off more. "But so far we haven't had the stomach for it. It's not like I'm some guy [at a giant media company] who can just lay off workers. We know these people."
Fantasy Football Index still has its website (FantasyIndex.com), and the magazine will return next summer (assuming the lockout is over). But Taylor says the company probably lost half its revenue due to not printing this year.
"It sucks. It totally sucks," he said. "It would suck more if I were a lifelong worker at GM and I was laid off from my last job I'll have, or if I was a great programmer who got laid off because the company could hire someone cheap in Bangalore. I'm not going to lose my house, and my kids are still going to go to college. But it's hard. It's hard to have millionaires and billionaires hit me over the head with a hammer.
"It's like one side says to the other side, 'You're stealing money from me,' and then punches ME in the face. And then the other side says, 'No, you're stealing money from me,' and they punch ME in the face, too. Hey, don't punch me -- punch each other in the face."
As angry as he is at the NFL right now, Taylor recognizes that "they did allow me to quit a job I didn't like and start my own business and tell off my boss with the knowledge that I would never have to work for him again. That felt good."
He's been through this sort of thing before. The NFL players went on strike the year Taylor and Allan published their first magazine and they survived that.
They'll survive this, too. As soon as the lockout ends (cross fingers), they'll crank out tips and analysis for the website. "We'll do an electronic thing as soon as they settle," Allan said. "It will be the same as the magazine, just electronic."
They hope they don't see another lockout for a long, long time. "I don't care who wins or loses," Taylor said. "I just want someone to win fast."
Jim Caple is a senior writer for ESPN.com. You can follow him on Twitter at jimcaple.