Commentary
Girl With The Vancouver Canucks Tattoo
Originally Published:
December 20, 2011
By
Jim Caple
| Page 2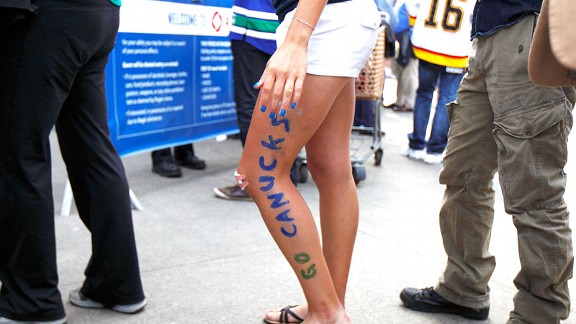 Jeff Vinnick/Getty Images
Lisbeth Salander exited the Kvarnen bar onto Tjarhovsgatan, started up her Yamaha WR250X motorcycle, sped down Gotgatan to Soder Malarstrand and raced at a recklessly high speed to Kungens Kurva. She parked her bike and entered the IKEA. Instantly her permanent bad mood became even worse. She knew she should have waited until after the Vancouver Canucks game but Salander always forgot how long shopping took at IKEA.Why does IKEA make you wind through the entire damn store when all you want is a simple microwave oven? It was maddening. She typed a reminder on her Apple iPad 2 to hack into the CEO's personal computer and drain the life savings from his bank account.
He'll be lucky I don't set him on fire as well if I miss the puck drop because I had to walk past endless displays of POANG armchairs, HEMNES lighting fixtures and packages of bland meatballs.
Her bad mood had worsened considerably two aggravating hours later when she finally arrived back at her 21-room apartment on the fashionable Sodermalm street of Fiskargatan. She plugged in the new microwave, popped in a Billy's Pizza from 7-11 and fired up her MacBook Pro with the quad-core processing to watch the Canucks game. Thanks to an off-shore computer embezzlement, Salander was a millionaire several times over but preferred to illegally access the live NHL feed for free on her computer. She cursed IKEA again when she saw the game had already started and the Canucks were trailing the Minnesota Wild 1-0.
She loved the Canucks. Salander had the team's logo of a fearsome orca tattooed over her shoulder, its teeth almost ripping into the dragon tattooed across the opposite shoulder. She often thought the Canucks were the only thing that offered her pleasure in what had been a difficult, frequently tormented life.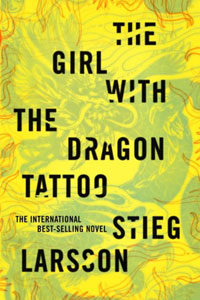 Norstedts FörlagThis book has inspired us to craft our own story.
Salander had grown up with an abusive father who regularly beat her mother, been unjustly institutionalized as a teenager, raped by her guardian, robbed and assaulted in a subway, shot in the head and buried alive by her monstrous father and her giant, evil half-brother who was unable to feel pain, and tried for a triple murder. But by far the worst thing she had ever endured was Vancouver's Stanley Cup loss to the Boston Bruins the previous spring despite leading the series 3-2. How do you give up eight goals in a Stanley Cup game!
It had been even easier for the Bruins to get past goalie Roberto Luongo than it was for Salander to slip past an international corporation's computer firewalls. She considered whether it would be better to hack into Luongo's computer, leave behind incriminating images of child pornography and alert the police, or simply hit him in the head with an ax.
Salander took a bite of pizza and watched the game. The announcers were talking about something Chicago Blackhawks center Dave Bolland had said on a radio talk show about the Canucks' Sedin twins, Henrik and Daniel. Her ears perked up. As fellow Swedes, the Sedins were heroes of Salander's. She was obsessed with them. During the Stanley Cup, she tattooed Henrik's name just below her Canucks tattoo and Daniel's just below the dragon. She also had occasional sex fantasies about the Sedins in which the twin brothers were actually brother and sister. It was one thing for her to have such fantasies but she found it offensive when the broadcasters replayed the radio interview and she heard Bolland refer to the twins as "sisters'' and tell the host "I think they might sleep in, like, bunk beds. The older one has the bottom one, the younger one's got the top.''
The words infuriated Salander. With a couple keystrokes, she hijacked Bolland's Twitter account and sent out a tweet that read, "I said those awful things about the Sedins because I am a weak and insecure male who secretly wears women's lingerie.'' Then she hacked into his Facebook account and left behind compromising photos. Let him talk about that on a talk show.
Salander watched Luongo give up two more goals and her ever-present frown hardened. No wonder she was always in such a foul mood and had such violent, antisocial tendencies. Who wouldn't, rooting for a team that so often built up your hopes only to mercilessly crush them in the end?
She wished she could do something but did not know how to proceed. Sometimes she felt she was nothing more than a character in an unpublished novel, trapped in a confiscated computer during a protracted legal battle after the author's mysterious death. She reluctantly decided to call Kalle Blomkvist and tell him that Millennium magazine needed to investigate whether the Canucks and their fans were the victims of a lengthy, incomprehensible subplot about a conspiracy involving Don Cherry, NHL commissioner Gary Bettman and a rogue, right-wing section of the Swedish security police Sapo.
Daniel Sedin scored a goal to cut the lead to 3-1 but Luongo gave up another and the Canucks lost 4-1. Salander closed her laptop and frowned. Many had criticized Vancouver fans for rioting after the Stanley Cup loss but she did not. Salander knew that if she had been in Vancouver last June, she would have set the city on fire, too.
Jim Caple is a senior writer for ESPN.com. You can follow him on Twitter at jimcaple.