Commentary
Flem File: A day in the life of Vick
Originally Published:
September 8, 2011
By
David Fleming
| Page 2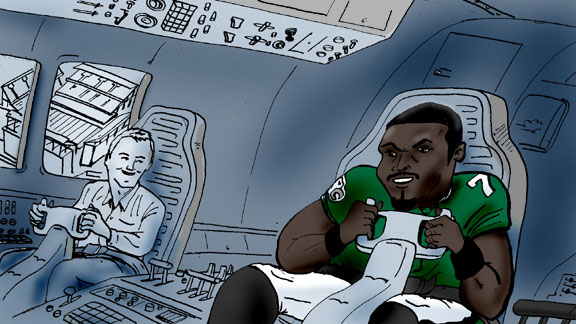 Kurt Snibbe/ESPN.com
It's just past 3 p.m. on a bright, sunny day in early June and, as Jet Skis and their kin whir by below on the choppy green waters of Philadelphia's Schuylkill River, Michael Vick paces around his high-rise apartment with a stack of 3-by-5 cards, pausing in front of different mirrors to rehearse the commencement speech he will deliver, in less than two hours, to graduates of the alternative Camelot high schools.
Vick likes to stay busy, but it has already been a crazy week even by his standards. Two days ago, he was coaching at a football clinic in South Carolina. Yesterday, he was at a news conference announcing his first new endorsement deal since serving 18 months in federal prison on dogfighting charges. Since his release, Vick has worked with the Humane Society of the United States and, including a speech this week, has reached more than 10,000 kids on the topic of preventing animal cruelty. Despite this he is still greeted by angry protesters at some of the places he goes. He was in Las Vegas in May. Tomorrow, he's supposed to be in Texas for another football clinic, and, a few weeks after that, he'll be appearing before Congress to promote anti-dogfighting legislation.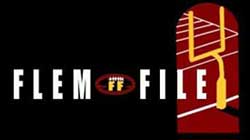 For ESPN The Magazine's 188-page NFL preview, which, for the first time ever, is dedicated to one athlete, I tagged along to most of these events. This FlemFile, a column that kicks off our 16th season together, recounts, in five parts, some of that reporting with a rare, all-access, behind-the-scenes look at a day in the life of Michael Vick.
PART I (3 to 4 p.m.)
As Vick and his fiancée, Kijafa Frink, climb into the back of an SUV for the short ride to the Kimmel Center, Vick is dealing with something he has very little experience with: nerves. As far as he can remember, he was a tad nervous before his first start in college and his first start in the pros, but, for the most part, football doesn't make him sweat. "I don't get nervous before games; I'm just ready to be in control," he says.
How about prison, was he nervous there? Nope.
But public speaking and flying in a tiny plane with propellers? Those two things twist his guts into knots, and today, in an epic adventure that will cover two events in two states and reach more than 3,000 fans, Vick will attempt to do both. And he's a bit freaked out by the thought of it.
As the SUV clears the building's underground parking garage and glides into the sunlight, someone in the front seat turns around to tell Vick that the students actually picked him to speak over Mayor Michael Nutter. Dressed in black pants, square-toed shoes, a fitted black shirt, a do-rag and a custom-made black-and-white checkered sports coat, Vick says, "Oh man, come on, don't tell me that; I'm nervous enough -- how do I get myself into these things?" Vick dabs his forehead. He looks down at the handwritten note cards, each one labeled in the top right corner with a number inside a circle in case he loses his place.
LEBRON JAMES VS. MICHAEL VICK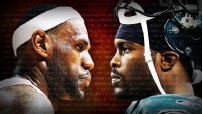 After a fruitful offseason, the Eagles are drawing comparisons to the Miami Heat, so Page 2 compares the words of each team's alpha dog. Page 2 quotes quiz »
I've done numerous pieces, including four cover stories, on Vick, starting in 2001 before Vick became the first black quarterback ever taken No. 1 in the draft. And when he's nervous, agitated or unsure, Vick usually turns to football or comedy. It's a technique that he used well while growing up in the notorious Ridley Circle housing projects of Newport News, Va., and one that failed him miserably as his life unraveled in Atlanta. "You get some money and some leeway, and it's just human nature that you keep taking it a step further and a step further," Vick says. "The next thing you know, you're so deeply involved that there's no way out." Later, he adds, "I grew up laidback and reserved, and all of a sudden I had become somewhat arrogant in some people's eyes and I let in the wrong kind of people. My first six years in Atlanta, I was on my own and I didn't care what anybody thought of me. The difference is, now, when people give me respect, I respect them, as well."
Traveling down Spruce Street, he jokes about once having to take over the controls on an unruly plane and land it for the pilots. When Kijafa scolds him he laughs and says, "Work with me, I'm trying to show my bravado." Then, Vick talks about going back to the Pro Bowl. "It was all I had hoped for and worked for and dreamed about after being away from the game for so long," he says. The game missed him, too, I think. When Eagles offensive coordinator Marty Mornhinweg first met Vick in 2009, he thought there was an outside chance Vick could develop into a Steve Young type player. "Now," Mornhinweg says, "I think he can be better than Steve Young."
A block from the Kimmel Center, Vick spots a long stretch of students, dressed in bright blue graduation gowns and shouts: "That's them!" His car pulls up onto the sidewalk behind the building, and Vick heads for a back staircase. Before he is swarmed by public relations folks, students, pitchmen, media, his crew and more, Vick stops to pose for a picture with a young girl who, at the last second, decides against the photo because her hair is such a mess. She apologizes, compliments Kijafa on her suede, bejeweled wedges and runs away, leaving Vick in stitches all the way until he reaches the crowded greenroom behind the stage.
A marketing guy from Chicago, showing pictures of his family to people who want to see them, or not, promises that he has deals in place that will show the world "MIKE VICK is BACK!" Which prompts a member of Vick's inner circle to give an eye roll and whisper, "He was an All-Pro last year and the comeback player of the year -- I think he's back already."
The proof, one way or another, can usually be found at events such as the one unfolding inside the Kimmel Center.
Part II (4 to 6 p.m.)
As Vick signs a stack of memorabilia for the schools, some of the top graduating students come into the greenroom and begin filling up the couches. However you feel about Vick, whether you think of him as a monster or a hero -- or both -- there's no denying that, for these kids, his comeback is an important example of the power behind the deeply American ideal of second chances. His story resonates on many levels. No wonder, then, that a source close to both the White House and Vick told me that President Barack Obama has, in the past, invited Vick to meet with him in the White House.
The kids go first, sharing their moving stories about overcoming stabbings, arrests, drugs, domestic violence to be here today. There are many tears in the room.
[+] Enlarge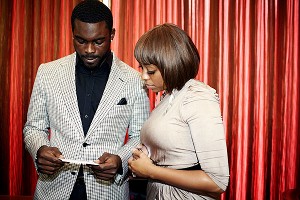 Amanda Marsalis/ESPN The Magazine Michael Vick and his fiancée, Kijafa Frink, give a last-minute look over his index cards for his commencement speech.
"I'm very proud of you," Vick tells the students. "Who hasn't dealt with certain tough situations in life? Life is not always fair or easy. It wasn't easy for me, and it won't be easy for you, but this is the start; you are taking the first step toward the life you want today, so take a moment to celebrate and be proud." Off the cuff, just like on the field, Vick can be pretty good. He talks about his grandma who died while Vick was in prison. "She used to say you can do right for 23 hours and 50 minutes in a day, and, if you mess up those last 10 minutes, that's all anyone will care about," Vick says.
Standing away from the group, by the floor-to-ceiling windows, Kijafa nods her head along with Vick's speech, then whispers: "People called him a monster. He's a kind, gentle man who loves his family and loves his kids. I love him. He's not a monster." Vick understands that, no matter what he does, there will always be a group of people who will never forgive him. People such as PETA President Ingrid Newkirk, who told me that Vick was redeemed by convenience and that there will always be a group of dog lovers who want him to "keel over."
Dr. Todd Boyd, an expert on race and popular culture at the University of Southern California, says: "I think a lot of people are hiding behind the dogs. People who have very strong feelings maybe along racial lines, the sort of feelings that are socially unacceptable to articulate, those people can hide behind the dogs and use those dogs as an excuse to cover up the fact that they really never liked Vick in the first place and they were glad to see him suffer."
(What do you think? Are dog lovers who refuse to forgive Vick "heroes," "hypocrites" or "haters"? Weigh in via Twitter @DaveFlemingESPN, hashtag #FlemFile, or vote on my Facebook page poll.)
The students exit the room, and, as the time for his speech draws near, Vick seems to be getting looser instead of getting more nervous. He doesn't particularly care for the jacket he wore today (to be honest, it looks like something out of the movie "Casino"), so he asks for a quick show of hands: Wear it or not? Someone suggests he wear the coat but, in midspeech, take it off real slow and cool like. The vote, however, is unanimous. "All right," he says, "we're rolling with the blazer."
Officials lead him down a back hall, through a stage door, past some old props and makeup mirrors to a small doorway just off the left-hand side of the stage. A buddy leans in and tells Vick to do the old Eddie Murphy routine: finish his speech, slam the mike on the ground and yell out "SEXUAL CHOCOLATE!" and walk offstage.
Once the crowd gets a glimpse of Vick, the roar is deafening. Grads marching into the auditorium bump and fall into each other while trying to look at Vick. As he is being introduced, Vick leans back in his chair and glances offstage, back through the doorway he just passed through. Standing there is C.J. Reamon, a close friend of Vick's who moved to Leavenworth, Kan., to support Vick during his 18 months in prison. Knowing who to trust has always been a difficult thing for Vick.
It's a problem former NFL running back and Vick confidant Duce Staley says plagues a lot of professional athletes. "Mike had to learn how to say no. He still struggles with that; we all do," Staley says. "Dealing with family is hard. They are camouflaged. Family comes at you, and they may be worse than anyone else. Ask any athlete, we all have stories on this all day long. Family is the worst because they use blood as a shield. When that guy steps to you and asks for something, you see your cousin the little kid you used to love and play with in the park; you don't see his true heart. It's camouflaged, but it's full of hate, deceit and greed. Sometimes, when a family member says 'I love you,' what they really mean is 'What can I get from you?'"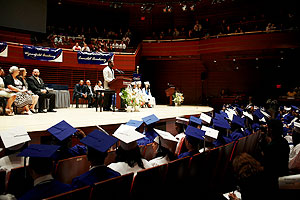 Amanda Marsalis/ESPN The Magazine Michael Vick's speech to graduates of the alternative Camelot high schools has its ups and downs, but he closes with a flourish.
Looking offstage at his trusted friend Reamon, a huge, joyous and dumbfounded grin crosses Vick's face and he shrugs his shoulders ever so slightly, as if to say, "How the hell did we get here?" Sometimes, in the quiet moments of their day when they don't think anyone is watching, people reveal themselves. This is one of those moments. Vick brings his fist up to his chest, then stands to walk up to the podium. "You have chosen me; I have chosen you," he says to the graduates.
Vick struggles with the speech. He's nervous. He bungles a few lines, and he loses his rhythm while constantly looking down at his handwritten cards. Afterward, he'll say that he wished he had tossed the cards and just improvised the whole thing. He saves it, though, by first announcing two college scholarships for the top students. "I've learned a lot of lessons in life, some the hard way …" Vick says. "I lost my freedom, I lost my family … the lowest moment of my life, I was alone, sitting in a cell in federal prison for dog fighting … but I stand before you today a changed man. … Today is the beginning of the rest of your life. I challenge you all to dream big and to make the most of your second chance. … And now, in closing, I just want to say: CAM-a-LAAAWT!"
Invoking the school's chant was a Hail Mary by Vick, and the crowd eats it up. People are still roaring as he is led offstage, through the back hallways and into a waiting car for a quick ride to a private airport north of the city. Without realizing it, Vick double-booked events today, his speech for Camelot and an appearance at a fundraiser for a pee wee football league in Lynchburg, Va. Even though he hates to fly and his budget is closely monitored by a bankruptcy attorney (this was months before he signed his six-year, $100 million deal with the Eagles), Vick hired a private plane so he wouldn't have to cancel.
I'll admit that, when I first learned about our itinerary for the day, I was excited about traveling on a private jet and living out a scene from "Entourage."
Boy, was I wrong.
PART III (6 to 7:30 p.m.)
A marketing guy has a flight from another airport at 7 p.m., but he has driven all the way across town for a chance at two minutes with Vick. They borrow an office inside the tiny terminal while the rest of the passengers check out the Farmer's Insurance blimp out on the infield. Vick and his crew, along with myself, a photographer and ESPN colleague Seth Wickersham, are then led to the prop plane by a pilot wearing Ray-Ban shades, a shirt with what look like homemade epaulets and Dockers. Vick climbs to the top of the small stairs, takes a quick look at the dark purple skies off in the distance, and, upon request, turns around and gives a big, cheesy presidential wave before entering the aircraft.
Aircraft? Not exactly. This is a flying phone booth. There are no flight attendants. There wouldn't be room for them anyway. As it is, the seven passengers sit in tiny light brown seats with their knees bumping into the people facing them in the next row. The captain shuts the door by hand and points out the in-flight meal: a wicker basket full of peanut butter crackers and other snacks. "This ain't no G6 [jet]," someone says. "It's more like a GZero."
[+] Enlarge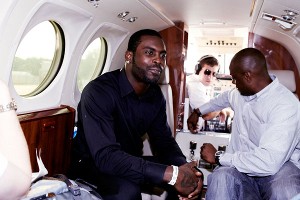 Amanda Marsalis/ESPN The MagazineNo frills: This is your pilot speaking, Michael, prepare for takeoff.
Vick uses his favorite brown wooden brush to smooth his hair before tying up his do-rag. "Why is everyone so quiet?" he yells, his hands bottle-capping the armrests, digging into the leather. To calm his nerves, he starts talking about a recent trip to Busch Gardens with his kids and how he once almost drowned in Chesapeake Bay after leaving the dock on a fishing trip without securing the drainage plug on his boat. His buddies tease him about the jacket he wore at the commencement. Before anyone realizes it, the plane is in the air. As it passes through some low clouds, the plane drops a bit, causing Vick to yell out, "Oh s---!" but, a few minutes later, the pilot basically turns around and announces that we're at 12,000 feet. The intercom is the pilot cupping his hand around his mouth and yelling.
"12,000 feet? Just like that?" Vick asks. "No, let's go higher!"
Soaring, peacefully, through bright blue skies for almost 40 minutes, a talkative Vick rolls through tales that, eventually, will fill up much of ESPN The Magazine's NFL preview. Vick talks about his childhood in Newport News, Va., his unraveling in Atlanta, the tears and fears he shed in prison, and his rebirth as a quarterback during a near-perfect six-touchdown performance against the Redskins on "Monday Night Football." "I won't say I'm back until I get that Super Bowl ring on my finger, at least once," he says. "I know football won't be in my life forever, but I want to finish my career in Philly and play until I'm 38 or 39 -- and I'll still be able to move, too."
Right now, though, as the plane banks to the right and the seats jolt from the landing gear locking into place, Vick is frozen in place by fear, his fingers, once again, digging into the leather armrests.
"I don't like landing," he says, quietly, to himself as the green hills of Lynchburg appear below the clouds.
Part IV (7:30 to 10 p.m.)
The high rolling continues on the ground, where two minivans are parked on the tarmac waiting to rush Vick to his next event. He sits in the passenger seat, squinting from the glow of the orange sun as it sets behind the trees. After a 15-minute drive on small, twisty roads, Vick unloads at a local high school for an event that will raise money for a pee wee football league sponsored by Vick and run by a former teammate from Virginia Tech. He sneaks into a dressing room to change into a T-shirt, gray jeans and his favorite white Nike Air Force 1s. With no time to eat, someone brings him a Gatorade as he signs publicity posters and complains, to no one in particular, about problems he's having with his book project. Problems he doesn't care to elaborate on.
Looking at the action shots, Vick says he can name every game and every situation just by the photo. OK, how 'bout this one? "Redskins, second quarter." This one? "Come on, Giants, fourth quarter." This one? "Green Bay, baby." Everyone around him is beginning to wear out, getting cranky and tired, but Vick is still going strong. Even the most manipulative people in the world can fake it for only so long before the real person begins to come out. But after five hours in the spotlight, hounded by friends, fans and media, Vick hasn't flinched once. Does that prove anything? I don't know. Either way, good or bad, it's a mistake to ascribe any kind of moral character to athletes just because they perform well on the football field. We do it anyway, though, in part to justify all the time and energy we spend on sports. So it's really up to each of us to decide whether Vick's story is one of redemption, vengeance, or squandered talent and entitlement.
What becomes apparent almost right away in Lynchburg, though, is that this event is small, small potatoes. It's chaotic, loud and a tad disorganized. Only a few hundred people, if that, are here, and most of them are young kids running around everywhere. This is not exactly the media capital of the world. There are no national sponsors. Even members of Vick's own crew are wondering where they are exactly and why. They wonder why, as the commencement speaker for Camelot, Vick didn't use that as an excuse to blow this whole thing off.
But he didn't. He kept his word. He showed up. "I've done some things wrong with my life," he says. "But I want to force people to open their eyes and maybe think about me differently."
"You can't put into words what his example means to these kids," says Barbara Hawks, a local fifth-grade teacher at the event. "Mistakes are learning and growing opportunities. I tell these kids that every day, but nothing gets through to them like the example that Mike Vick is setting: that it's never too late or too much to turn your life around when you get knocked down. Look up, get up, reach out for help, admit what you did and take a step every day at coming back."
After an hour and a half of watching Vick sign autographs, meet fans and pose for pictures, some in the group from Philly decide they can't take any more and want to call it a day. They slide up to Vick in between paying customers, thank him for his time and candor, and bid him goodnight.
"No," he says. "No way, come out with us."
Without thinking, they say: Sure, sure, OK, we'll come out, just tell us what club to meet you at, Mike.
"T.G.I. Fridays," he says.
Part V (10 p.m. to midnight)
A few weeks earlier, on Memorial Day weekend, Vick was in Vegas for a memorabilia signing. On that day, the sax player working the walkway over Las Vegas Boulevard had a sign that read: corp exec, laid off, health benefits gone. As packs of revelers exited the bridge, a young poet placed samples of his work in their left hand while another man offered glossy nude advertisements of strippers for their right. It wasn't quite noon, and, inside the Miracle Mile of shops, the line for 44-ounce daiquiris was already 100 strong. Past a teeth-whitening kiosk and a wall of TVs showing the Barcelona-Manchester United game, a customer service rep in fishnet stockings and driving a Segway directed people to Vick's show at Memorabilia International Inc.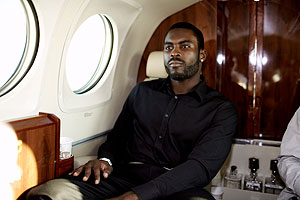 Amanda Marsalis/ESPN The Magazine Michael Vick displays calmness despite his dislike of flying while aboard the cozy private plane.
Forty minutes into the event, Vick had already surpassed the numbers recently put up in an entire afternoon by Hall of Famer and three-time Super Bowl MVP Joe Montana. And more than 150 people of every race, age and demographic were still waiting in line outside the store, credit cards at the ready. Vick signed at a table next to a red, white and blue jumpsuit of Evel Knievel going for a cool $1,400. On the other side was a photo of Joe Louis with the inscription "everyone's got a plan … until they get hit."
Vick held babies. Chris Johnson from the Tennessee Titans came by to say hello. Fans constantly screamed their support as they walked by, and dozens of families, most of them African-American, plunked down an extra $50 for a photo with Vick. At that moment, Vick seemed to be at the epicenter of America, straddling the fault lines -- race, money, sports, crime -- that define our culture.
Tonight in Lynchburg, though, he is just a guy, exhausted, eating nachos, laughing with his friends and texting his fiancée while seated under an art deco poster of Archie Bunker. Vick is asked about Andy Reid. They talk on the phone all the time, in a familiar way that makes people around Vick think the quarterback is talking to a high school buddy. "Sweetest man, smartest man I've ever known," Vick says.
Seated at the head of a long table, Vick grows uncomfortable with the growing crowd closing in around him. When the entire table begins to yell and laugh as people dream up ways to get Snoop Dogg to fly his pee wee football team from California to Virginia for a showdown this fall, Vick escapes to a nearby booth. Word has gotten out, and the Fridays is filling up with more friends, more locals and rows of gawkers filming his every move on their camera phones.
Vick sinks deep into the booth, his head barely above the table. "I'm tired," he confesses. "This is too loud; I need to get out of here."
Vick reaches down and brings his phone up to his face. On the screen, it says MaMa.
Soon, it will be 11:50 p.m.
He has put in a nearly perfect 23 hours and 50 minutes.
But Vick knows he still has to worry about those final 10 minutes.



Editor's note: Looking for Flem's top five, his music riffs and weekly reader email WHYLO (who helped you log on?) awards? Check 'em out on Facebook and on Twitter at @daveflemingespn.
David Fleming is a senior writer for ESPN The Magazine and a columnist for ESPN.com. While covering the NFL for the past 16 years at Sports Illustrated and ESPN, he has written more than 30 cover stories and two books ("Noah's Rainbow" and "Breaker Boys"), and his work has been anthologized in "The Best American Sports Writing."