Commentary
Flem File: Get the scoop on the Lions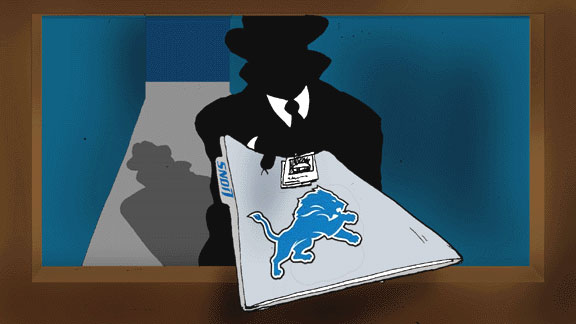 Kurt Snibbe/ESPN.com
Your secret's safe with me.
I'm not here to blow your cover. The truth is a lot of so-called football experts are in the exact same boat. The Detroit Lions have been so bad for so long we all just figured, even when they were 2-0, heck, there's no real need, or rush, to get up to speed.
Then they came back from 20 down to beat the Vikings on the road. Hmm. The next week they overcame a 24-point deficit to beat Dallas. Gulp. Now, shoot, they're 5-0 for the first time in 55 years and, admit it, you still think Honolulu blue is something from a medical marijuana menu, that the Pontiac Silverdome was General Motors' response to the Pacer and Wayne Fontes is a typeface choice in Microsoft Word -- am I right?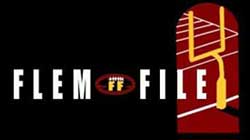 This wouldn't be a problem except that ever since those back-to-back fantasy football titles and that one time you got the entire wedding party to re-create the Music City Miracle, your buddies have kinda considered you the football "expert" of the group. Only now each week your secret grows and the shame builds and it gets harder and harder to shake your head and laugh and pretend like you know who the heck Eric Hipple is. For the record, no, he was not the guy from the old Charmin commercials. Hipple was the Lions' quarterback when they won the NFC Central in 1983.
This is worse than I thought. It's time to come clean. Trust me, you can only fake text your way out of so many potentially embarrassing situations when the Lions come up in conversation and you're still not 100 percent sure exactly how to pronounce Jahvid Best. But don't worry, as always Uncle Flem is here to help.
Using the formula we first perfected last year when the Falcons snuck up on everyone, I've created the Flem File's official Detroit Lions 10-Step Cheat Sheet for fans who want to keep pretending like they're totally informed and up to speed on the surprise team of 2011.
Step 1. I've always found that knowing how to pronounce difficult names on a roster, like tackle Gosder Cherilus, gives the instant impression that you know the team inside and out. So, repeat after me: GOZ-der SHARE-uh-loss. GOZ-der SHARE-uh-loss. Casual fans will think they're informed because they pronounce Jahvid Best correctly after a long run. Well, this is when you casually throw out the fact he was sprung loose by GOZ-der SHARE-uh-loss. Of course, some wannabes will try to follow your lead and then you've got 'em. (Remember: The goal isn't to become the biggest Lions expert in the room, you only need to know more than one person and you're home free.) So, listen carefully when they say his name because more than likely they'll pronounce it CHEER-ill-ius. Call them out on this, loudly, by saying that you don't think GOZ-der's parents, Morisena and Jenel, would appreciate the way you botched their last name, ya poser.
Step 2. Being able to spew random trivial bits of data about the team makes it look like you know more than you do. Write these on 3x5 notecards and practice saying them in front of a mirror: "Ya know, the Lions did not make the playoffs the last time they started 5-0 (1956) or the last time they started 4-0 (1980);" "Our front four put Jay Cutler under duress a season-high 42 percent of the time;" "Matthew Stafford is 25-of-29 on play-action passes;" "I can't believe it's been 35 years now since we scored a TD on a fake field goal;" "You know the Lions are the only team in the league who hold a bocce ball tournament in the offseason;" "Jeff Backus has the most consecutive starts by any lineman in the NFL and Jason Hanson is the first player in NFL history to play 300 games with one team."
[+] Enlarge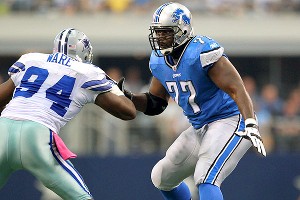 Matthew Emmons/US PresswireFlem File clears the way for pretend Lions fans just like Gosder Cherilus opens holes for the offense.
Step 3. Speaking of Hanson, when you're around other fans, especially from Detroit, don't go for the easy "I'm so happy for the guy because he's been through so much losing over the years with the Lions." Too easy. Instead, throw out a conversation starter that will give people the impression you've been paying close attention for a long, long time. See, Hanson has the longest, most elaborate pre-swing sequence this side of Sergio Garcia. It goes something like this: Foot tap at the spot of the ball. Five steps back. Rock forward. Drag foot. Tap toe. Tap heel. Three side shuffles. Swing kicking foot back. Twist torso. Re-set stance. Rock back three times. Re-settle. Robot the arms at the elbow. Left shoulder to target. Slight shoulder waggle. Kick. You can talk through this step-by-step but it's much more effective if you physically re-create it during a timeout. Make sure to go for the big finish by swinging your right fist across your body and then staring at the imaginary field goal over your right shoulder while yelling out "It's good, the Lions win the Super Bowl!!!!"
Step 4. When it comes to Ndamukong Suh, invariably one of your buddies is going to blurt out the old standard "you know his name means House of Spears" line. You need to jump on this with a follow-up like, "Yeah, cool, I think my grandma told me that during the preseason" followed by "But did you know …" and then add any of the following lesser-known tidbits: 1) His grandfather in Cameroon was a police chief who stood 7-foot-3; 2) He gets his great feet from his dad, Michael, who played some semi-pro soccer in Europe; 3) Suh once took apart his family's answering machine (and put it back together) because he was curious about how it worked; 4) His parents actually held him out of football his freshman year of high school because, get this, they didn't want him getting hurt; 5) He hates stale guacamole and ostentatious limos; 6) Even after he signed a $68 million contract his dad still gave him a curfew.
Step 5. The topic of Barry Sanders is sure to come up. He's a popular figure now among fly-by-night Lions fans. But a true (fake) Lions fan should still express anguish over the way Sanders abruptly retired in 1998. (Valuable cheat sheet side note: The Lions have cornered the market on No. 20s with HOF corner Lem Barney 1967 to 1977, Billy Sims 1980 to 1984, and Sanders 1989 to 1998.) Fed up with the franchise -- hey, been there, done that, am I right fellow longtime loyal Lions fans? -- the enigmatic Sanders faxed his retirement to his hometown newspaper, flew to London and walked around the airport for half a day. Sure he's a Hall of Famer and God love him for what was an amazing career under not exactly ideal circumstances in Detroit but that move pretty much kick-started the Lions' extreme downward spiral that Matt Millen then grew and nurtured into the Black Hole known as 0-16. An even bigger shame for us real (false) fans is that in just two more seasons Sanders probably would have eclipsed Walter Payton and perhaps gotten far enough ahead of Emmitt Smith to be the NFL's all-time leading rusher. That record belongs to Sanders and the Lions, dammit. (Well, no, of course it doesn't. He quit. But it does if you're trying to create the illusion of a Lions fan's delusion.)
Step 6. Beer Should Remain Pretty Cold. Beer Should Remain Pretty Cold. That's a good way to remember the names of the Lions' offensive linemen: (Jeff) Backus, (Rob) Sims, (Dominic) Raiola, (Stephen) Peterman and (Gosder) Cherilus. Trust me on this one: only real fake fans take the time to memorize the names of the offensive line.
Step 7. Most casual fans know the head coach's name. So every now and then throw out just the last name of an assistant coach. Remember: For fake fans, implied knowledge is just as good as the real thing. It's like politics and sports radio. For the Lions, defensive line coach Kris Kocurek is perfect for this. After a sack don't jump off the couch and yell out "Suuuuuuuh!" Instead, say: "Ladies and gentlemen I give you KRIS KOCUREK! I know he was the 237th pick of the 2001 draft and he's only two days older than Kyle Vanden Bosch, but, man, Schwartzy made a great call snagging him from Stephen F. Austin State. We are the Honolulu blue Kocu-WRECKing crew!" (Cheat sheet bonus: after your reference to Kocurek sit down and then say out loud but mostly to yourself, "His name kinda reminds me of Joey Kocur. Dang it, now I miss Bob Probert, too.")
Tweet It Or Post It
Do you have any more suggestions for the Lions cheat sheet? Tweet it (@daveflemingespn #FlemFile) or post it on my Facebook page (DavidFlemingESPN).
Step 8. Casual fans also tend to memorize all the good stuff about a team. So take a few minutes to work up some really good fake concern about one or more of the Lions' weaknesses. Try this: "I know Calvin Johnson has nine TDs and that's amazing and all, but eight of those have come on the right side and I'm really starting to worry that lack of balance will make us predictable downfield, ya know?" Or any of these: "My guys have got to do better on third down than a 34.3 percent conversion rate." "Even with Best bulldozing the Bears for 163 yards on Monday night I'd still feel better if we could get our rushing average from 95.8 to somewhere north of 100 yards per game." "I hate to bring all the casual fans down but 41 penalties are too many." "Coach says special teams are one-third of the game, which is why I'm really starting to worry about our return unit. I mean, 21.4 yards just won't cut it. Makes me miss Mel Gray."
Step 9. To bluff well you have to understand human nature as well as your target audience. You can't possibly fake what it feels like to suffer the way these fans have, so don't even try it. Instead, focus on what they really want to hear, especially now that the team's 5-0: the good old days. For folks in Detroit that was the 1950s. Car companies ruled the planet and the Lions won three NFL championships, beating the Browns in 1952, '53 and '57. In 1952 the Browns drove inside the 25 five times but the Lions' gutsy defense allowed only one TD. At the end of the 1953 title game Hall of Fame quarterback Bobby Layne listened closely during a timeout as coach Buddy Parker called for a screen pass. Layne then returned to the huddle and called a bomb to Jim Doran, who caught it at the 10 and walked in for the win. The 1957 title is probably most near and dear to the hearts of real Lions fans, so remind them about how the season started with Parker abruptly resigning during a preseason banquet saying "I don't want to get involved in another losing season, so I'm leaving Detroit" and ended with the Lions pulverizing the Browns 59-14 in front of 55,263 inside the city's beloved Tiger Stadium. (Cheat sheet side note: This memory will incapacitate almost every Lions fan on Earth, so if you get caught mispronouncing Cherilus or you can't remember who Hipple is or you told someone Dick LeBeau played for the Steelers, just start talking about 1957, trust me.)
Step 10. This time of year only the most dedicated fans would already be thinking of next year's draft. And here's the genius behind this move: I have no idea on Earth who the Lions might take in the 2012 draft but guess what -- neither does anyone else! You can throw out just about any college player's name and your dedication and authority cannot be challenged. Take this move to the next level, though, by pointing out that next year will be a challenge for our front office because we'll be picking near the end of the first round. And try to at least connect the pick to a current need. Suggest a trade-up package for USC tackle Matt Kalil (be sure to mention his NFL pedigree with brother, Ryan) or daydream a little about the potential matchup problems with South Carolina's 6-4, 230-pound wideout Alshon Jeffery.
Finally, if all else fails and someone challenges your knowledge of the team, diffuse the situation with humor tinged with folksy hometown references. "Instead of a Gatorade bath they should douse Schwartzy with Faygo pop!" or "Our defensive line is more toxic than the Uniroyal plant," or "Best ran through the Packers' defense faster than a late-night Coney," or "Soldier Field could use a little work, where's Mark Fidrych when you need him, right?" or "Louis Delmas just hit that guy so hard I think he landed on Belle Isle!" or "Do you think I'll need snow tires for our drive to Indianapolis for the Super Bowl?"
If all else fails, jump up and ask your accuser to name the starters on the offensive line. In your head, start repeating the line "Beer should remain pretty cold," cut them off, say the actual players' names (you memorized them, like I said, right?) and then add: "Geez, a real Lions fan would have known that."
David Fleming is a senior writer for ESPN The Magazine and a columnist for ESPN.com. While covering the NFL for the past 16 years at Sports Illustrated and ESPN, he has written more than 30 cover stories and two books ("Noah's Rainbow" and "Breaker Boys"), and his work has been anthologized in "The Best American Sports Writing."