Commentary
Flem File: Forty ways to beat The Pack
Originally Published:
November 17, 2011
By
David Fleming
| Page 2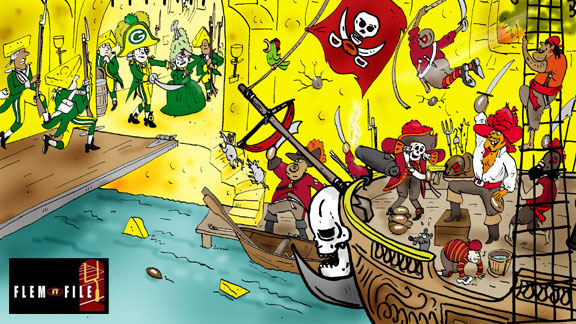 Kurt Snibbe/ESPN.com
The Bucs will beat the Packers.
Yes, I've seen the stats. I'm aware that Aaron Rodgers is having a season so remarkable it may forever change how we measure the quarterback position. I know Green Bay is a 14-point favorite to win its 16th consecutive game for its best start since 1962. I fully understand that the Bucs have lost three in a row and four of their past five, and I understand that they were blown out by four touchdowns at home just last week. And I did, in fact, see that in 10,000 game simulations, AccuScore has the Packers winning 87 percent of the time.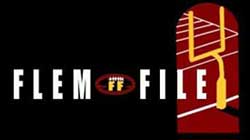 Well, I also have run the game through my very own Flem-u-lator and come up with a very different outcome, provided, of course, that just a few (OK: 40, to be exact) completely minor and totally plausible details all fall into place at, ah-hem, exactly the right moment. It could happen.
See for yourself just how easy it would be for the Bucs to pull off the biggest upset of 2011. It's as easy as 1, 2, 3 … 40.
1.
The first tiny little thing the Bucs need is, well, an act of God. I had a long chat with Rodgers last week in Green Bay for the upcoming Interview Issue of ESPN The Magazine, and during my drive from Milwaukee, I'm pretty sure I went through about eight different weather systems. You would think a freakish whiteout kind of snowstorm favors the cold-weather team, but in this case, I think the Snow Miser might be the only person capable of neutralizing Rodgers, who tied an NFL record of three games in a row with an astronomical passer rating above 140. Right now there's a 20 percent chance of precipitation Sunday, so, yeah, this miracle upset is already off and running. OK, besides a blizzard the Bucs also need …
2. A wild sense of desperation. My only golden gambling rule is never bet against a desperate team. Never. And make no mistake, the Bucs are as desperate as you can get. The Bucs have everything to lose. The Pack have little to gain. Things are so bad in Tampa, they had a full-contact practice Wednesday. They've played worse in each of their past three games. They haven't made the playoffs since 2007. Their stadium was half full at kickoff last week, and they got blown out at home by the Texans. If I'm Raheem Morris, I don't give a pregame speech inside Lambeau Field, I just hand out real estate brochures for Manchester, England, and a mugshot of Bill Cowher, hinting that these could both be in the Bucs very near future if things don't improve, and pronto. Jobs are on the line, and when that happens, players tend to respond in a big way. It's not unprecedented. The Bucs lost to the 49ers by 45 earlier this season, then bounced back to beat the Saints the very next week. They'll need to repeat that effort. And hope …
3. The Pack come down with a classic case of the "Monday Night Football" blues. Before the Pack even started this three-games-in-11-days stretch, coach Mike McCarthy was already worried. "You're fine going in to Monday night," he said last week, "the real challenge is the week after the game." That's because the short week of prep and the looming matchup on Thanksgiving in Detroit could give the Packers …
4. A dangerous case of complacency, coupled with …
5. The subconscious knowledge that a meaningless loss might actually help a bit, in a weird way, knowing that the added pressure of trying to go 19-0 is probably detrimental to the Packers' No. 1 goal of winning another Super Bowl. Something that creates …
6. A possible trap game scenario because of distractions …
7. Like, offensive coordinator Joe Philbin considering the Tulane job and …
8. Fans thinking about a possible team stock offer and news out of Fond du Lac that last week a hunter bagged a possible record 15-point buck, which, in the very least, could lead to …
9. A lackluster start by the Packers, something the Bucs could really take advantage of because they have gone nine consecutive games without their offense scoring a touchdown in the first quarter. Which means Tampa Bay is due for a first-quarter explosion of, like, 13 points or something. A huge game-altering factor that would require …
Tweet It Or Post It
So let me know your take on the Dropsies by tweeting it (@daveflemingespn #FlemFile #nfldropsies) or posting it on my Facebook page (DavidFlemingESPN).
10. Offensive coordinator Greg Olson to get creative early and empty his playbook to try to make something -- anything -- happen. Not just flea-flickers and fake punts and onside kicks but …
11. Actual, real-live conversions on third down (where the Bucs are an abysmal 9-for-39 in their past three games), which would mean …
12. The rookie version of wideout Mike Williams would need to show up in Green Bay, or …
13. Better yet, free-agent pass-catcher Terrell Owens, who would definitely help …
14. Keep Aaron Rodgers off the field. And …
15. Keep B.J. Raji on it. First of all, I chatted with B.J. last week, and it is true what they say: The camera does add 50 pounds. Last year Raji led all nose tackles in tackles, but his numbers are way down this season. The worry is he's wearing down, and if so …
16. Green Bay defensive coordinator Dom Capers, who blitzed 48.7 percent of the time against the Vikes on Monday (the Pack's highest attack rate during the past four years), might be forced to …
17. Play a more vanilla scheme, which would only …
18. Expose the Packers' only real weakness: a 31st-ranked passing defense. "The liability," according to Charles Woodson, something …
19. Buccaneers QB Josh Freeman could take advantage of the same way Philip Rivers did when he threw four touchdowns against the Packers' four-man rush in Week 9, provided …
20. Freeman's thumb is OK, his defensive reads are somehow much-improved (or just present would be a good start), and he's motivated by the recent story that the Bucs almost drafted Rodgers, and …
21. He makes something happen with his feet when plays break down, the way Cam Newton did when he rushed for 53 yards and a touchdown in a narrow loss to the Pack in Week 2. And …
22. Freeman gets a Herculean effort from running back LaGarrette Blount that would open up play-action and create a kind of groove that would …
23. Expose the Packers' other weakness: the tendency to engage in shootouts with lesser teams that somehow manage to hang around late (like the Chargers, who rang up 164 yards and two touchdowns in the fourth quarter). Something the Bucs can do if the Packers decide …
24. To attack their 29th-ranked rushing defense instead of their much better 26th-ranked passing defense. And …
25. The Bucs' D, which has been giving up more than six yards per play this season, takes a page out of Jim Schwartz's playbook and treats the 35-yard line like the end zone, selling out with blitzes and coverage disguises to force …
26. Three …
27. No, four …
28. Turnovers, which, in the Tampa 2 would require …
29. Pressure on Rodgers with just a four-man rush, meaning they have to get a career day from …
30. Defensive end Michael Bennett or Iowa product Adrian Clayborn or, maybe …
[+] Enlarge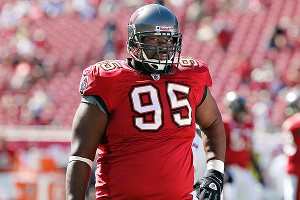 Kim Klement/US PresswireGet ready for a huge day from Albert Haynesworth. … We can dream, can't we?
31. Albert Haynesworth …
32. (Hey, I said this was a miracle/dream scenario up top, didn't I?) or …
33. Backside pressure by Quincy Black or Aqib Talib when Rodgers rolls out to his right (where he is deadly if he gets enough time to square his hips and throw), which would, in turn, cause just enough disruption to create …
34. Tipped passes by Packers receivers who have suffered from the dropsies at times this season, leading to …
35. The Packers' high-powered offense settling for field goals instead of touchdowns. Provided …
36. The Bucs decide to actually, you know, cover a tight end for the first time all year. Or …
37. Perhaps more likely, they just let the Packers score at will early and …
38. Hope all their playmakers misfire on their Lambeau leaps, like that poor Brazilian soccer player. Causing …
39. A crisis of confidence and …
40. A rash of strained glutes that forces the Packers to start pooch-punting on second down.
See?
I told you a Bucs upset wasn't that far-fetched.
David Fleming is a senior writer for ESPN The Magazine and a columnist for ESPN.com. While covering the NFL for the past 16 years at Sports Illustrated and ESPN, he has written more than 30 cover stories and two books ("Noah's Rainbow" and "Breaker Boys"), and his work has been anthologized in "The Best American Sports Writing."