Party of Five celebrates Valentine's Day
Updated:
February 14, 2012, 3:05 PM ET
Page 2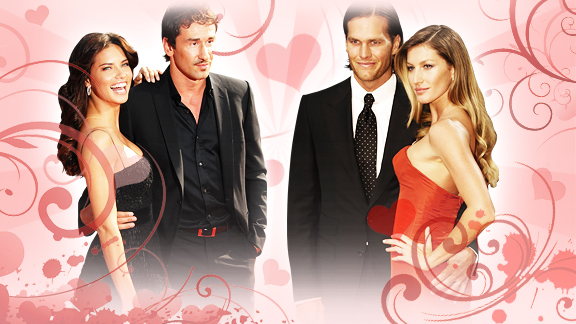 ESPN.com IllustrationValentine's Day is special for power couples like Adriana Lima & Marko Jaric and, of course, Brisele.
Happy 100th, Arizona!
Wait, that's not it.>
The real reason we're celebrating, of course, is Valentine's Day, which has prompted Page 2's Party of Five to reunite and share lots of love with you readers -- so much love, in fact, that you yourself can turn each Party of Five into a Party of Six!
That's right. Just leave your best (read: funniest and/or most entertaining) answer to Question No. 5 in the comments section, and the winner will get to answer a question in next week's edition.
Until then, spread that (Kevin) Love, buy someone a (Derrick) Rose, and read up …
1. What's the best couple in the world of sports?
DJ Gallo (@DJGalloESPN): The SEC and the BCS championship trophy have been together for six years. They seem like they can last.
Sarah Phillips (@SarahPhilli): Adriana Lima and former NBA player Marko Jaric. Frankly, Lima + any athlete would be the best couple. Am I right, or am I right?
Vincent Thomas (@VinceCAThomas): I'm supposed to say Brisele, right? Nah. And it has nothing to do with Gisele greasing Wes Welker (aka "standing by her man"). I'm just never going to forget Brazil. Also, there's minority Nets owner Jay-Z -- who's said he "walks like a ballplayer" -- and the best hula hooper of all-time, Beyonce. What's their Bennifer name? Jayonce? Maybe back in 2008 or something. But I'm Jayonce'd out in 2012. So I'm just going to say Jeremy Lin and the Golden State Warriors. I'm an unabashed and unapologetic fan of serendipitous marriages of sports stars to ethnically/culturally simpatico cities. Wait, he doesn't play for the Warriors anymore? They let him go? Well, what squad does he play for now?
Dave Wilson (@dwil): I'd have to say it's chicken wings and Buffalo sauce, a sports couple of the highest order. Wings were just an afterthought, a throwaway, something lingering at the bottom of the bucket. Now, they're front-and-center. Entire industries revolve around them. They bring out the best in each other, like The Captain and Tennille.
Steve Etheridge (@stetheridge): I'd have to say LeBron James and LeBron James. Even amidst their very public failures, their love for one another remains untarnished. Life at the top can be lonely, so I'm glad the Jameses have one another to have and to hold, for better or worse.
---
2. What sports couple just needs to break up?
Gallo: LeBron and his hair. You've tried to stay together, but it's not going to happen. You've grown apart. Well, not "grown," I guess. Receded. Your relationship has receded.
Phillips: Colts quarterback Peyton Manning and owner Jim Irsay. We've finally reached the denial stage in the breakup pyramid: Both parties know it's over, but neither wants to admit it.
[+] Enlarge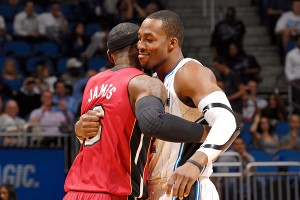 Fernando Medina/Getty Images"Sorry, LeBron, but you've gotta lose the hair."
Thomas: Baby Boomers and the Super Bowl halftime show. I get that Generations X and Y are pulling off clothes and flipping birds -- but if Sting, The Beach Boys, El DeBarge or any other old heads perform at any of these upcoming Super Bowls, I'm gonna lose it. Seriously.
Wilson: It's probably best that Michael Jordan and basketball go their separate ways. MJ seems to be bad at drafting, trading and signing players, which are key components in running a basketball franchise.
Etheridge: Yogi Berra and malapropisms. No use eating a bread horse.
---
3. What two sports figures do you most want to see get together?
Gallo: A Tim Tebow-Jeremy Lin pairing would be really good for page views.
Phillips: Tim Tebow and someone … anyone! I hope he's not trying to break A.C. Green's record.
Thomas: Delonte "Charlee Redz" West and Nyjer "Tony Plush" Morgan. They're the two most entertaining athletes in sports. T-Plus and Redz would not disappoint on a reality show.
Wilson: I realize they're both fictional, despicable characters, but Jose Canseco and Kenny Powers would constitute their own Dream Team (no offense, Vince Young). Jose is trying his best to keep up with Kenny. It's time they get together and compare notes for the ultimate Hollywood ending.
Etheridge: Shawn Johnson and Vince Wilfork. They'd be so cute. He could carry her around in a little backpack. She could vault off of him to jump ahead of lines at restaurants and stuff. When they'd spoon, it'd be like China and Nepal (but very sad if he crushed her).
---
4. What's the ideal Valentine's Day gift for a sports fan?
Gallo: For a guy to give a girl? I'd say giving her your varsity jacket. Unless you're out of high school, in which case that is: (a) cheap; and (b) incredibly creepy.
Phillips: I might be going out on a limb here, but sports fans would probably love it if we just completely eliminated Valentine's Day altogether. Now that would be a gift that keeps on giving.
Thomas: Leave him/her alone. Forget all that stupid romantic crap. Drop the charade of affection. Have a heart and let them concentrate on Buffalo versus Kent State and Virginia Military versus Liberty. And don't even think about anything jumping off on the late-night tip -- the Wizards are playing the Blazers.
Wilson: I can only speak from experience on this one. But I'd say for the ladies, go ahead and just get yourself the entire "Twilight" collection. We'll never feel guilty again for watching a sporting event or studying for our fantasy draft when you're watching glittery bionic vampires for the 38th time. And that's the greatest gift of all.
Etheridge: Diamonds aren't the only things that last forever, so I'd suggest getting that special someone Ted Williams' cryogenically frozen head.
---
5. READER QUESTION: What sports figure, quite simply, needs more love?
Gallo: All college basketball recruiting coordinators and NBA talent evaluators. They have been outed for being terrible at their jobs. You almost have to wonder if they are Linsane.
[+] Enlarge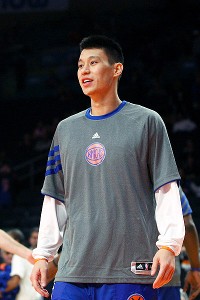 Chris Chambers/Getty ImagesHow could scouts miss this guy?
Phillips: Carmelo Anthony. If Anthony had waited until the 2011 offseason to sign with the Knicks, rather than demand an immediate trade which left New York without many of its key role players, the Knicks may have never had a roster spot for Jeremy Lin. Thanks, Carmelo!
Thomas: Jeremy Lin. Nobody is talking about the kid. He's playing great ball and he's way under the radar. It should be Linsane, right now.
Wilson: My heart aches for legendary Coastal Carolina football coach and avowed dog-lover David Bennett. The eloquent statesman, who went 63-39 at the school, was fired following last year's 7-4 season and suffered the indignity of being replaced by TD Ameritrade Holding Corp. chairman Joe Moglia, who has a career coaching record of 1-3 (with the Omaha Nighthawks of the UFL). Hopefully, Bennett is relaxing somewhere more economical than the outrageously priced state of Ohio.
Etheridge: I'll go with Sam Cassell. Not sure what he's up to these days, but something tells me he could use a good snuggle.
Page 2's Party of Five is a rotating cast of characters answering all of sports' most important questions. Check back next week to see who has joined the Party. No RSVP required.