By Darren Rovell
Page 2 columnist
HOUSTON -- When Adam Vinatieri's kick sailed through the uprights at 9:26 p.m on Sunday, Greg Welsh slumped down in his chair in the opposite end zone and finally accepted defeat.
The end of a six-month dream was a tiring four hours for Welsh. Last summer, on the morning of July 23, he placed a $1,000 bet at 60-to-1 odds that the Carolina Panthers would win Super Bowl XXXVIII. The potential of a $60,000 payday meant that from the more than 30,000 individual wagers placed on the Super Bowl at BetCBSports.com, Welsh had the most to gain.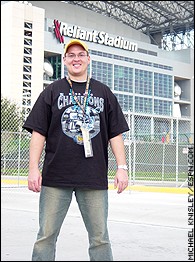 It also meant that his interest in the outcome differed dramatically from the 71,525 people watching in the stands and the millions more watching on television.
Of more immediate concern to Welsh, though, was the sea of Patriots' fans who surrounded him in Section 115 at Reliant Stadium. They were wise to what was at stake for the couple in the Panthers' gear -- Greg and his wife, Marla. And they weren't shy about sending their cheers -- "And another Patriots ... first down!" -- in the Welshes' direction. "I hate all of them," Welsh said. Welsh, who has been betting regularly for two years, clicked on Carolina's longshot odds that July morning to make upcoming games for his hometown Panthers a bit more interesting.
Interesting
doesn't even begin to describe Welsh's behavior in the stands on Sunday night. After a big play by the Patriots -- a grimace, a blank stare, a big sigh. When his Panthers rallied -- a quick taunt, a high five or a big shout. "Nothing gets by (Patriots' safety) Rodney Harrison," said one New England fan behind Welsh. "Yeah, after our guy goes for a 6-yard gain," Welsh said. He started to lose his voice after just 12 minutes had ticked off the clock -- after his second cigarette and his seventh beer. He reacted to every yard, every tackle, every pass, every tick of the clock. High rollers lose like this all the time; but the 28-year-old Welsh has rarely put down more than $1,000 on any one bet, and $60,000 is a lot of money to him.
The betting slip
Here is what Greg Welsh's betting looked like:

Ticket # 11513679
Accepted: 07/23/2003 11:51:20 AM
Wager Type: Future/Prop
Risk: 1000
Win: 60000
Description: Odds to win SuperBowl XXXVIII - Straight Odds - Carolina Panthers +6000
Although he works for a Fortune 100 company, he doesn't earn a six-figure salary. His two cars -- a 1997 Acura and a 1998 Infiniti -- have a combined 230,000 miles on them. A fat check might have gone towards paying off some of the debt on his house, which he and Marla bought in November.
This year's Super Bowl was the Welshes' best chance at winning the lottery. They play the real lottery every week, buying five tickets with the Quick Pick option from the "smallest, podunk places." More people get winning tickets at one-pump, self-serve, no-mini-mart gas stations in the backwoods than in any other establishment, reasons Marla, who often wakes up to check the winning numbers at three or four in the morning. Their last win came about a month ago, when a couple of numbers that Marla had found on the back of her fortune cookie at China Buffet came through to the tune of $7. The trip to the Super Bowl, which was provided by the online sports book with which he placed the bet, didn't get off to a good start. Greg left his Stephen Davis jersey at home, something that Marla -- who is relatively superstitious -- was not too happy about. If she wants to blame the Panthers' loss on that, Greg can always remind her of her first dinner of 2004, when she forgot to eat her black-eyed peas (for good luck) and turnip greens (for money) for the second consecutive New Year's Day. The pressure of the potential payoff, combined with sitting in the middle of so many Patriots' season-ticket holders, wasn't a great combination. On a normal NFL Sunday, the Welshes spend as many as 12 hours at a bar called Brewsters, where they only have to contend with a couple of New England fans named Bob and Scotty. On Sunday in Reliant Stadium, they were in an ocean of Tom Brady and Tedy Bruschi jerseys.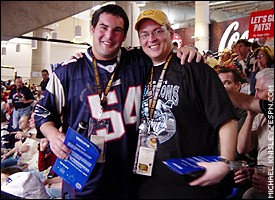 After Jake Delhomme completed a 39-yard touchdown pass to Steve Smith to tie the score at 7-7 in the second quarter, Welsh rotated 360 degrees around with his index finger near his mouth -- the universal sign for "Be Quiet."
Even though his team was only behind 14-10 after two quarters, the first half felt interminably long to Welsh -- so long, he said, that "it took me a shorter time to graduate college." But as one of the closest games in Super Bowl history came closer to its conclusion, Welsh said he thought the clock was moving much faster. An early third-quarter pretzel served more as a pacifier than nourishment. "I'm trying not to talk to anybody," Welsh mumbled, mouth full. With his Panthers down 29-22 and running a hurry-up offense with a little less than three minutes to go in the game, Welsh's knees began to shake so hard they were hitting the back of the plastic seat in front of him. For the rest of the game, his nervous hands didn't stop moving -- from his face to his shoulders, through his hair and back to his face -- save for the brief period when Carolina tied the score at 29. But then Brady drove the Pats into scoring position and Vinatieri drilled the dagger through Welsh's heart.
As Welsh walked up the stairs following his loss, he admitted that the Super Bowl had been one of the best games he'd ever seen ... even if it cost him $60,000.
Not that he needed it, but he had one final reminder of the loss when he returned his car. In the back seat was a huge, cardboard, $60,000 check that the sportsbook was going to present to him had his Panthers prevailed.
Darren Rovell, who covers sports business for ESPN.com, can be reached at darren.rovell@espn3.com.