It's Make Or Break Weekend
Welcome to "Make Or Break Weekend."
Rarely do fans have the opportunity to enjoy the convergence of eight high-stakes events on the same weekend. But that's exactly what lies before us. So clear your calendar and your TiVo memory, screen your calls judiciously, stock up on pretzels, guacamole and the beverage of your choice … and don't even think about mowing the lawn.
Because you have an important date with a couch and a remote.

7:05 p.m. ET, Friday, ESPN; 3:55 p.m., Saturday, Fox; 8:05 p.m., Sunday, ESPN
The Boston Red Sox versus the New York Yankees. First place versus second place in the AL East. Mid-September. Sounds like fun, right? Well, it gets better. All three games feature excellent pitching matchups: Daisuke Matsuzaka versus Andy Pettitte (Friday), Josh Beckett versus Chien-Ming Wang (Saturday) and Curt Schilling versus Roger Clemens (Sunday) -- a rematch of the starters of Game 7 of the 2001 World Series. And all three games are on national TV. Yes, the Red Sox have a 5½-game lead in the AL East, but a Yankees' sweep would blow the division race wide open. A Red Sox sweep could put the Yankees' wild-card chances in serious jeopardy. Regardless, this series pits the team with the best overall record in baseball (Boston) against the team with the best record since the All-Star break (New York).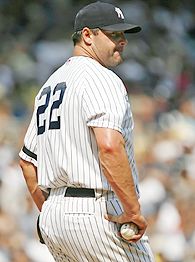 John Munson/The Star-Ledger via US Presswire
Roger Clemens might be making his final appearance at Fenway Park this weekend.
What should happen:
The most likely scenario is that one team will take two out of three. The Yanks appear to have the edge Friday -- Pettitte's 15-6 lifetime against the Red Sox, and he was a perfect 6-0 in August. Beckett's a better bet Saturday -- he's 8-1 with a 2.66 ERA in day games this year, and Wang has a 4.83 ERA on the road (vs. 2.85 at home). The winner of that matchup might gain the upper hand in the AL Cy Young race. Sunday is a crapshoot -- but with the Red Sox playing at home, and Clemens making his first start since receiving a cortisone shot for his elbow, advantage Boston.
What Page 2 wants to happen: A brawl. It's no news flash that there's bad blood between these teams. But a flare-up is a little more likely after what went down in the teams' last meeting Aug. 30 -- a game the Yankees won 5-0, polishing off a three-game sweep. Joba Chamberlain, New York's phenom reliever, was ejected after throwing two consecutive pitches that sailed over Kevin Youkilis' head. "If that young man is trying to get our attention, he did a very good job," Sox manager Terry Francona said. Don't be surprised if Boston retaliates, most likely by plunking Alex Rodriguez. And then the benches surely will clear. Watch out for forearm swipes.
How history will treat this moment: Clemens might be making his final appearance at Fenway, depending on whether the Yanks make the postseason and whether the Rocket hangs 'em up -- for good -- after this season. Will he be booed mercilessly, or might he receive a standing ovation? (Clemens' buddy Pettitte, incidentally, goes for career win No. 200 Friday.)
-- Kieran Darcy

Friday, 8:10 p.m. ET; Saturday, 1:05 p.m; Sunday, 2:15 ET
Despite their terrible start, the Cubs are in first place in the NL Central, one-half game ahead of the Brewers and five up on the Cardinals (four in the loss column). They've had to endure a contract dispute and a litany of foot-in-mouth quotes and clubhouse confrontations from Carlos Zambrano, a team mutiny against Michael Barrett, a three-week injury absence from $136 million man Alfonso Soriano, changes at multiple positions, season-long drama in the bullpen and plenty of eruptions from manager Lou Piniella. Still, a strong showing this weekend would move them closer to just their third playoff berth in 18 years.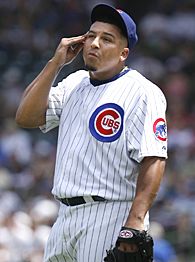 Nam Y. Huh/AP Photo
Carlos Zambrano could get a little redemption with a strong outing in St. Louis.
The Cardinals scoff at these minor inconveniences. This year has been filled with tragedy and controversy in St. Louis. Josh Hancock died in a drunk-driving accident, manager Tony La Russa got pulled over for passing out while drunk at the wheel, Scott Spiezio checked into rehab, and Chris Carpenter, Scott Rolen, Preston Wilson and Juan Encarnacion suffered season-ending injuries. The Cardinals got a dose of salvation when washed-out pitching prospect Rick Ankiel amazingly resurrected his career as a slugging outfielder, only to become embroiled in an HGH-related controversy just as his season was peaking. Operating with a skeleton crew, they've stayed in the race, and a sweep of the Cubs would make them a legitimate threat to win their third straight division title. Oh yeah, they're the defending World Series champs, too.
What should happen: Cardinals sweep the series, while the Brewers lose against Cincinnati, eventually setting up a three-way tie for first heading into the final week of the season
What Page 2 wants to happen: Rick Ankiel ends his post-HGH revelation slump, belting four homers in the series, including a walk-off grand slam to win it on Sunday. Just as Ankiel is rounding third, preparing to meet his giddy teammates in celebration, Bud Selig and George Mitchell run onto the field, tackle Ankiel, draw his blood and force him to pee into a cup in front of 46,000 shocked, Cardinal-clad fans.
How history will treat this moment: As the event that launched the run toward the most unlikely championship winner in pro sports history. The Cubs, Cards and Brewers will finish the year in a three-way tie for first at 79-83. The winner of the tiebreaker will be written off by experts and predicted to get swept in the first round of the playoffs. Instead, that team will go on to win the World Series, making the 83-win Cardinals team that won it all last year look like the '27 Yankees.
-- Jonah Keri

3:30 p.m. ET, Saturday, ABC and ESPN360.com
Michigan and Notre Dame, two of the winningest programs in college football history, are struggling. Like "shoelaces and belts are verboten on campus" struggling. That's great stuff, with or without schadenfreude. Desperation and panic make for great football.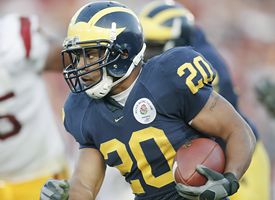 Greg Trott/WireImage.com
Mike Hart has guaranteed a win Saturday over Notre Dame.
For the first time in the 73-year history of the AP poll, neither team enters this matchup ranked. Never before have they both started 0-2. The Irish have lost their last four by a combined 98 points, the worst four-game stretch in school history. The Wolverines' four-game losing streak is their longest in 40 years -- and before now, Michigan hadn't lost its first two games at home since 1959, Castro's freshman year as comandante.
Both teams need a shot of stability from the most unpredictable of creatures -- true freshmen quarterbacks. That's a lot to ask of first-year players, but ND's Jimmy Clausen and Michigan's Ryan Mallet were rated as the top two signal-callers, respectively, in the Class of 2007. Each could be up to the task. Mike Hart, UM's painfully frustrated star tailback, has guaranteed a victory.
What should happen: Notre Dame fans will tell you it can't get any worse, seeing how the Irish are dead-last in total offense and rushing offense and haven't scored an offensive touchdown, all while yielding 32 points per game. If Georgia Tech's Tashard Choice could gash ND for 196 yards, Mike Hart will get at least 200 while carrying Michigan to victory and protecting his word. Notre Dame will gain positive rushing yards, if only because there must be some clause in the NCAA bylaws that strips a team of its Football Bowl Subdivision standing if it can't run for positive yards by the third week of the season.
What Page 2 wants to happen: After the game, both sides remain miserable. Michigan fans will continue to act like a bunch of Eeyores, while the Subway Alumni will find more ways to blame former coach Ty Willingham for ND's inability to run the ball, as if Ty's the guy who told Darius Walker to leave school a year early. Depressed by the Irish's 0-3 start, a few Notre Dame seniors will be waiting for Clausen to return to campus and give them a ride to the "store."
How history will treat this moment: The same way it would treat any other matchup of traditional powers turned hapless stooges -- with staggering indifference. At the end of the year, when Michigan is headed to a bowl game, this Notre Dame loss (and the Michigan win, for that matter) will blend in with all the others. Except for the loss to Navy, which will be a story in and of itself.
-- Bomani Jones

8 p.m. ET, Saturday, ABC
Just to give you an idea of the significance of this game, know this: the ESPN "College GameDay" crew is making its first appearance in Lincoln since 2001. But exactly what defines this game as "Make Or Break"? No. 14 Nebraska badly wants a victory over top-ranked USC to prove it belongs back among the college football elite. For a team such as the Trojans, who always eye the national championship, every week is make or break -- especially a road test against a storied program hungry for respect. This matchup marks the first visit to Nebraska by a No. 1 team since 1978. It's the 283rd consecutive sellout at Memorial Stadium, and tickets are running between $199 and $1,766 each at stubhub.com.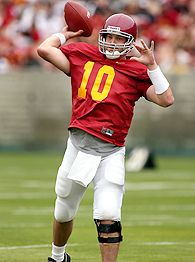 Christian Petersen/Getty Images
John David Booty and the Trojans know they'll be tested by an early-season trip to Nebraska.
What should happen:
USC enters as a 10-point favorite, but the Cornhuskers are sure to thrive on the emotion of the home crowd. Nebraska quarterback Sam Keller could finish the job he started two years ago and knock off USC. He led Arizona State to a 21-3 halftime lead in a 2005 game against the Trojans, but five Keller interceptions ultimately fueled a 38-28 Trojans victory. We expect Nebraska to keep this game close, but unless three USC tailbacks transfer to Nebraska at halftime, the Trojans will pull out the victory. Good golly, have you seen the USC roster?!
What Page 2 wants to happen: Obviously, we want a riveting game that goes down to the wire, but any of the following outcomes would please us:
•: The Huskers score the winning TD when running back Marlon Lucky dives and reels in a pass that was kicked by teammate Terrence Nunn in the end zone, and the state of Nebraska parties like it's 1997.
• Trailing by three with seven seconds left, QB John David Booty rushes for USC's winning score when tailback Stafon Johnson properly executes the "Reggie Bush Push."
• Nebraska has the ball on the Trojans' doorstep in the final minutes, but Keller throws four consecutive incompletions while distracted by USC's Song Girls.
How history will treat this moment: A Nebraska victory could return the Cornhuskers to the pinnacle of college football and help their fans forget all about Lawrence Phillips, Frank Solich and Tommy Lee. A USC victory could help Booty become the next Carson Palmer … while a loss could help seal his fate as the next Rob Johnson.
-- Thomas Neumann

8:15 p.m. ET, Sunday, NBC
You don't have to tell the Chargers this is "Make Or Break Weekend." When you get to face a team that beat you on your home field in January, ruined your Super Bowl hopes and then made fun of you after doing it, you tend to circle this game on the schedule. And you don't have to tell the Patriots, either. When you spend the vast majority of your week having all your past success second-guessed after you're caught spying on another team, you tend to see the next game as a chance to make a statement. The last time San Diego traveled to New England in 2005, the Bolts put up 41 points (the most the Pats have ever given up under Bill Belichick) and ended the Pats' 21-game home winning streak. In football terms, that was forever ago, but enough names remain to make this an official war. Both teams have a score to settle.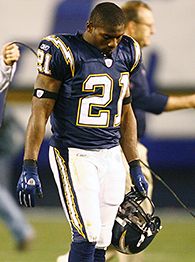 Kevin Terrell/Wireimage.com
LaDainian Tomlinson definitely remembers his last game against the Patriots.
What should happen:
Even though it's only Week 2, this rematch from last season's AFC divisional playoffs should go down as one of the best games of the season. LaDainian Tomlinson should be, well ... LaDainian Tomlinson. In his past two games against the Patriots, LT has averaged 24 carries, 128.5 rushing yards, 49 receiving yards and two TDs against the usually effective Patriots defense.
But, now that running back Laurence Maroney is healthy and QB Tom Brady is able to recline in the pocket behind a dominant offensive line, the Patriots offense is too balanced, too loaded and too deep. If the Pats get a lead (and they will get a lead), the Chargers will need QB Philip Rivers, not LT, to bail them out.
What Page 2 wants to happen: The Patriots will get expressed written consent from the National Football League to reproduce the game and therefore the green light to steal any signs they want. Not to be outdone, Chargers coaching genius Norv Turner will order his entire staff to coach the game in full Hannibal Lecter gear, including straightjacket and hand truck. Take that, Belichick!
How history will treat this moment: With the Patriots' spy games still fresh in everyone's mind (and no doubt rehashed in the media millions of times before, during and after the game) Sunday will be the tipping point for the Patriots to become the new team to hate in sports. A victory will make the hate even stronger. And if the Red Sox win it all in October, there will be Senate hearings to discuss the possibilities of kicking New England out of the union (or at least taking away the First Amendment rights of Curt Schilling).
-- Mike Philbrick

Sylvania 300, 1 p.m. ET, ABC
Sunday's opening Chase for the Nextel Cup event at New Hampshire International Speedway is just as "Make Or Break" as any other sport's first round of the playoffs. The MLB divisional round. The NFL wild-card playoff games. The first round of the NCAA Tournament. Perform poorly when the intensity is suddenly ratcheted up and there might be no chance to make up for it.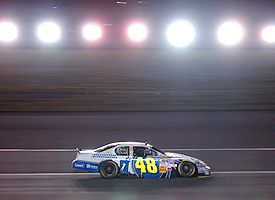 Mark J. Rebilas/US Presswire
Points leader Jimmie Johnson can't afford to get off to a bad start in Loudon, N.H.
Take last year's Chase, for example: Kyle Busch came into New Hampshire ranked fourth in the standings -- prime position to move up and win the Cup. But he finished 38th in the first race and followed that up the next week with a 40th-place finish. His hopes were all but gone, and he finished dead-last in the final standings.
What should happen: None of the top-5 drivers in the standings -- Jimmie Johnson, Jeff Gordon, Tony Stewart, Carl Edwards and Kurt Busch -- has won at Loudon in more than two years. So expect the winner to be a Chase driver from a little farther down in the standings who has had more recent success there -- Denny Hamlin, Kevin Harvick or Kyle Busch. Also, don't be surprised if one of the top drivers crashes out and records a DNF, putting his Nextel Cup hopes behind the eight ball (which is still at least more promising than being behind the No. 8 car).
What Page 2 wants to happen: The 12 drivers in the Chase all finish in the top 15 or 20, keeping the standings tight heading into next week. No one will be injured in a crash. No teams will cheat. And, if Jeff Gordon wins, fans will kindly refrain from covering him in trash (partly covering him is acceptable).
How history will treat this moment: As the first step toward determining the 2007 Nextel Cup champion. Hopefully, history will not also treat this moment as the tipping point in our massive waste of gasoline and oil, leading to us all being consumed by the rising oceans.
-- DJ Gallo

Mercury at Shock, 4:30 ET, ESPN2 and ESPN360
Former Detroit Pistons "Bad Boy" Bill Laimbeer has the Shock (aka the WNBA's "Bad Girls") positioned to win their third championship in five seasons and second in as many summers. But Paul Westhead and his run-and-gun Mercury, who have topped 100 points in 11 games this season, are eyeing their first title. Still, no team has ever won a WNBA championship on the road, and the Shock come in stewing after failing to put away Phoenix on Thursday. The Shock led by four with less than two minutes to play, but the Mercury's zone defense and Detroit's inability to take care of the ball (18 turnovers in Game 4) allowed Phoenix to take the Finals the distance.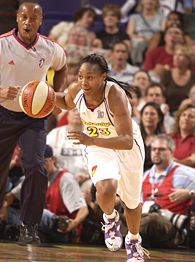 Barry Gossage/NBAE via Getty Images
Thanks to Cappie Pondexter's heroics, the WNBA Finals are going the distance.
The Shock have two of the best jump shooters in the history of women's basketball in Deanna Nolan and Katie Smith, and one of the best rebounders in league history in Cheryl Ford. But Ford likely won't be vaulting into dad Karl Malone's arms after Sunday's game (as she did in 2003 when Detroit won its first title) because Ford might not even play. Hindered most of the season (and even sidelined for various stretches) by a femoral chondral defect in her left knee (a divot in the cartilage at the end of the bone), Ford further suffered a left knee sprain in the final minute. Laimbeer on Thursday was extremely pessimistic about the All-Star Game MVP's availability for Game 5.
On the other side, the Mercury are undersized but make up for it with the trio of Diana Taurasi, Penny Taylor and Cappie Pondexter, who have combined to average 62 points per game in the playoffs. And, as Geno Auriemma let us all know years ago when "Dee" helped lead his Connecticut Huskies to three consecutive NCAA titles, sometimes the difference simply can be, "We have Diana and they don't."
What should happen: For the second straight summer, Detroit will win the WNBA title. Last season, the Shock had to do it at Joe Louis Arena when a Mariah Carey concert at the Palace of Auburn Hills displaced them. But Sunday, they'll be right at home, where they are 5-1 in the postseason (the only loss was a 28-point rout by Phoenix in Game 2 … when no one on the Shock roster put in a memorable performance). Detroit also has won seven straight elimination games over the past two seasons.
Detroit has won without Ford before. In the Shock's 108-100 Game 1 victory, for instance, Katie Braxton and Katie Feenstra combined for 29 points and 19 rebounds -- and Ford's absence wasn't a factor at all. Plus, at any given moment, Nolan and Smith can take over games by themselves -- and the Shock always seem to rise to the occasion when their backs are against the wall.
What Page 2 wants to happen: Phoenix snaps out of its shooting slump -- the Mercury matched the worst shooting percentage in Westhead's two seasons in Game 3, hitting just 34.7 percent from the field, and shot just 35 percent from 3-point range Thursday -- and sprints past the Shock in a shootout for its first WNBA title in its first playoff appearance in eight years.
Just like she squeezed the orange right out of Pat Summit and Tennessee in college, Taurasi's clutch shooting and tremendous chutzpah take down the closest thing the WNBA has to a dynasty. Pondexter, once UConn's arch enemy (right behind the Lady Vols, anyway) during her days at Rutgers, has Huskies fans throughout New England cheering for her. Taylor, last year's most valuable player at the World Championship, rebounds from her Game 4 funk to give Australia something else to cheer about other than Lauren Jackson's MVP award. Kelly Miller continues to play with so much energy it looks like twin Coco is out there, too. And Westhead goes out with a bang … assuming he's bound for Seattle … er, Oklahoma City? … to join pal P.J. Carlesimo's Sonics coaching staff.
How history will treat this moment: Hey, it's women's hoops and we know this game will hardly be the most anticipated of the weekend. But the 2007 WNBA Finals -- and the entire postseason -- have been the best in league's 11-year history. Before the eye-rolling starts, remember the first round featured the first triple-overtime game in WNBA playoff history, three deciding Game 3s for the first time since 2004, the biggest comeback in WNBA playoff history (22 points) and a series-clinching basket with five-tenths of a second. And the WNBA Finals have been one of the most physical series we've seen.
-- Melanie Jackson

Friday, The Golf Channel; Saturday and Sunday, NBC
What is more "Make Or Break" than the Tour Championship in Atlanta? As the final event in the inaugural PGA Tour playoffs concludes, one player will walk off the 72nd hole at East Lake on Sunday and be given the FedEx Cup trophy. For all the other sporting drama on display this weekend, this is the only event giving away a championship trophy.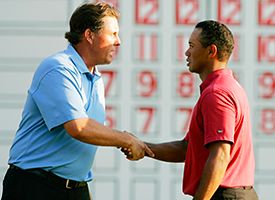 Stan Badz/US PGA TOUR
If we're lucky, we'll get Phil and Tiger battling for the trophy Sunday.
Tiger Woods is the best bet to win -- as always -- and enters the tournament ranked first in the playoff standings. Phil Mickelson is third. Between them is what every big event needs: the underdog, Steve Stricker. The rest of the 30-player field is all but out of it. For all of the players' griping about the playoff format, it has been a success. And this weekend's tournament will be virtually indistinguishable from a major. So whether it's Tiger, Phil or Stricker who wins this weekend, the real winner is PGA commissioner Tim Finchem.
What should happen? Slow, soft greens will yield some low scores (like we saw with Tiger Woods on Friday). The players have been pretty complimentary of how the staff has kept the greens together despite all the weather issues in Atlanta.
What does Page 2 want to happen? Woods and Mickelson head into the final round paired and as the only two players with a legitimate shot at winning. We are finally given the Tiger versus Phil final-round matchup -- with something big on the line -- that we've always wanted to see. … Or Stricker wins, and Stricker mania explodes across the country.
How will history treat this moment? Golf history will view this week's Tour Championship as the first playing of the sport's fifth major. Does the FedEx Cup need to be tweaked? Yes. But it has resulted in some fantastic golf, and the top players are taking it very seriously. And it will only get better. So, someday in the future you can tell your grandkids that you saw the first FedEx Cup. (Although by then, FedEx will have been bought out by Teleportation Inc., and they'll have no idea what you're talking about, you old, crazy coot.)
-- DJ Gallo


A high-pressure system is hovering over the sports world this weekend, with marquee matchups everywhere on the horizon.
Overview
•
It's Make Or Break Weekend
•
Bryant: High stakes in Boston
•
Vote: Who's going to win?
Yankees at Red Sox
•
McAdam: The kids are all right
•
Friday preview: Pettitte vs. Dice-K
Cubs at Cardinals
•
Sutcliffe's keys for Cubs
•
Friday preview: Zambrano vs. Wainwright
Michigan at Notre Dame
•
Curry: Two monsters are hurting
•
Hooley: Carr on very bumpy road
•
Forde: Credit check for the Irish
•
GameDay Kickoff: Pressure points
•
Bottom 10: Pillow fight of the week
USC at Nebraska
•
Griffin: Huskers out to make statement
•
Miller: Nebraska priority No. 1 for USC
•
Preview: No. 1 lands in Lincoln
•
Scouts' pick: USC 28, Nebraska 17

Chargers at Patriots
•
Clayton: Early playoff implications
•
Preview: Heavyweight rematch in AFC
•
Scouts Inc.'s breakdown

•
Scouts' pick: Pats 20, Chargers 17

•
Spy scandal overshadows game
WNBA Finals Game 5
•
Voepel: Title on line for Shock, Mercury
•
Voepel: Ford unlikely to play
•
Voepel: Going the distance again
•
Phoenix forces Game 5
FedEx Cup
•
On the Tee: Full tourney preview
•
Sobel: Time is right for FedEx
•
First-round recap: Tiger 2 back
•
The "Super Bowl" of golf?
Nextel Cup
•
Blount: Contenders need fast start
•
Chase Tales: Consistency is key
•
Surround: Sylvania 300
ESPN Top Headlines