Knicks have lots of great options to fill Isiah's shoes
Now that Isiah Thomas has officially been canned (what took so long?) new Knicks prez Donnie Walsh needs to assemble a coaching candidate list. The obvious choices include former NBA coach Rick Carlisle, former Knicks coach Jeff Van Gundy and former Knicks player Mark Jackson.
We here at Page 2 have some other ideas. After all, the Knicks just endured the worst stretch in franchise history. Isn't it time to think a little outside the box?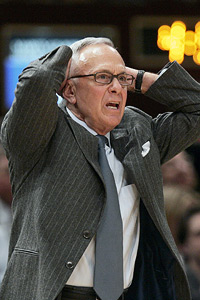 AP Photo/Frank Franklin II
Think Larry would want another crack with the Knicks? Probably not.
LARRY BROWN
Pro:
Only coach in history to win an NCAA championship and an NBA title
Con: Coached the Knicks to a 23-59 record in 2005-06 -- the same record Isiah led them to this past season
Odds: 10-1
JOHN CALIPARI
Pro: Just coached the University of Memphis to the NCAA championship game; has NBA head-coaching experience
Con: Botched the final couple minutes of the NCAA championship game; 72-112 record during his NBA head-coaching experience
Odds: 25-1
JERRY TARKANIAN
Pro: Known for achieving success despite the most trying of distractions
Con: It's not as difficult to get a national championship ring as you think.
Odds: 34-1
DAVID STERN
Pro: Has demonstrated he cares deeply about the state of the franchise in the past
Con: Can't rig the lottery in the Knicks' favor if he becomes an official Knicks employee
Odds: 50-1
STEPHON MARBURY (Player/Coach)
Pro: Media savvy; gave the greatest interview in NBA history
Con: Thought "dime" and "assist" were different things in said interview
Odds: 75-1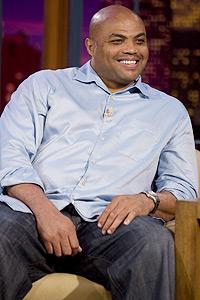 Paul Drinkwater/NBCU Photo Bank via AP Images
Sir Charles probably wouldn't be smiling much if he was running the Knicks.
CHARLES BARKLEY
Pro:
One of the most outspoken guys around the NBA; he'll tell the players how it really is
Con: Once he tells them how it really is, the players will probably start weeping
Odds: 100-1
BILL BELICHICK
Pro: Would be ultramotivated by such a new, exciting challenge
Con: Might resign after one day as HC of NYK.
Odds: 300-1
CRAIG T. NELSON
Pro: His character in "Coach" was the respected and successful head coach that Isiah Thomas never was. A few minor script changes could make him knowledgeable about basketball instead of football
Con: Instead of coaching, he might spend every game begging Spike Lee for film work
Odds: 400-1
SIMON COWELL
Pro: A tremendous judge of talent
Con: Not much to judge on the current roster
Odds: 500-1
CHUCK DALY
Pro: Career winning percentage approaching .600 and two championship rings
Con: This makes entirely too much sense
Odds: 500-1
WHOOPI GOLDBERG
Pro: Already led a woeful Knicks team to the playoffs in "Eddie."
Con: Has had about as much career success in the past decade as Isiah Thomas
Odds: 800-1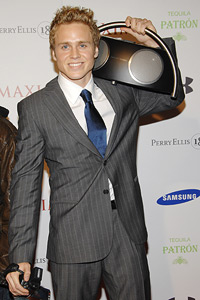 AP Photo/Evan Agostini
Maybe Spencer would have some friends if he ran an NBA team?
SPENCER PRATT
Pro:
Used to cameras following his every move
Con: As far as we can tell, he's never had a real job, right?
Odds: 1,000-1
LATRELL SPREWELL
Pro: Intensity, competitiveness, link to 1999 Eastern Conference championship team
Con: Difficult to feed family on coach's salary
Odds: 5,000-1.
BRITNEY SPEARS
Pro: Can't be a bigger train wreck than Isiah
Con: On second thought …
Odds: 1,000,000-1