I hadn't lived until I answered my phone to be greeted by the unidentified caller's dreamlike salute: "Mary, hey. Jon Bon Jovi."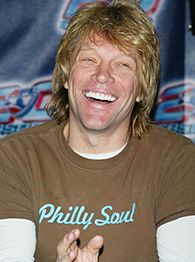 AP Photo/Jennifer Graylock
Seriously ... if he called you, you'd be a little flustered too.
I wish I could tell you that this was anything short of a once-in-a-lifetime experience, but the truth is, I have no business talking to JBJ if not for business.
God bless the Arena Football League.
The rock legend who has sold more than 100 million albums worldwide is in the middle of a 38-city tour on the coattails of his latest No. 1 album, "Lost Highway." On Monday night, his Philadelphia Soul (8-0) -- the best offense on turf -- take on the Dallas Desperados (7-0) and their league-leading defense. Bon Jovi is the majority owner of the Soul and is well-known to be much more than a vacant figurehead, though last-minute travel issues will prevent him from being at Monday's game (ESPN2 HD, 8 p.m. ET).
Dallas will be aiming for its 16th straight regular-season win, which would be a league record. Philly is working to pack on enough points for its 11th straight regular-season victory.
Tommy used to work on the docks. I work for Page 2 and got to talk with Jon Bon Jovi.
Here's what New Jersey's finest had to say about all this:
---
Where will you be watching Monday night's big game from?
I'll be there. I wouldn't miss it.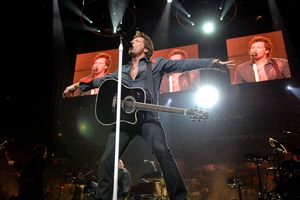 Larry Marano/Getty Images
Jon Bon Jovi is on tour, but scheduled an off night so he could see his Soul take on Dallas.
So it's true, you really do plan your tour dates around Soul games?
Well, yeah, but I didn't do a very good job of it this time. We'll be in Miami for a show on Sunday so I'm flying up from there [to Philadelphia] for the game and then flying back [to Atlanta] for the next night's show.
You're a rock star in your second decade of duty, plus you're the majority owner of an AFL team, and you have a family. Would you say, at 46, this is the busiest you've ever been?
No. This is an exciting time but it's just normal operating business. I'm not ready for retirement yet.
Well, you sure get around. Hey, in the spirit of your latest single, which town do you love?
Well, we just played Nashville [Thursday night] so it's pretty high on my list right now. You know, Music City, as it were. Pretty great place. I love Chicago and Boston, too with New York of course being No. 1. That's my top four off the top of my head.
Let's stay on New York for a minute. In 2000 your concert was the last event that was held in England's famous Wembley Stadium. Any thoughts on who or what should close down Yankee Stadium?
Oh, that's a good question. You know, well, Billy Joel -- no wait, he's playing Shea. Gee, it should have been Bon Jovi! Yeah.
So if someone had asked you, you and the boys would have done it justice?
Yeah. Yeah, that would have been nice. Well, we are doing Central Park, but Yankee Stadium, yeah. Good idea. Thanks for that.
Has anybody on the Soul ever admitted to having that sweet Rolling Stone cover of you on their bedroom wall?
Uhh, I don't think they have. Nobody on the team.
But I'm sure you come across guys in the league who've admitted to being die-hard fans.
I certainly have. More than you would think.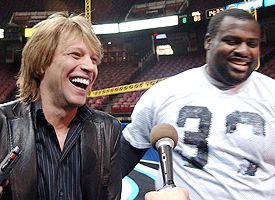 AP Photo/Jessica Griffin
Jon Bon Jovi is the face of the Soul, but for some reason, players are a little shy about singing Bon Jovi songs around him.
Can anybody on the Soul do a solid impression of you, circa "Slippery When Wet"?
Ha-ha. No way, not that I've seen. They wouldn't dare do it in front of the boss. They're definitely not going to be doing that in front of me. Who knows what happens out there, though.
Be honest, you've never hazed Soul rookies by making sure they know the lyrics to Bon Jovi classics?
No, but there would be some bonuses involved if I could get [wide receiver] Chris Jackson to sing a song.
Chris Jackson is on a tear -- 49 consecutive games with a touchdown reception and the Soul are sitting 8-0. Is there any kind of rock star analogy to an undefeated season? Have you ever had a perfect tour going into your ninth stop?
Ha-ha. No, never. I can't compare. This is definitely a game that everybody is pumped about, though. Two undefeated teams. There's a great rivalry between Philadelphia and Dallas in football. I don't think that either city likes each other very much and that's spilled over into the AFL over the years. It makes this one very interesting. Even though we're quite good friends off the field, we all want this game for bragging rights. It's going to be a hell of a matchup. I'm just glad I get to be there for it.
Seriously though, you're an epic legend; what's with your role in Arena Football. What are you trying to do? You want to make a memory? Steal a piece of time?
Heh-heh. Funny. But seriously, like anything else I've ever been involved in, I believe in it and I want to give it everything I've got to give. I mean, look, this is my day off and I'm sitting in a TV studio in Miami. I should be laying on the beach with a margarita! But the truth is, I love the team, I love the game and I want to do whatever I can to get people to tune in and check them out.
Give me the Bon Jovi-approved message about getting people to tune in to Arena Football.
Well, there are the purists who don't want to give it a chance. They don't want to look at it. They never will.
What do you say to those guys?
Well, I just try to be diplomatic about it because I, too, was a purist and wasn't interested, but I realized that it's fun. I was taken by all the high scoring and the athleticism, but when you consider the average fan of ESPN.com who is going to bother to read this article, those are sports fanatics, the guys that read your site. They love football. They want more football all the time. So to them, I say "Hey, if you see this game, you might like it." And if they like what they see, then it's the thing where you've got the opportunity to take your kids to a game. This is affordable and accessible. You can't take your family to an NFL game. But you can all come out to an AFL game and Clint Dolezel and Tony Graziani get to meet your little boy or girl. Then they see them on ESPN down the road and the whole thing is a really great experience that's really nice for the kid to be able to say "I know Tony Graziani ... I met Clint Dolezel."
That doesn't happen anymore in the big four. Good luck getting your kid on the sideline to go shake hands with whomever. Good luck buying four tickets to take the kids in the neighborhood out, too. I love the NFL more than anyone, I've got my Giants season tickets and all that kind of stuff, but it's just not possible for most people.
How many years until you're old enough to play the Super Bowl halftime show?
Yeah, ask the NFL that question. Tell them to wise up.
Really? All they'd have to do is ask?
Mmm-hmm.
Is there an ArenaBowl performance in your future?
Nah.
What if the Soul made it?
I'll be sitting in the owner's box enjoying the moment. I won't be performing at it.
Could any guys in the AFL make it as musicians?
Hmm. I don't think anybody on my team. Although, I don't know, I guess I could see Tony joining one of those country bands. I could see him playing tambourine for Kenny Chesney. And I guess I could see Chris Jackson singing backup for Usher, or something smooth like that. And the offensive line could get together and reform The Fat Boys. Hey, you know, none of that sounds too far off.
Would you rather have a Grammy, an Oscar or a Foster ArenaBowl Trophy?
Ha-ha. That's a good question, too. I'm often asked if I'd rather have another No. 1 album or a ring, and I'll always say a ring. This one is a little different, though. It's tough, I've got the Grammy, I've had the Oscar nomination but I didn't win that, so that would be nice someday. I'm torn between the Oscar and the Foster Cup, to tell you the truth. But right now, I mean, at least in the short term, I'm praying to be drinking some cheap champagne outta that cup before the season ends.
Hey, I know you're cool, but are you cool enough to pull off Soul president Ron Jaworski's glasses?
[Laughs] Never happen! I think his nose is connected to them.
Another presidential question for you: Who has a bigger man crush, you on Barack Obama or vice versa?
[Laughs] I've barely met the guy, so I'm really just a casual observer at this point. I don't know.
What's your wife's favorite song of yours?
Couldn't tell ya.
At this point, your songs and albums are so diverse. Explain your move from hair band to country?
Well, we were the first rock band ever to have a No. 1 country single and "Lost Highway" was a No. 1 album this year. We played Nashville [Thursday] night. Big & Rich jumped up on stage with us for a song, and LeAnn Rimes came out with us, too. There were a whole slew of country stars there at the show, and to be honest, I really do love the genre and the album definitely has some Nashville influence. That's the bottom line.
Musicians -- much like veteran athletes -- are judged by their total body of work. What do you hope people realize about you and everything you've stood for when all is said and done?
The legacy is not truly written yet, but when you start to see second and third generations of people coming in to the shows, and there's songs like "Livin' on a Prayer," or "Wanted Dead or Alive" or "It's My Life," or even "Who Says You Can't Go Home" that stand the test of time. It's been 22 years since "Livin' on a Prayer" has come out, and you can't not hear it on the radio, or in a karaoke bar, or even in Asia, Africa or Australia. There's just those songs that you hope to leave to people, the ones that somehow touch lives.
Is it safe to say you hear at least one of your songs every single day?
I don't often get a chance to listen to the radio, but if I'm home and driving around in the car, chances are I'm gonna hear something, yeah.
Do you leave it on or change the station?
Sometimes. That's a good question because the truth is, for many years I'd change the channel. I was like, oh god, I remember every nuance. Starting just a few years back, once in awhile I'd hear one or two that made me go, oh yeah, alright, that's good, I remember. I mean, it's not like I sit around everyday listening to my albums, so now I'm getting to hear those ones again.
That's what happens when you have a jukebox full of songs to your name. I think it's time you just kick back, sell out and make an AFL Jock Rock greatest hits remix sound track, or something.
No, no. I don't think so.
Well, fine. You're on your own. And that's my last question. ... Have a nice day, uh, er ... sorry.
All right. Well, we'll see everybody for Monday's game, then. Check it out.
Mary Buckheit is a Page 2 columnist. She can be reached at marybuckheit@hotmail.com.