Commentary
Tiger Woods highlights Sunday Brunch
Originally Published:
February 21, 2010
By
Jerry Greene
| Special to Page 2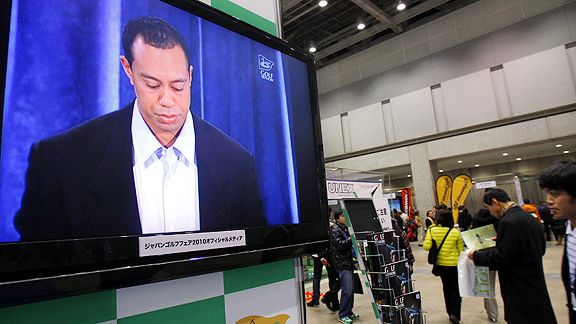 AP Photo/Koji SasaharaThe whole world seemed to be watching the Tiger Woods news conf… uh, public statement.
In case you missed it, the Sunday Brunch starts with a brief mention that Tiger Woods was on TV on Friday. But it must not have been all that important because they had only two cameras and one broke; plus, there were hardly any reporters within a mile of the place.
Anyway, if you did miss it, what Tiger said was that one of his personal obsessions is a terribly selfish activity and has been hurtful to his family and friends. But despite how awful it may be, he intends to keep playing golf.
Thank you, thank you, we'll be here all week.
Other tidbits to start your brunch:
• Pop quiz: Durant, Warren, Hayes, Collins and Beckman. Are they five obscure U.S. presidents or the PGA Tour Mayakoba Golf Classic leaderboard?
• Speaking of golf, did you notice that in the first round of the Accenture Match Play Championship, top-seeded Steve Stricker was eliminated by Rose McGowan? You remember Rose. She played Cherry Darling in "Planet Terror" and had a machine gun replacing one of her legs. We feel bad for Stricker because a machine gun for a leg shouldn't be allowed in golf. … What? Oh, Ross McGowan. Never mind.
• Told the grandkids we were going to play an Olympic sport -- curling. Got the floor swept in 20 minutes.
• The Clippers were giving away tickets to the Pac-10 basketball tournament, but fans wanted to know whether they had tickets to anything that was starting in the Clippers' second half.
• Lenny Dykstra, former Phillies outfielder, wants to be your financial adviser. He clearly has had a lot of experience, considering he filed for bankruptcy last year.
• The NFL hauled in 8,165 fake items of Super Bowl-related merchandise in a sting called "Operation Faux Bowl." Fooled us -- we thought that was the code name for the Pro Bowl.
• Best of Dave Letterman: "You know who was at the Yankees' spring training? Madonna. She is apparently down there looking for a fifth man for her rotation."
• Maker's Mark was named the official bourbon of the 2010 World Equestrian Games. Fill in your own joke here.
• Paging John Daly -- the Norwegian curlers have stolen your pants.
And now the main courses in the Sunday Brunch:
• We start with a straight news story from the London Telegraph about a pancake race where it was, uh, illegal to run. No word on whether waffles were allowed.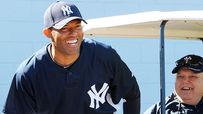 Noah K. Murray/US PresswireIt's about time for spring training and rooting for (and against) the Yankees.
• Mike Vaccaro of the New York Post gives out Olympic-style medals for TV apologies. Alas, Tiger must settle for bronze.
• Chris Erskine of the Los Angeles Times is at the Winter Olympics and describes ice dancing as the type of sport Barry Manilow might have invented. He (Erskine, not Manilow) makes ice dancing sound like fun -- almost.
• Joe Posnanski of the Kansas City Star closes the Brunch with a long, long, long prediction column for the baseball season. In fact, you can spend the first month of the season reading it. Short version: He likes the Phillies and really, really, really likes the Yankees.
Jerry Greene is a retired columnist for the Orlando Sentinel. He can be reached at osogreene@aol.com.
MOST SENT STORIES ON ESPN.COM