Commentary
Olympics highlight Sunday Brunch
Originally Published:
February 21, 2010
By
Jerry Greene
| Special to Page 2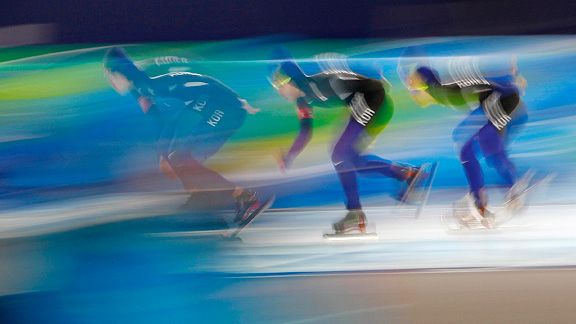 AP Photo/Kevin FrayerIt's so sad to see the Winter Olympics in Vancouver end. When's football season?
And so it ends.
Promise not to cry Sunday night during the closing ceremonies of the Winter Olympics. Actually that's a promise we can't keep as we started tearing up during the opening ceremonies when the Royal Canadian Mounties marched into the building. We're a sucker for the Mounties. It probably has something to do with Dudley Do-Right and all those times he saved Nell from Snidely Whiplash.
Whatever. Don't judge me.
Oh, and make sure you cheer during the USA-Canadian hockey showdown for all the gold. Cheer like you really care and then you can go back to ignoring hockey.
Lordy, I miss football.
(By the way, according to NBC, "34 percent of viewers delayed doing laundry or other household chores -- including paying bills -- in order to watch the Olympics." Well, as excuses go, that's a new one. "Hey, I would have made my car payment but I was watching the ice dancing.")
Now some other Sunday Brunch bits of tid before getting to the main meal:
• Be honest, wouldn't you love to party with those female Canadian hockey players?
• Tim Tebow was signing autographs last week, getting $160 a pop with proceeds going to the Tim Tebow Foundation. First guy in line was probably Jags owner Wayne Weaver with a contract in hand.
• At the NFL combine, for the first time, all 329 invited players will be given a baseline brain activity exam. Fill in your own joke here.
• Ric "Nature Boy" Flair was assaulted by his wife after they went out to dinner, according to police reports. Not sure we can blame her. It's got to get old hearing stuff like "I'll have the roast beef -- woooooo!" or "Pass the salt and pepper -- woooooo!"
• Speaking of wrestling, Slim Jim has been named "the official meat snack" of the WWE. They must be so proud.
• Tweet of the Week: "Wow. I'm so bummed. I missed Ice Dancing on the Olympics tonight. I wanted to watch but I promised myself I'd floss the cat tonight. Tragic." -- Adam Duritz, lead singer for Counting Crows. How do you floss a cat? Carefully.
• In case you missed it, civilization officially fell when John Daly signed a deal to endorse underwear.
• And according to something called the Davie Brown Index, Tiger Woods is now trusted by the public as much as Kid Rock and Andy Dick. If that's true, he should shoot himself.
• Best of Jimmy Kimmel talking about the Tiger Woods non-conferring press conference: "No questions were allowed and as a result of that, the Golf Writers Association -- there is one -- boycotted the speech. I like that. The only interesting thing they've had to write about in 40 years, they boycotted it. It's like the Weather Channel boycotting a tsunami."
Let's get to the main courses in the Sunday Brunch as we have a balanced meal of humor and, well, hopefully some more humor:
• Our leadoff hitter is Chicago Tribune blogger Sarah "No Spain -- No Gain" Spain and her 10 reasons why the White Sox do not want Ozzie Guillen on Twitter. How many times can you say "bleep" in 140 characters?
• Mike Bianchi of the Orlando Sentinel lavishes praise on two other Mikes -- Golic and Greenberg -- during the ESPN The Weekend festivities at Disney World. Bianchi also answers the ageless riddle of what do you get when you cross NASCAR with the Winter Olympics: Billybobsledding.
• Marcus Hayes of the Philadelphia Enquirer comes to the defense of those female Canadian hockey players, saying, among other things, that being Canadian is like being Australian except without the tan. Not sure what that means but we like it.
• T.J. Simers lives at Page 2 for the Los Angeles Times, so we love him. Frank McCourt, owner of the Dodgers, may not love him even though Simers gives an eloquent defense of McCourt's right to separate Dodger Nation's money from its wallet.
• We're closing the Brunch with Kansas City's Joe Posnanski, who discusses -- at length -- the difference between being funny bad and "professionally" bad. The Royals, of course, are funny bad, including their latest headlines about being sued because their (former) mascot hit someone in the eye with a hot dog. Joe says the Nets are just professionally bad -- so, uh, what does that make the Celtics?
Jerry Greene is a retired columnist for the Orlando Sentinel. He can be reached at osogreene@aol.com.