Commentary
Hockeyfights.com is a hit with fans
Originally Published:
April 15, 2010
By
Andrew Astleford
| Special to Page 2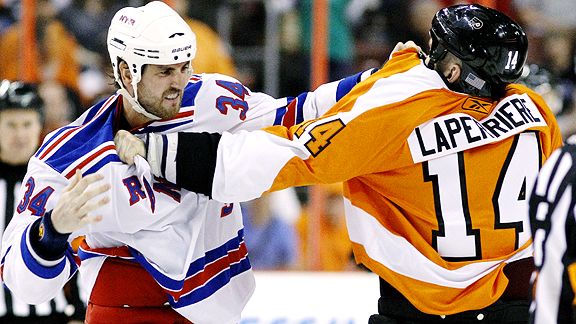 AP Photo/Matt SlocumRangers' Aaron Voros and Flyers' Ian Laperriere fight earlier in the week.
A fist fascination connects some of the NHL's most passionate fans.
For many years, hockeyfights.com webmaster David Singer was without a statistic that tracked the NHL's toughest athletes. Without much trouble, he could locate the league's leading goal scorer, an individual points leader -- even the top player in penalty minutes served.
But who delivered the ice's coldest clock?
What about a fights leader?
"It represents part of the game that generally represents heart and passion," Singer said. "The players who fight, a lot of them are the heart players on the team and the nicest guys off the ice. They give every ounce of strength and energy. The fans seem to represent that themselves. They are some of the most passionate, loyal fans of the game."
For more than a decade, Singer has tapped into hockey fans' passion with hockeyfights.com, a website that allows users to vote and comment on hockey fights. What started as a labor of Singer's love has matured into a vibrant community that receives more than 10 million page views in a month during the NHL season.
Singer's project is a product of his creativity. In 1995, he began studying fights that involved the New York Islanders. On his personal site, he posted findings within one paragraph that was updated regularly -- a practice that he called "a prehistoric form of blogging."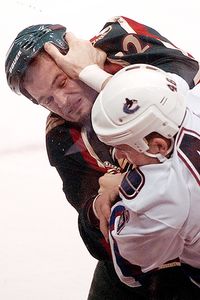 AP Photo/Jim MoneMinnesota Wild's Matt Johnson and Vancouver Canucks' Martin Grenier tangle.
Soon, he started to track more teams. He expanded his efforts to scout fighters on the New York Rangers, New Jersey Devils and Buffalo Sabres. Features were expanded, and his audience grew.
By 1999, hockeyfights.com -- and a phenomenon -- launched.
"At first, I was just following what they were doing," Singer said. "Then it became more of a numbers game."
Today, hockeyfights.com -- Singer calls it his "night-time hobby" -- has become a hub for hockey fans. Although anyone can browse the content, visitors must register to vote on a fight's winner and to post comments about their decisions on one of the Web site's forums. (The most popular message board is titled, "You see them brawl?") Usually, fights receive a few hundred votes. Each fight video receives more than 15,000 views on an average day.
"I think what makes the community so great is that everyone has a favorite team out there," said Jamie Fitzgerald, a forum moderator who joined the community in 2003. "Everything about the site goes past where you are from or whom you support. There is a fighter on every other team who you support or respect because of the way they play. I think that's what brings people there and makes the community so great."
Hockeyfights.com includes an NHL standings list that breaks down fight leaders individually and by team. Sometimes, players will sign-in to write clarifications about their fights. Team executives and agents also follow the website's findings.
Singer anticipates tweaks. He is in the process of integrating hockeyfights.com to Facebook. And, this summer, he said he will try to slim the Web site's voting system.
But his service to the fist-following hockey fan remains unchanged.
"They treat it not just as a sport, but also as a religion," Singer said. "It has been great to connect with a lot of them. Before this, there wasn't really a way to do so."
Andrew Astleford is a freelance writer. Check out his Web site at AndrewAstleford.com.