Commentary
Carl Edwards psyched about brackets
Originally Published:
April 16, 2010
By
Adam Watson
| Special to Page 2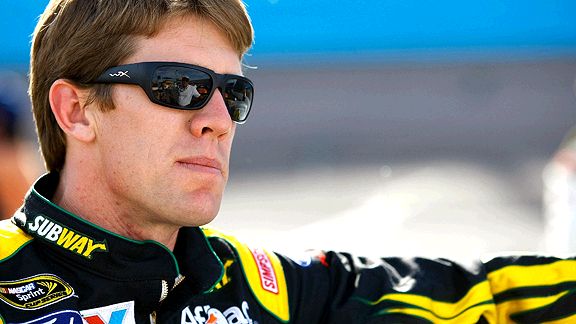 Geoff Burke/Getty Images/NASCARCarl Edwards is one of the competitors in the DirecTV NASCAR Head-2-Head Knockout competition.
Carl Edwards has modeled for magazine covers, acted in hit TV shows, started his own music label and recently became a father for the first time. All of that outside of driving for NASCAR.
So two races on Sunday shouldn't be a problem.
Edwards is one of the competitors in the DirecTV NASCAR Head-2-Head Knockout competition that kicks off at Texas Motor Speedway this weekend. The challenge is set up in a bracket system, with drivers going head-to-head in a race within the race. Whoever finishes higher moves on.
Edwards thinks the use of brackets could draw some new fans and grow the sport.
"You know this is the first time something like this has been done and I'm hoping that it catches on," Edwards said. "This was the first year I filled out a March Madness bracket. Mine was terrible, but I still had more fun and it got me more into basketball."
Fans can fill out their own bracket for the competition any time before Sunday's race at DirecTV.com. If anyone picks every race correctly they win $1,000,000. The person with the best final score wins a 2010 Roush Mustang.
This weekend Edwards is racing against Paul Menard at the Samsung Mobile 500. Edwards would love to get back to victory lane and finish one, two. If he doesn't win, but comes in ahead of Menard will he still do his trademark move?
"If I run 39th and Paul Menard runs 40th, I'd look like a fool doing a back flip."
[+] Enlarge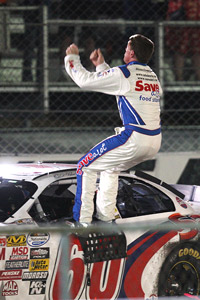 Jonathan Daniel/Getty Images/NASCARCarl Edwards has a cool explanation on why he does backflips.
By the way, that trademark move was sort of an accident. Edwards was standing on the bed of his truck after a win at Kentucky Speedway back when he raced in the truck series. His adrenaline was pumping and everything was going great until he started to fall back a little.
"I thought, 'why not' and did the back flip," Edwards said.
Everything seems to work out for him. Like a visit to the set of Keifer Sutherland's show 24. Edwards was just observing when he was offered a part as an extra. It wasn't long until they wrote him a line. Edwards loved it, but don't expect to see him in any lead or dramatic roles.
"Acting is pretty simple if you have one or two lines. You kind of say it however you would normally say it," Edwards says. "I'll do all the easy parts they give me, but I don't think you'll see any tears on screen."
Is there anything Edwards can't do? Does he have a single weakness?
"That's easy. Chocolate. I love chocolate. I've got to earn it though. If I have a good workout day, I can have a candy bar or something."