Commentary
Milka Duno is more than a driver
Originally Published:
April 17, 2010
By
Chris Perkins
| Special to Page 2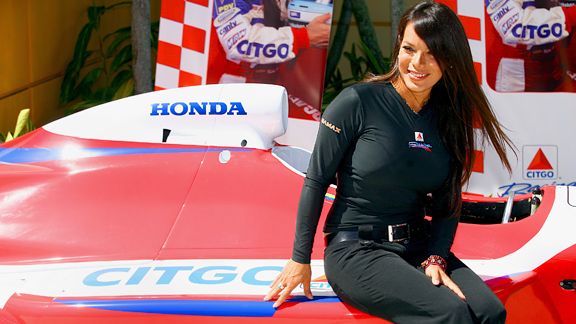 Gavin Lawrence/Getty ImagesMilka Duno loves to speak to children about life as a racer.
Milka Duno is a beauty. But what she wants you to pay attention to is her brains.
Duno, one of five women on the IndyCar circuit, has four masters degrees -- three of which she earned simultaneously while studying in Spain -- and it is education, along with racing, that are her passions.
"I am a driver," said the 37-year-old Venezuelan, who recently began dabbling in stock-car racing. "But I don't want to be only a race-car driver."
In 2007, Duno became the first Latina to race in the Indy 500, but her main focus isn't winning races; it's stressing the importance of education to kids. Through her Milka Way Foundation, Duno mixes visits to schools with her racing schedule. It can be grueling at times. She's visited schools ranging from elementary to college in 10 countries, and has been known to visit three schools in a day. She tries to visit at least one school in every city she races.
"Why do I do it?" she said. "Because education is forever."
And the work has its rewards.
"I see kids in the community that say, 'Milka, I want to be like you,' or parents that say, 'My daughter wants to be like you, she wants to study like you.' I say, 'OK, my message is being received,' " Duno said. "But still I want more. I need more time. I want to develop my program in more schools and talk to more kids."
Duno's life off the track has been eventful on a lot of levels. In the span of a few days in 2009 she was named "Hottest IndyCar Driver" in a MetroMix.com poll of Indianapolis fans, nominated for a Univision Youth Award, and received a National Hispanic Woman of the Year award from the Los Angeles-based Mexican American Opportunity Foundation. She has a voice role as Kellie "Gearbox" Kalinkov in the animated movie "Speed Racer," which was released in 2008, and she's been on the covers of numerous fashion magazines in Latin America.
She's also in the Latin American Sports Hall of Fame. In May 2009, her autobiographical children's book, "Go, Milka, Go!" won Best Young Adult Sports/Recreation Book at the International Latino Book Fair in New York. A few months ago she traveled to Malaysia as a keynote speaker for International Women's Day and hours later was off to Brazil to start the racing season.
Born in Caracas, Duno's only exposure to driving as a youth was when she twice took her parents' car out for joyrides. In 1996, after returning to Venezuela from Spain, some friends invited Duno to a race car driving clinic. She was hooked, much to the chagrin of her parents.
"I had to hide racing from them at the beginning," she said. "They didn't like it. But when I want to do something, I do it."
Duno traveled to the United States in 1999 to attend race car driving school and made her IndyCar Series debut in 2007, after racing in the American Le Mans and Rolex Grand Am Series. This year, with Dale Coyne Racing, she'll race a full-season IndyCar schedule for the first time.
"I love to compete, but it's difficult to describe why you race," Duno said. "You're in a car at 225 mph; something must be wrong with you to do that. It's difficult for me to explain. I know I like tough challenges, and I like to strive for my goals."
That's the same message she preaches to kids.
Chris Perkins, formerly of The Palm Beach Post, is a freelance writer for Sports Media Exchange, a national freelance writing network.