Commentary
Bethany Hamilton on 'Extreme Makeover'
Updated:
April 29, 2010, 12:54 PM ET
By
Kelley Carter
| Special to Page 2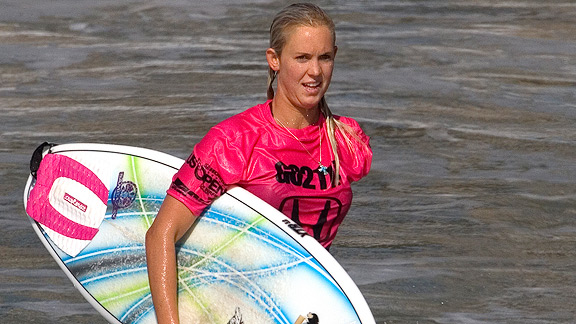 Icon SMIBethany Hamilton will appear on Sunday's 'Extreme Makeover: Home Edition.'
The truth is that Bethany Hamilton doesn't look at her disability as a disability.
Hamilton, a competitive surfer, lost her left arm seven years ago after being attacked by a 14-foot tiger shark. Three months later, she was back riding the waves and competing with one arm. In the years since, she hasn't let her physical challenges deter her; she finished third in a 6-Star Association of Surfing Professionals Women's World Qualifying Series event, and she's participating in a few competitions this summer.
She's keeping it moving, despite her circumstances.
The Carr kids can understand that.
Hamilton met up with the Carrs earlier this year, and their meetup unfolds this weekend on ABC's "Extreme Makeover: Home Edition," on Sunday (8 p.m. ET).
Katrina and Mike Carr shared their story with Hamilton, about how they came to adopt four special-needs children from Kazakhstan who were abandoned at birth. Hamilton talks to ESPN.com about how, even though her own story has inspired many people who face physical challenges, it was her who learned from the Carrs.
What made you want to appear on this particular episode?
"Once I actually heard about the Carr family's story, it really touched me. I love that the parents adopted the kids … and I think adoption is beautiful. There are so many kids out there in this world that need homes, and it's something that I want to do one day."
When you met up with the kids, did you impart any wise words to them, thinking about your own personal story?
"The kids are really young -- and they didn't have too many questions. I just wanted them to hang out and have fun at the beach, and let them enjoy something that they don't get to do that often. I got to go surfing with them and they loved that. It was really inspirational."
So what keeps you going?
"A lot of things keep me going: my love for Jesus Christ, my love for other people, my love for surfing … I'm passionate about life."
So was it your faith that got you through that rough time seven years ago?
"Oh, definitely. Jesus Christ is amazing. There have been things that I went through that left me sad at the time, but He was able to turn them around and brought them into beautiful things."
How did that experience change you?
"It changed me a lot. My life is completely different than it would have ever been. I had to grow up quicker. I definitely just have to rely on Him every day and truly seek a personal relationship and try and be inspirational to others."
How did working on this ABC show and meeting the family change you?
"It was such a blessing in my life to get to meet this family. I was able to really talk in-depth with them. And hanging out with the girls was just really special. The oldest daughter is missing three limbs, but in spite of that she's a little warrior. We went surfing and we could barely get her out of the water. She lasted longer than anyone. She finally got up off the surfboard and rode waves. She's incredible."
Moving forward, what would you like to do next?
"Right now I want to concentrate on surfing. It's what I've always wanted to do. I'm getting ready to go to Europe -- I've got two contests over there. I know that I have so many opportunities in my life to do so much more than I already have. I just take it day by day and see how it goes."
And what is it about surfing that just does it for you?
"Surfing is incredible; it's like no other sport. I fell in love with it when I was about 4 years old, and as I grew older I got more and more hooked on it. It's kind of addicting in a way. The adrenaline I get when I'm on a wave is really special. I love it."
Kelley L. Carter is a freelance entertainment reporter. She can be reached at thekelleylcarter.com.
Page 2
Kelley L. Carter is an Emmy-winning entertainment journalist who has written for publications including USA Today, the Chicago Tribune, the Detroit Free Press, Vibe and Essence magazines. She also regularly provides expert pop culture and entertainment commentary for outlets including CNN, E! and the TV Guide Channel.