Commentary
It's now time to 'Get Your Preak On'
Originally Published:
April 25, 2010
By
Jerry Greene
| Special to Page 2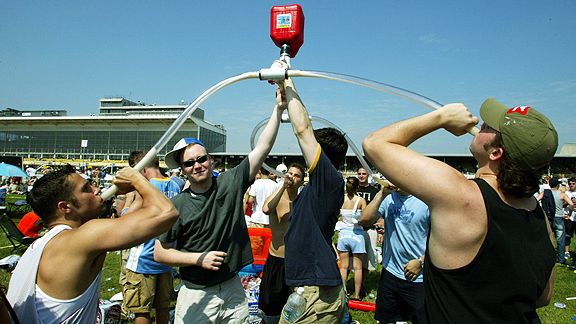 Timothy A. Clary/AFP/Getty ImagesNow that the Kentucky Derby is over, it's time to talk partying at the Preakness.
Forget the Kentucky Derby. Literally yesterday's news. The 135th running of the Preakness is in two weeks on May 15, so you know what that means, right? It's time to "Get Your Preak On!"
At least that's what the somewhat desperate folks at Pimlico Race Course in Baltimore want you to embrace. "Get Your Preak On" is the theme of an advertising campaign that centers on showing up to prowl the infield on Preakness Saturday and take advantage of the new "all the beer you can drink" program.
One radio spot is the fictional (we hope) story of a young male volunteer at a retirement home who gets his preak on with an elderly woman there. "How could I resist, especially considering this might be her last chance," he explains. "I was a little concerned with how her hip would hold up, knowing we would be at it all … day … long."
So the question is if this "preak on" commercial campaign is controversial because it is sexually suggestive and seems to embrace binge drinking -- or is it controversial because it is, well, incredibly stupid?
Break into study groups and debate while the Sunday Brunch rolls on.
Postscript: The Preakness Day refreshments will include a $20 16-ounce-cup of beer with unlimited refills and there will also be a $60 "Mug Club" option that includes all the beer you can drink plus access to "private bathrooms." Find out more at getyourpreakon.com. Or got to YouTube to look at past classic moments from the annual infield "urinal runs," where daring souls race (or stagger) across the top of port-o-lets while others hurl beer cans at them. -- Nothing says "horse racing" like a good urinal run.
• Back to the Kentucky Derby for a moment. They are talking about holding the iconic race under the lights at Churchill Downs in prime time. This would have been a good idea Saturday as the Brunch's longshot pick -- Backtalk -- is crossing the finish line right about -- now.
• So did they tell the Charlotte-Mecklenburg policemen at the Quail Hollow Championship to take the weekend off?
• Brunch Tweet of the Week from NFL Network's Rich Eisen: "By the way, for the record, and for any future employers, my mother was a kindergarten teacher." No word on whether the Dolphins have signed Eisen (or his mother) as a free agent.
• How far will the NFL go to turn its draft into primetime entertainment? Commissioner Roger Goodell said, "We're going to look at how we can change it up again and try to grow it for next year." Breaking news! The Brunch has learned that the first round next year will be announced by the cast from Glee.
• You probably heard that Tim Tebow sold more jerseys during the NFL draft weekend than any other player. But did you know he also sold more NBA jerseys, too? True story.
• Hey, did you feel that tremor? JaMarcus Russell just fell out of bed.
And now on to the main courses in our Sunday Brunch. Tasty.
• Our first main dish is presented by Joel Sherman of the New York Post, who looks at the terrific Tampa Bay Rays and suggests they must get out of St. Petersburg if they want to find an audience willing to actually go to their games.
• Bill Plaschke of the Los Angeles Times begins his column saying he means "no disrespect to the Utah Jazz." Then he writes: "The Jazz's conference semifinal series with the Lakers is the part in this postseason drama where you get a drink, use the facilities, check your program, catch your breath, 15 minutes of wane." Sounds like disrespect to us.
• Dan Shaughnessy of the Boston Globe closely watched the opening game in the Celtics-Cavs playoff series. For three quarters he thought the Celtics were playing "old school" basketball but, in the final 12 minutes, they just looked old.
• Speaking of "old school," Mike Bianchi of the Orlando Sentinel still does an old-fashioned notes column. His latest includes this thought about Tiger Woods: "Now that Tiger has so badly missed the cut at Quail Hollow, he might need to check himself into bogey-addiction clinic." Ouch. There's more where that came from.
• We're close to having a Theme Brunch as Tom Jones of the St. Petersburg Times urges us to catch some "old school" superstars before they are gone. Do you think Shaq and Ken Griffey Jr. will be happy they are on his list?
• We'll close this Brunch with notes from Greg Cote of the Miami Herald, who has one of the best names ever for his columns: "Random Evidence of a Cluttered Mind." In this one, he takes us full circle with a closing thought about the Kentucky Derby: "I love the traditions and pageantry, including all of those colorful, elaborate hats they wear. Although I always thought it would be that much more festive if the horses wore the hats." Enjoy.
Jerry Greene is a retired columnist for the Orlando Sentinel. He can be reached at osogreene@aol.com.