Commentary
Tony Hawk ventures into cards
Updated:
May 8, 2010, 3:34 PM ET
By
Chris Olds
| Special to Page 2
Finding this one's going to be a bit tougher.
More than two million people are followers of skateboarding icon Tony Hawk on Twitter, and one of the things that he regularly does besides tell the world what he's up to is something that just might drive memorabilia collectors crazy.
He hides his used skateboards, and Tweets their locations for a lucky follower to find, no strings attached.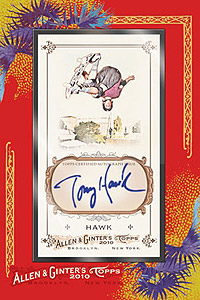 ToppsTopps is hoping the Tony Hawk trading cards will be popular with the skateboarding crowd.
"I just hid my used deck under the slide at the playground next to northampton, MA Skatepark," he wrote on Thursday. "Finders keepers."
That'd be like LeBron James handing over his sneakers after the game or Dale Earnhardt Jr. having over the keys to the No. 88 after a race. (Well, if it had keys …)
But the hunt for Hawk's treasures isn't done just via Twitter.
Topps will include as many as a few hundred autographed cards of the self-confessed "professional skateboarder, dad, video game character, husband, CEO, kid chauffeur, global hopscotcher, Huckjammer and public
Skatepark defender" in packs of its 2010 Allen & Ginter baseball cards which will hit stores late next month.
Why Hawk? In a baseball card set?
Allen & Ginter is faithfully styled after the first set of cards to include baseball players from 1887. Those cards, found one per pack of cigarettes to help stiffen the pack and protect the smokes, featured cards of "The World's Champions" -- "base ball" players, pugilists, wrestlers, rifle shooters, pool players, billiards players and oarsmen. (If those sound a bit dated, it's because that's what it says on the backs of the cards …)
And not only will there be autographs from Hawk -- and others from the sports world -- but one of Hawk's used skateboards will be cut up with pieces of the board embedded into cards that collectors can find in packs.
The coolest card of the bunch, though, will be a one-of-a-kind oversized "Cabinet Relic Card" that will placed atop the box of packs in one randomly selected box. That card will include the entire nameplate off Hawk's skateboard.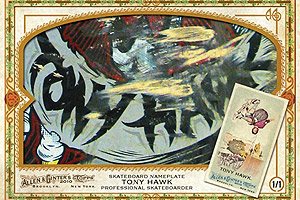 ToppsHere is Tony Hawk's oversized trading with a nameplate.
Now that will be a hunt.
Other Cabinet Relics will include the entire nameplate off of a player's game-used uniform (Cliff Lee is much more of a viable candidate than Jarrod Saltalamacchia), and complete uniform numbers (likely from teams with smaller numbers on jersey fronts).
Allen & Ginter, which has been among Topps' most popular sets since it revived the brand in 2006, will include many other athletes and personalities that one wouldn't expect to find in a baseball card set. Among those tentatively planned to appear are Olympic gymnast Shawn Johnson, Olympic swimmer Summer Sanders, "Deadliest Catch" captain Sig Hansen, pro bowler Kelly Kullick and even a fire eater, Hubertus Wawra.
Oh, and there's even a former "American Idol" winner, too.
They're all "world's champions" in Topps' book, but Hawk just might be the headliner in this year's version of Ginter.
And we can think of a couple million reasons why.
For more on Allen & Ginter, click here.
Chris Olds is the editor of Beckett Baseball magazine. Check out Beckett.com -- and be sure to get the latest news on sports cards and memorabilia at The Beckett blog. You can also follow him on Twitter.