Commentary
Ex-NBAer Chris Dudley runs for office
Updated:
May 18, 2010, 11:58 AM ET
By
Wendell Maxey
| Special to Page 2
PORTLAND, Ore. -- This whole running for governor of Oregon thing is really cutting into Chris Dudley's NBA playoff basketball viewing schedule.
"Dramatically," said Dudley, a 6-foot-11 former center who spent 16 years in the league with the Cleveland Cavaliers, New Jersey Nets, Portland Trail Blazers, New York Knicks and Phoenix Suns. "For the Blazers, I was able to watch, but for the rest it has been tough. I just haven't been able to check it out. Down the stretch, you really don't have days off."
It's one of the many realities the Republican gubernatorial candidate faces with the 2010 Oregon primaries taking place Tuesday.
[+] Enlarge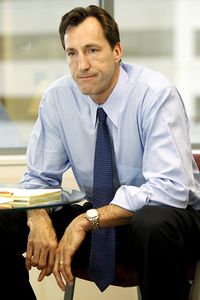 AP Photo/Rick BowmerFormer NBA player Chris Dudley won the Republican gubernatorial nomination for Oregon.
As the Los Angeles Lakers eclipsed the Phoenix Suns in Game 1 of the Western Conference finals Monday, Dudley patiently wrapped up his last interview of another long day. Of course, he asked what the score was. But after that, it was back to talking politics -- a topic the Yale grad is well versed in since throwing his name into the race in mid-December.
Dudley is a front-runner, according to a poll conducted for the Portland Tribune, Oregon Public Broadcasting and KPTV. And should he win the GOP nomination Tuesday, the 45-year-old Dudley will find himself in the low post banging against one of two Democrats -- in former Gov. John Kitzhaber, the apparent front-runner, or former secretary of state Bill Bradbury.
But instead of going after rebounds and blocking shots -- which Dudley did 5,457 and 1,027 times, respectively -- or stomaching that awkward form and release from the free throw line (let's not go there, OK), Dudley is busy meeting with elected officials and conducting town-hall meetings. It's all part of the game.
"I knew what I was getting into, but maybe not how it is every single day. I knew it was going to be a lot of work and I was prepared for that," Dudley said. "I've always enjoyed people and been in situations where when you play in the NBA, people want to come up to you and want to talk to you about sports or the team. Now they are talking about their lives."
On Monday morning, Dudley, who lives in a Portland suburb, stumped and visited voters in Medford and Coos Bay in the morning and the middle part of the state after lunch. Dudley has made the 200-mile sojourn to Southern Oregon multiple times over the past few months.
And this is where the former center finally shoots straight: Oregon is hurting badly and he's here to help.
"Just yesterday a lady was talking about increases in her property tax and personal tax. She has four kids and is struggling to stay in her house. It really gets to a deeper level," he said. "You get outside the city and in rural Oregon and there are a lot of places that feel they are being left out. There is a definite concern. Oregon is struggling."
Oregon is one of the national leaders in unemployment and one out of five Oregonians is on food stamps. Jobs and the economy: That's what awaits the next governor of Oregon.
"It's not a pretty sight. There are a lot of people hurting out there," said Dudley, his voice trailing off. "When you get elected you have the ability to impact it."
Dudley is hoping to make his impact felt despite the pundits around Oregon knocking his inexperience running for office.
"Our last two governors had over 60 years of experience between the two of them," Dudley said. "And here we sit with all of these problems. I don't think you need to have a lifetime in politics to be a leader and show leadership."
In 1999 with the Knicks, Dudley made his lone trip to the NBA Finals, and the Knicks lost in five games to the San Antonio Spurs. Yet even on the eve of the primaries, Dudley remembers how that team -- hobbled by injuries and an eighth seed in the East -- overcame the obstacles and naysayers along the way.
"You can't worry about the polls," Dudley said. "It's like a Game 7 of the semifinals and a game where it's do or die. Either you're going on to the next round or you're going home."
Wendell Maxey is a freelance writer for Sports Media Exchange, a national freelance writing network.