Commentary
'Glee' gets post-Super Bowl slot, really
Originally Published:
May 16, 2010
By
Jerry Greene
| Special to Page 2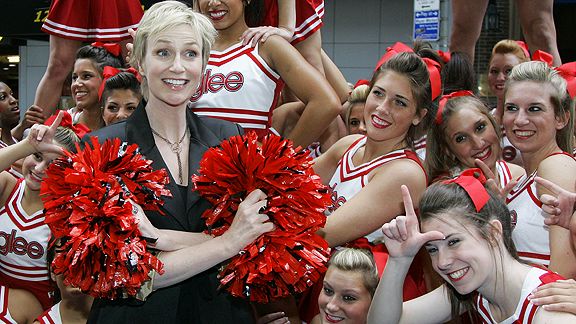 AP Photo/Jeff ChristensenActress Jane Lynch and the cast of the TV show "Glee" will follow next year's Super Bowl.
In case you missed it, this was just strange. "Glee" will be the show that gets the special post-Super Bowl treatment by Fox on Feb. 6. "Glee?" Really?
"The Super Bowl is so big there are many shows that are not the most compatible that still benefit from such a wide audience," said Fox Entertainment President Kevin Reilly somewhat defensively. He added that "Grey's Anatomy" did well some years back when it had an episode after the Super Bowl.
Seriously?
Brunch imagines this is what it sounded like when Mr. Reilly broke the news to the cast:
"Hey, gang, you're going to be on after the Super Bowl!"
(Silence.)
"Uh, the Super Bowl -- biggest football game of the year!"
(Crickets.)
"You know, football. Remember that thing that Finn and Puck were supposed to be playing after school? And, guess what? For this Super Bowl episode, you'll all do a number wearing special 'Glee' football uniforms!"
(A question.)
"Yes, Kurt, all football players have sequins on their uniforms."
(The clincher.)
"Now who wants to play the most important position in football -- Quarterdiva! That's right? Just like Brett Favre!"
And now some Brunch bits of tid before the main courses:
• Speaking of the Super Bowl, about 50,000 fans entered the NFL's annual drawing for tickets to the Big Game. And 500 of them will be given the chance to purchase two tickets each, giving each fan about a one-percent chance. Yeah, 1,000 tickets to 500 regular fans -- America's game.
• No offense to new Nets owner Mikhail Prokhorov but when they make the next James Bond movie, he must be cast as the villain. Granted, we're not sure how taking over the Nets will lead to world domination but David Stern will be the perfect sidekick.
• Spoiler Alert: We know what the final scene of "Lost" will be -- The Smoke Monster will wake up in bed with Bob Newhart.
• This from President Obama while hosting the UConn women's basketball team at the White House: "I want to point out that the team has not lost since I was elected president." -- Uh, OK, Mr. President. That's one.
• Tweet of the Week from SI's Jim Trotter: "Looking for my passport. Have to travel to Phoenix tomorrow for work."
• Venice was bidding to be the site of the 2020 Summer Olympics? Well, that would have been great for the swimming events.
• This from Adam "Don't call me Pacman anymore" Jones about the swagger he will bring to Cincinnati: "I'm not talking about a swagger with your pants down or nothing like that." Good thing because we're pretty sure that's a 15-yard penalty.
• Tim Tebow was working with Denver's fourth team offense. That's bad news for Tebow followers but the good news is that the Broncos' fourth team offense has had its life enriched.
And now to the main courses of the Brunch (which have all been blessed by St. Tebow):
• Writer fight! Mike Bianchi of the Orlando Sentinel gets our blood flowing by taking on Bob Ryan of the Boston Globe in a duel of two cities. Of course, after Saturday night, we fear Mr. Ryan's answer will be short: "Scoreboard."
• What is it with those Boston Globe writers? Charles P. Pierce reminds us that the "Field of Dreams" cornfield is for sale -- and goes on to call the movie "execrable." For those who don't talk Boston fancy, "execrable" ain't good. He says it's even worse than every Adam Sandler flick. Is that possible?
• From the New York Post, Mike Vacarro looks at two great cities -- New York and Chicago -- and wonders if the legendary heroes have become merely voices from the grave. Yes, Mike Ditka, he's talking about you among others.
• While we're looking at great cities, Bill Plaschke of the Los Angeles Times gives an enthusiastic smack to the "Kissing Cam" at Lakers' games. He even enjoys it when Hugh Hefner puts a lip lock on a few Bunnies.
• We often turn to Kansas City's Joe Posnanski for a long, long view on something but not today. This time Joe provides a look at a Nike World Cup commercial that he believes is somewhere beyond awesome. You look and decide for yourself. (And you've got to admit, that Ronaldo dude looks pretty good -- especially against Homer Simpson.)
And don't forget to get "Lost" Sunday.
Jerry Greene is a retired columnist for the Orlando Sentinel. He can be reached at osogreene@aol.com.