Commentary
World Cup means everything to England
Originally Published:
June 6, 2010
By
Jerry Greene
| Special to Page 2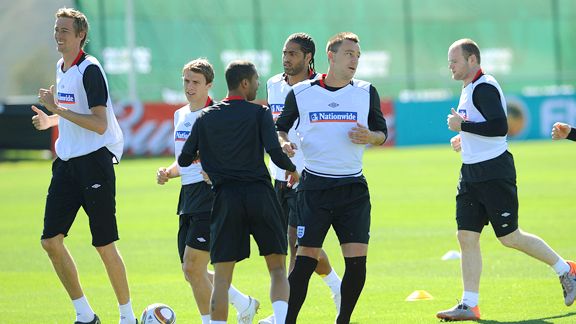 Michael Regan/Getty ImagesEngland's soccer team practices Saturday in preparation for the World Cup.
Give it up for the World Cup.
Unlike baseball's American (and one city in Canada) World Series, soccer's World Cup truly is global. And if you are the English, it's bigger.
Or as British soccer manager Bill Shankly once said, "Some people believe football [he means soccer] is a matter of life and death -- it is much, much more important than that."
England, you see, has not won a World Cup since 1966, which is tantamount to not winning a war. If you ask an English soccer fan, their slump really began when they were upset by those colonial underdogs in 1776. And you thought the Cubs were cursed.
So winning the World Cup really matters to England. It may be even more important to the British than sex. Now that's important.
At least that's the attitude of Fabio Capello, an Italian who also is England's dictatorial soccer coach. While England's team continues in the World Cup, the players' wives and girlfriends may not stay with them and will be allowed to see them once after each match.
And no sex.
How will Fabio know? He claims he will be able to watch through the TV sets in the players' hotel rooms. Doesn't that seem, you know, a little inappropriate? Not to mention kinky? Shouldn't he have to wait until the videotapes are released like the rest of us?
Somewhere George Orwell is laughing.
By the way, the wives and girlfriends are collectively known as WAGs. If you want to wager on which player will break up first with which WAG, British bookie organization William Hill posts Frank Lampard and Christine Bleakley as the 4-1 favorites. And if you are not at work and would like to check out the appearance of the WAGs, go to worldcupwags.com.
So how come the World Series doesn't have stuff like this?
And now a few bits of tid before we get to the main courses of the Sunday Brunch:
• When the NHL general managers met this week in Philadelphia, one topic was "Head shots and how to deal with them." Step aside, NFL, for a man's league. No meetings here on "End zone celebrations and the psychological terror of taunting."
• By the way, the Florida Marlins are now selling unused tickets from the "Imperfect Perfect Game" between Cleveland and Detroit.
• Agent David Falk says LeBron James should not play in Chicago as he would always compete with Michael Jordan. And he shouldn't play in L.A. less he always compete with Kobe Bryant. How about Memphis? Wait, forget it, 'cause he'd always compete with Elvis.
• Ben & Jerry's has a new ice cream flavor -- Caramel Hat Trick. We're holding out for Pistachio Hockey Puck.
• NASCAR driver Kyle Busch was defending his sport's popularity and said, "I have fans in South Africa, London and Germany." OK, Kyle, now you need to work on New York, Chicago and L.A.
• The company that does the French Open laundry claims it washes 2,000 articles of clothing per day. You fill in the punch line, 'cause we're not touching it.
And now to the Brunch's tasty and diverse main menu:
• Let's get the big Brunch rolling with yet another take on LeBron James. This time Marc Berman of the New York Post talks with former NBA star James Worthy, who thinks LeBron will sound like a quitter if he leaves Cleveland as "a loser." But Worthy also thinks that wherever LeBron goes, that club must give him what he wants to prove itself, uh, worthy.
• Mike Bianchi of the Orlando Sentinel suggests LeBron would find happiness with Dwight Howard on the Magic roster. Bianchi also claims that the new Harry Potter ride at Universal Studios includes trying to avoid the wrath of the Whomping Williow -- and it's actually based on a ride made by Tiger Woods on Thanksgiving night.
• Greg Cote of the Miami Herald has an excellent collection of acidic barbs, including this final one: "The new World Cup ball is being roundly criticized, with Brazil striker Luis Fabiano saying, `It's like it doesn't want to be kicked.' Great. International soccer wasn't low-scoring enough, right? Now we have an obstinate, unwilling ball!"
• We have list! Well, Jeff Gordon of the St. Louis Post-Dispatch doesn't actually call it a list. But after observing that Ken Griffey Jr. waited too long to quit, Gordon names 10 more athletes that made the same mistake. Sounds like a list to us.
• Practically every great American sports writer has expressed his or her thoughts about John Wooden. We are closing the Brunch with what Kansas City's Joe Posnanski had to write. He includes these Oscar Hammerstein lyrics that Wooden loved:
"A bell is no bell 'til you ring it.
A song is no song 'til you sing it.
And love in your heart wasn't meant to stay
Love is not love 'til you give it away."
Jerry Greene is a retired columnist for the Orlando Sentinel. He can be reached at osogreene@aol.com.