Commentary
Bill Walton is living a John Wooden life
Originally Published:
June 8, 2010
By
Matthew Iles
| Special to Page 2
Bill Walton is nothing if not effusive. Combined with his obvious knowledge of basketball, it's what makes him a successful TV analyst.
But even for a man as talkative as Walton, nothing gets him going quite like discussing legendary coach John Wooden, who passed away on Friday.
Walton, who lives and breathes each of Wooden's many mantras, is passionate about carrying on his mentor's torch through his work with the Challenged Athletes Foundation, which raises funds to support and rehabilitate physically challenged athletes.
[+] Enlarge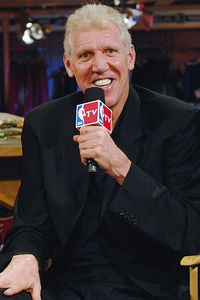 Jennifer Pottheiser/NBAE/Getty ImagesHall of Famer Bill Walton is proud to carry the torch for his mentor, legendary coach John Wooden.
Page 2 caught up Walton to learn more about CAF and the impact of Wooden's passing, and the world.
P2: Challenged Athletes Foundation is a unique charity. How did you get involved?
BW: I had a spinal cleanup, reconstruction fusion. The doctors, physical therapists, their techniques and innovations gave me a chance to play in the game of life one more time.
When I came across some friends who were intimately involved in the CAF, I realized quickly that I had wasted the first 57 years of my life. When you've been on that floor unable to move, you're standing on the edge of the bridge figuring its better to jump than to go back. When you get a chance to play one more time, to play in the game of life, it's your duty, your responsibility to make others people's dreams come true, too.
Everything has changed for me in my life. When you've been where I've been, things are never the same again. It's important to give others that chance, to stand tall with those who can't stand on their own.
I know the importance of sport in the completeness of life. Sport has given me everything. To be able to help CAF, to be able to see the joy, the exhilaration and the spirit of life come back to someone who thought it was all over -- I've been there. I've had a life that was not worth living. ... All anybody wants is a chance. It's my job to help give that chance.
P2: Coach Wooden's Seven Point Creed included "help others." Do you feel his influence when you work with CAF?
BW: Absolutely. I am the player that I was, I am the person that I am because of John Wooden. His life, his legacy -- we are charged with carrying that on -- peace, love, excellence and service.
Coach Wooden was as selfless, caring, humble and sharing a man as you could ever come across. He was a man who willingly sacrificed everything to put a smile on others' faces. As a leader, teacher, coach and father, Coach Wooden made other people's lives better. That's what CAF is all about.
P2: Do you have a favorite lesson, a favorite teachable moment that has stuck with you over the years?
BW: Coach Wooden, he always taught through his maxims. One of the great maxims is that happiness begins when selfishness ends.
I never realized when I played for him how special it was or what an incredible human being he was, until I left. I grew up in Southern California with the most idyllic life a child could have. The joy and celebration of life -- I just thought it was this way for everybody. It wasn't until I left that I realized this wasn't the case.
I graduated from UCLA 36 years ago. For 36 years, I would call him everyday. I've been on that road; I've been on the game of life. I've been standing on the bridge figuring it was better to jump than to go back to what I had. I've been able to climb back up with his support and sacrifice.
When I came [to New York for the CAF charity event,] I got on that plane in the morning. And there was nobody to call.
Be the person who can take that call. Make it happen for other people. See the joy and happiness on their face when they get a chance to play in the game of life for one more day.
Click here to learn more about the Challenged Athletes Foundation.