Commentary
Real story of World Cup is vuvuzelas
Originally Published:
June 20, 2010
By
Jerry Greene
| Special to Page 2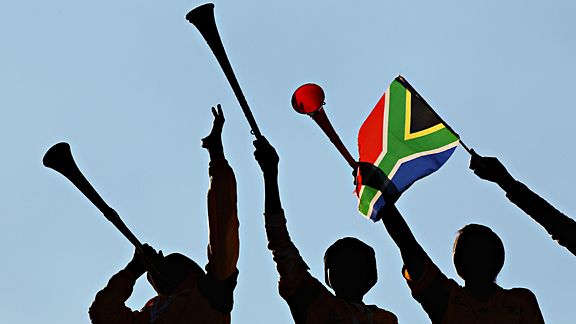 Ryan Pierse/Getty ImagesThe vuvuzela has taken the World Cup by storm and is making its way to the United States.
You enjoying the World Cup?
"Not so much," you say?
Well, we bet you're having a better time than David Makeoya. He was a 61-year-old man in the South African village of Makweya that changed the channel on his TV to watch the soccer.
And his family killed him.
Why? (Wait for it...)
They wanted to watch a gospel show.
His wife and two adult children beat him to death. Said the police spokesman: "It appeared they banged his head against the wall."
The wire service story doesn't say -- but we're betting those horns had something to do with it.
And, um, happy Father's Day.
What else caught our attention this past week?
• Sticking with the World Cup, Dave Letterman presented "Top Ten Reasons Americans Don't Like Soccer." Our favorite was No. 3: "Doesn't have the heart-pounding action of a five-hour baseball game."
• It was last weekend but we just want to mention the name of NASCAR's Sprint Cup race back then -- Helluva Good Sour Cream Dips 400. Classic.
• The official car of the USGA's U.S. Open is a Lexus, which is, uh, Japanese.
• So the Big 12 has 10 teams and the Big 10 has 12. Try explaining that to your fifth grader, dad.
• The Memphis Grizzlies have a problem. Players are making excuses to avoid working out for them because they don't want to be drafted by the Grizzled. GM Chris Wallace said, "It's par for the pre-draft course." -- Yeah, the Lakers get that all the time.
• The Detroit Lions and Jacksonville Jags lost practice time? Shouldn't they be given an extra week?
• The Washington Redskins fined DL Albert Haynesworth $10,000 for missing a mandatory mini-camp. Just $20,990,000 to go and they've got that bonus back.
• And which minor-league baseball team will be the first to have "Vuvuzela Night?"
Now let's get to the main courses for your Father's Day Sunday Brunch:
• Starting with an All-American Dad, Mike Bianchi of the Orlando Sentinel, who thinks it's un-American to cheer for a tie. Yes, World Cup, he's talking about you.
• We probably should re-visit the end (Yeah!) of the NBA season. Commissioner David Stern called Game 7 of the Championship Series "a classic," but Christopher L. Gasper of the Boston Globe really, really disagrees.
• We have List! Kansas City's Joe Posnanski gives us a "Bottom Ten" of sports "Me-Blunders," which he defines as a mistake so inept that even you could have got it right. You will clearly recognize the name that is No. 1 on the list.
• OK, a special holiday treat for guys. Rick Gosselin of the Dallas Morning News ranks all 32 NFL teams for the upcoming season. Get this -- the defending champion New Orleans Saints are not even ranked first in their division. That would be Atlanta. Seriously.
• Let's close the Father's Day Brunch with Bill Dwyre of the Los Angeles Times talking about the return of Tiger Woods at the U.S. Open. Dwyre clearly expects Woods to win another major on this special day. Irony anyone?
Jerry Greene is a retired columnist for the Orlando Sentinel. He can be reached at osogreene@aol.com.