Commentary
Page 2 readers jump into time machine
Originally Published:
June 24, 2010
By
Jerry Greene
| Special to Page 2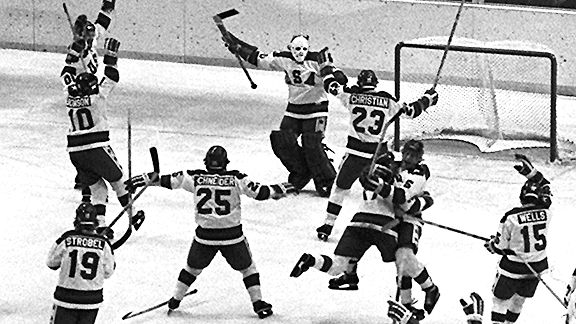 AP PhotoMany Page 2 readers wanted to travel back in time to see the United States beat the U.S.S.R. in 1980.
Now this was fun.
We provided the imaginary "Hot Tub Time Machine" and you were asked to pick the destination to any sporting event that ever was. Hundreds of you responded with wonderful ideas of the moment in sporting history that you would love to visit.
We are not turning this into a Top 10 list because, for one thing, there are more than 10 we must mention. Also, many of these moments may have been mentioned only once but deserve to be honored here.
Still, there was one moment that was mentioned more than any other. Let's start our imaginary trip through time there:
• Miracle on Ice, Feb. 22, 1980 -- "I was only 7 years old, knew nothing about hockey and did not understand what the Cold War was all about. All I knew is that it was a big deal to beat the Russians. But now I know this was more than just an Olympic event. It showcased every metaphor you could want -- David vs. Goliath, beating the machine, beating the Russians at anything. No other event touches as many bases as this." -- Vicki A., Tempe, Ariz.
Vicki represents many who chose that as their one shining moment. But many others wanted to revisit other great moments in sports history.
• Wilt scores 100, March 2, 1962 -- "When Wilt Chamberlain scored 100 points against the Knicks is probably a record that will never be broken. Imagine having the chance to watch something that unique. And I'd bring my movie camera because there were only still photographers there that night in Hershey, Pa." -- Brian D., North Attleboro, Mass.
• Jackie Robinson breaks color barrier, April 15, 1947 -- "My dad and grandpa were there at Ebbets Field and talked about it all their lives. Even though it pre-dated me by 20 years, I have always felt 'empty' for not being a part of the most important day in the history of American sports." -- Ivan S., Richmond, Va.
Some just wanted the spectacle.
• "Three words -- Thrilla in Manila." -- Larry G., Los Angeles
• Lou Gehrig's farewell speech, July 4, 1939 -- "Lou Gehrig's 'Luckiest Man on Earth' speech at Yankee Stadium -- one of the greatest sporting moments ever." -- Jerry M., Austin, Texas
• Tyson goes for the ear, June 27, 1997 -- "I love good spectacle and when Mike Tyson bit the ear of Evander Holyfield provides enough happy thoughts to get through any of life's future crisis." -- Brian H., Orlando, Fla.
What? Well, if that's the kind of memory that floats your boat, Brian, to each his own.
[+] Enlarge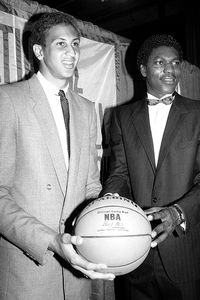 AP Photo/Marty LederhandlerSam Bowie (No. 2 pick) stands next to Hakeem Olajuwon (No. 1 pick). Not pictured is Michael Jordan (No. 3 pick). Sorry, Blazers fans.
Others would use our imaginary Hot Tub to witness some of the great mistakes in sports history.
• NBA draft 1984 (June 19) -- "I want to go back and be wherever I need to be to hear someone with the Portland Trail Blazers say 'Sam Bowie fills a need and there will be other Michael Jordans in other drafts.' Perhaps the worst sports prediction of all time." -- Casey M., Columbia, S.C.
Some would go back to find the truth behind sporting myth -- even if they don't know it.
• Baseball's legendary double no-hitter, May 2, 1917 -- "Only happened once and won't happen again. I don't remember if the Cubs won or lost [but I bet they lost.]" -- Roy G., Ind.
Actually, Roy, it has never happened. If you went back, you would see Cincinnati's Fred Toney and Chicago's Hippo Vaughn each pitch nine hitless innings. but Vaughn gave up two hits and a run in the 10th, while Toney did complete his no-no. And, yes, the Cubbies lost,1-zip.
Some would want to go back and change history.
• Len Bias' death, June 19, 1986 -- "I'd use my one trip to save the life of Lenny Bias [who died after a cocaine overdose]. One stupid, irresponsible and immature act (like all of us did in college) destroyed a life and kept all of us from appreciating the most gifted athletic talent of my generation." -- Chris H., College Park, Md.
Some would make a truly personal trip that the rest of us would never consider.
• "I'd go back to May 22, 2002 -- the day my high school freshman baseball team from Paramus, N.J., lost in the finals of the county tournament. We were all best friends since kindergarten. Our coach had been there 25 years and never won a county title. We lost in extra innings and were the most miserable people on the planet. I'd give anything to go back to that day and win one for coach Pat Warburton." -- Bill H., Paramus, N.J.
• "I'd go back to my father's Pony League Championship game when he was 13 and hit four home runs. I just found out this Father's Day that the cancer he has been battling for the past year is no longer treatable. The first thing I thought about are the plaques and newspaper clippings from that game and him rounding the bases." -- Jarrod D., Fort Myers, Fla.
Some wouldn't have to go far back at all.
• NASCAR at Sonoma, June 20, 2010 -- "I would try to prevent my favorite driver, Marcos Ambrose, from turning off the engine. While leading. With seven laps to go." -- Mitch C., Rochester, N.Y.
One guy fooled us and wanted to go to the future.
• "Let me go to when the Chicago Cubs finally end the longest title drought in history." -- Mike H., Chesterton, Ind.
Sorry, Mike. We looked ahead -- and it's never gonna happen.
And then there was this:
• "I would choose a Mayan ball game, which was a combination of soccer and basketball. Sometimes the winners were celebrated with a feast while the losers were sacrificed. In other areas, the winners were given the 'privilege' of being sacrificed, too." -- Tim F., Olean, N.Y.
Uh, thanks, Tim -- but don't suggest this to the Cubbies.
Hey, wait, we're not quite done! Some of the ESPN Page 2 writers wanted to make a trip into the past, too. Here's a sampling:
• "Take me back to Aug. 4, 1993, at Arlington Stadium, when Nolan Ryan made easy work of Robin Ventura at the mound. Ryan gave Ventura a dazzling combination of the rope-a-dope and legendary old-man strength. More than just a highlight, that was a teaching moment for fathers and sons everywhere." -- Bomani Jones
• "Let's go with Ernie Shore's perfect game in relief of Babe Ruth in 1917 when Fenway was five years old. More importantly, I get to see Babe Ruth pitch and punch an umpire in the face. And I get to see a perfect game." -- Jim Caple
[+] Enlarge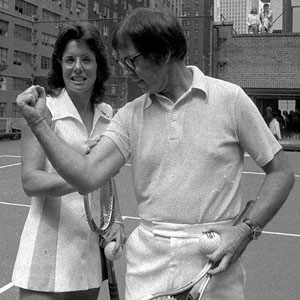 AP PhotoBobby Riggs and Billie Jean King competed in "The Battle of the Sexes," and one of our contributors wishes she were there to see Riggs eat his words.
• "The Battle of the Sexes in 1973 when Billie Jean King defeated Bobby Riggs, who was in his 50s and talking smack about women's tennis being a joke. Joke was on him. It would be cool to go back with Venus and Serena. We'd have a laugh." -- Jennifer X. Williams
• "Feb. 11, 1990 in Tokyo. Me to a bookie: 'He's a 42-to-1 underdog? Oh, what the heck, let me take a flier on this Buster Douglas character against Mike Tyson.'" -- Hampton Stevens
• "It was 2002 and I really liked the Tampa Bay Bucs, but I was too cautious. I wasn't getting my hopes up. There would be a letdown -- but the letdown never came. The Raiders' high-powered offense never showed up and the Bucs won Super Bowl XXXVII easily. I could have been there. I just didn't believe." -- Adam Watson
• "Game 5 of the 1972 World Series -- the last weekday World Series game ever played. The game between the Reds and A's was on a Friday afternoon in Oakland and featured a slew of future Hall of Famers. We're all still waiting for another weekday World Series game and the opportunity to see the Fall Classic in work-shirking sunshine." -- Cam Martin.
• "In 1992 I would have loved to have been in the gym when the USA Select Team was beating the original Dream Team at halftime of scrimmage. Legend has it that Charles Barkley physically threatened every member of the dream squad (including Jordan and Magic) saying that he would whoop anyone's [bleep] if the Select team even got the ball across half court again. Safe to say nobody got a whooping but just to see the greatest team ever getting beat -- unbelievable." -- Scoop Jackson
• "Tiger Woods' Masters victory in 1997. How often do you get to witness a sport changing overnight? Golf needed someone to save it from irrelevance. Tiger Woods' scorching performance did just that, changing the way people look at golf forever." -- Scott Miller
• "Disco Demolition Night -- July 12, 1979, when the Chicago White Sox offered admission to their doubleheader with Detroit for 98 cents to anyone with an unwanted disco album. And those albums were to be exploded between games. Mayhem ensued along with a forfeit to the Tigers. Baseball? Explosives? The birth of the death of disco? Where do I sign up?" -- Thomas Neumann
Jerry Greene is a retired columnist for the Orlando Sentinel. He can be reached at osogreene@aol.com.