Commentary
Road trip starts at U.S. Cellular Field
Originally Published:
June 28, 2010
By
Dana Jacobson
| Special to Page 2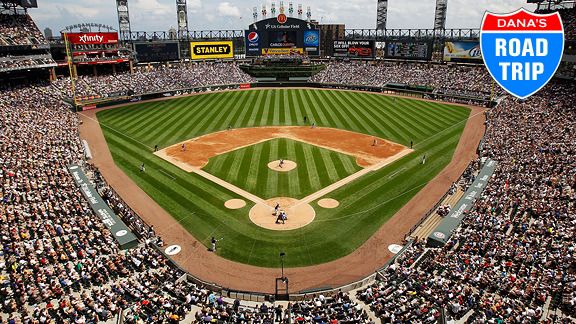 Getty ImagesESPN anchorwoman Dana Jacobson is making a trek across the Midwest sampling some baseball stadiums.
Dear Diary,
OK, that's not what my editor at ESPN.com meant when he said, "Let's do a daily diary from your baseball park trip," but I can't help it.
Say "diary" to me, and I think of the one I had in eighth grade: black and yellow with a big Hello Kitty on the front and a lock that my brother picked so he could read all about my crush on Shane Doyle.
I wonder what Shane is doing now. Does he watch "First Take"? Does he know I had a crush on him?
Well, he may know now, and for all I know, he may have been one of the thousands on hand at U.S. Cellular Field on Sunday when my ballpark adventure began.
I had hoped to write about catching a foul ball or some miraculous pitching performance or even the best bratwurst I'd ever tasted. But like my eighth-grade crush, it just wasn't meant to be.
Instead, all I got was a perfect day at the ballpark. Seriously.
It was sunny, our seats were great, and so was the conversation.
Yes, I'm one of those. When I go to a baseball game, it's not just about the game. It's about the atmosphere.
For me, the atmosphere started on the train ride there. Public transportation is so underrated, especially when you're talking about getting to and from a game. It's what I loved while living in New York, taking the 7 to see the Mets or the B to see the Yankees.
On Sunday in Chicago, it was the Red Line to the White Sox. The crowd on the subway when I went to games in New York City seemed to have a little more to say than the combination of Cubs and White Sox fans on the "L," but maybe that's just a Midwest thing. Even without the cheers or -- let's be honest -- train trash talk, I got excited as we arrived at The Cell: A new park for me and crosstown rivalry is a great combination. Sadly, the park itself was a bit of a disappointment.
To me, a ballpark needs to have character. Fenway has old-school appeal, while Comerica and AT&T have the wow factor: big gloves, oversized tigers, bright colors and food stands every two feet. But U.S. Cellular was bland.
When I looked around as I entered, it felt sterile, as though I could have been anywhere.
Now, I must admit I failed to follow one piece of advice and seek out the crustless PB&J sandwiches that they sell there, but even if I had, I'm not certain I would have felt differently.
The brats and even the pizza looked like what you'd find at any other park. I was looking for but didn't find that quintessential Chicago thing that I wanted to see. In San Francisco for me, it's Gilroy Garlic Fries; in Detroit it's Coney Island chili cheese fries or even Little Caesars pizza.
[+] Enlarge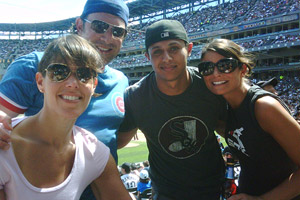 Courtesy of Dana Jacobson Dana Jacobson, with friends Michel, John and Shannon, enjoy their day at U.S. Cellular Field in Chicago.
Heck, The Cell didn't even have great cell service! I had trouble sending friends pictures. But all was not lost … not even close. As I said, it was a perfect day.
As we walked around the concrete concession jungle to our seats, I realized that my friend and colleague Scoop Jackson had done me a solid. The seats he got us were great. Third-base line, 20 rows up, perfect view of home plate and everything else for that matter … except the few times the hot dog hawker stopped right in front of us. It wasn't to sell a dog -- he just stopped. Yeah, I know that case is heavy. But I digress.
The seats were a sign of things to come. The curly fries I started the day with were fresh, perfectly seasoned and just the right appetizer for the brat to come. Now, I don't know about you, but for me, a brat needs to be dressed. Onions, peppers, sauerkraut and mustard, and man, was it good.
So although things might have looked generic, Chicago and The Cell know how to make and dress a brat. And the food wasn't the only piece of perfection; it was also the people in those great seats with me.
As I mentioned, the conversation was as good as the seats. My friend Michel joined me on the trek along with his friend John and John's girlfriend, Shannon.
We ate, talked and laughed our way through nine innings of baseball.
And although we never realized my dream of catching a foul ball or John's dream of winning the raffle and the 13 grand or so that went with it, here are nine realizations we came to during those nine innings:
1. No matter how hot it is, some men really should keep their shirts on.
2. A brat, polish sausage, hot dog, whatever always tastes better when eaten at a ballpark.
3. Red ropes really are as good as we remember … but what was up with those wax lips?
4. Catching a foul ball is not that easy, even when you're in foul territory.
5. On a hot day at a game, 7 bucks for a beer seems cheap.
6. Bob the Bachelor has made a career out of, well, being Bob the Bachelor … seriously?
7. Jeans on an 85-degree day in Chicago is a bad idea. Sneakers with those jeans is a worse idea. (Sorry, Michel, you know it's true.)
8. The woman at the airport who wanted to charge me $100 because my bag was 1 pound overweight must have been having a bad day on Saturday.
9. The driving part of my ballpark adventure might not have been the best idea I've ever had.
So that's where I am, about to leave for St. Louis … well, after a workout and a quick repack of my bags.
I'll do my best to control my lead foot … but if I get pulled over for speeding and the cop is named Shane Doyle, it certainly will make for a great diary entry tomorrow.
ESPN anchorwoman Dana Jacobson, who hosts "First Take," will document her five-game baseball road trip on ESPN.com. You can follow her on Twitter here.