Commentary
Road Trip: Milwaukee's Miller Park
Originally Published:
June 30, 2010
By
Dana Jacobson
| Special to Page 2
MILWAUKEE -- Let me be completely honest: Leaving my hotel room Tuesday night wasn't easy. No, it wasn't frustration from traffic or even the expected lethargy from hours of driving. Bottom line, my hotel, The Iron Horse, was just too nice.
From the outside, it's just an industrial-looking building in an area of Milwaukee that I never would have found without my GPS. But step inside and it induces smiles. This 100-year-old former warehouse had the look of a top-of-the-line hotel you'd find in New York, Chicago or Los Angeles. A wide-open lobby greeted me including a pool table to the right of reception and near the bar that later would prove to be the place to be.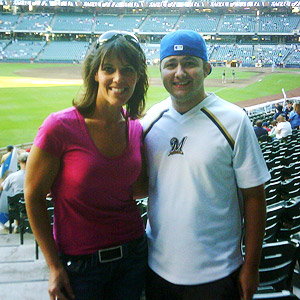 Dana Jacobson for ESPN.comDana Jacobson is making a trek across the Midwest, and new friend Chadd Earley is doing even more.
That could have been an evening's worth of entertainment right there: bad pool and good conversation. But that's not all.
A quick glance around and I was taken with the lounge-like feel of the indoor restaurant, not to mention an outdoor restaurant appropriately named The Yard where you could spend hours having breakfast or lunch and just chilling. Too bad I knew I'd have time for neither.
So I collected my bags, went up to my room and what I entered was this wonderful mix of industrial chic, spa-level hospitality and personal touches that made me feel at home: snacks, drinks, bath amenities, you name it. And the flat screen TV was better than the one I actually own, perfectly placed across from a bed that lulled me into a quick nap the moment I sprawled out upon it.
But I was a woman on a mission, and you don't mess with a woman on a mission. So one unplanned, but well timed text-turned-wake-up call later, I got myself together, took one last glimpse at my room and headed out for Miller Park -- a short 10-minute drive away.
Brilliant decision on my part.
For starters, thank you Miller Park for making parking easy and cheap. After a quick walk across a foot bridge, I met my friend Adam at the main entrance and entered true Midwest hospitality in the form of a baseball stadium. No, Miller Park didn't have the baseball heaven feel of Busch Stadium, but there was no doubt I was in the heart of Wisconsin -- where beer, brats and any and all things cheese ruled.
As I was taking it all in, realizing I had made the right decision in going to the game, I was suddenly interrupted. A timely and welcome interruption, I would quickly learn.
It started the usual way: A guy did a double take, pointed and then with a smile said, "You're Dana Jacobson from 'First Take.'"
That's where it took an unexpected turn, as he added, "You're doing the baseball park tour … and so am I".
His name: Chadd Earley, from Tuscaloosa, Ala.
It seems Chadd heard about my trip today, and he was also at Busch for Monday night's game in St. Louis. Like me, he made the 380-mile trek north to Milwaukee to watch the Brewers on Tuesday, but the rest of his trip is truly awe inspiring.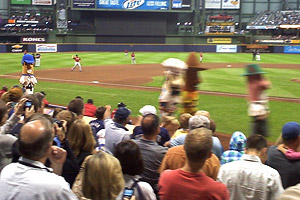 Dana Jacobson for ESPN.comThe sausage race at Miller Park is a true highlight.
Traveling alone because none of his buddies could get enough time off, Chadd is headed to see the Cubs on Wednesday and Pirates on Thursday. He has a travel day Friday before taking in the Red Sox on Saturday. Then Chadd is hitting both ballparks in New York, a Phillies game, a Nationals game, taking a break for the All-Star festivities by spending time with his dad in North Carolina and finishing off his trip at Turner Field in Atlanta … the only ballpark he had actually been to before.
Chadd, I surrender, realizing that you are indeed the truer baseball fan and crazier traveler.
Among my other realizations at Miller Park:
1. All things taste better with cheese.
2. A $120 sweatshirt at a ballpark -- even when the temps dip into the 50s and you're wearing a T-shirt -- is too expensive.
3. A free towel with that sweatshirt doesn't make a difference.
4. The sausage race really is one of baseball's coolest promotions -- and man, those sausages can move!
5. "Roll Out The Barrel" as part of the seventh-inning stretch could only work in Milwaukee.
6. I'm never going to get a foul ball.
7. Drew Olson from 540 ESPN radio in Milwaukee is a gem for his ticket help.
8. Drew's ticket help still made the $120 sweatshirt too expensive.
9. Having to get up at 4:30 a.m. to work out because you eat cheese fries and a brat kind of takes the fun out of eating them, but man they tasted good!
Yes, I'm serious. Wednesday's agenda includes waking up at 4:30 a.m. to hit the gym before heading to Minneapolis for a noon game between my Tigers and the Twins. A game which will not include cheese fries and a brat because these early workouts on vacation are a killer!
ESPN anchorwoman Dana Jacobson, who hosts "First Take," will document her five-game baseball road trip on ESPN.com. You can follow her on Twitter here.