Commentary
Michael Vick has most outlandish deal
Originally Published:
August 1, 2010
By
Jonathan Raber
| Special to Page 2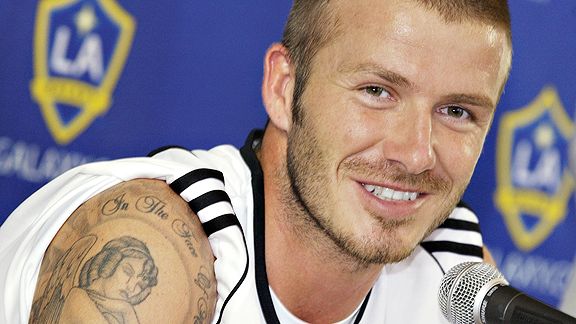 AP Photo/Lisa PooleDavid Beckham signed a monster, regrettable contract with the LA Galaxy.
Before any more general managers get carried away with doling out huge sums of money, they might want to take a look at what we think are some of the most regrettable contracts in sports history.
10. Rick DiPietro (New York Islanders, 2006) 15 years, $67.5 million
Fans in New York that haven't had a chance to see DiPietro in action firsthand need not fret, there's ample time. The Islanders will fork out $4.5 million a season to the injury-prone goaltender until 2021.
9. Allan Houston (New York Knicks, 2001) 6 years, $100 million
Just four years after he signed, Houston suffered a career-ending knee injury. The Knicks were left to pay out the remaining $40 million.
8. Steve Young (Los Angeles Express/USFL, 1984) 10 years, $40 million
Two years after the Express inked Young to a record deal, the league went belly up. But because of a litigator's ruling, Young has been collecting $1 million year from the Express and will through 2027.
7. Mike Hampton & Denny Neagle (Colorado Rockies, 2000) 8 years, $121 million & 5 years, $51.5 million, respectively
The Rockies signed this pair of All-Star hurlers to ridiculously over-priced deals. Hampton, who became the highest-paid pitcher in history at the time, cost the club $61 million in two seasons before trading him to Atlanta. Neagle had a losing record in three seasons before going down with multiple arm injuries.
6. David Beckham (Los Angeles Galaxy, 2007) 5 years, $250 million
This deal seemed absurd at the get go, and gets worse every day that Becks doesn't put on a Galaxy jersey. When he's been healthy, Beckham's had just seven goals in 45 games, failing to help turn the Galaxy into a winner, or turn the MLS into a brand name.
5. Bobby Bonilla (New York Mets, 2000) 25 years, $30 million
Strapped for cash in 2000, the Mets proposed that Bonilla defer payment of the remaining $5.9 million on his contract with 8 percent interest. Beginning in 2011, Bonilla will earn $1.2 million per year for 25 years for, well, doing absolutely nothing.
4. Larry Brown (New York Knicks, 2006) 5 years, $50 million
The tumultuous relationship between owner James Dolan and Brown, coupled with his 23-59 record in his first year, was enough for the Knicks to dump him during the offseason. Brown made $10 million that first season and the Knicks were forced to pay him $18.5 million after they fired him.
3. JaMarcus Russell (Oakland Raiders, 2007) 6 years, $61 million
When the Raiders drafted the bulky quarterback with the first overall pick, it was a given that Russell's signing would set a record. But following his recent arrest for drug possession, the Raiders released him -- after paying Russell $39 million over three years or $5 million per win and more than $2 million per touchdown pass.
2. Gilbert Arenas (Washington Wizards, 2008) 6 years, $111 million
The Wizards may not have been able to predict that Arenas would be suspended for most of a season for his gun incident, but shelling out more than $100 million for a shoot-first point guard coming off a major knee operation was ludicrous. Now the Wizards have a multi-million dollar, troubled "star" whose contract makes him virtually untradeable.
1. Michael Vick (Atlanta Falcons, 2005) 10 years, $130 million
It may have been impossible to predict that Vick would be jailed and miss two seasons because of a dog-fighting ring, but consider this: Vick is not a drop-back passer, which is a prerequisite for any successful NFL quarterback, and the Falcons still made him the highest paid player in league history. Though Vick was ordered pay back part of his $37 million signing bonus, he still cost the club plenty of cap space. The Falcons released him in 2009, and the Eagles picked him up for about 1/10th of the price.
Jonathan Raber is a freelance writer for Sports Media Exchange, a national freelance writing network.