Commentary
San Diego boy set for Pokémon event
Originally Published:
August 11, 2010
By
Kyle Kensing
| Special to Page 2
SAN DIEGO -- Wade Stanley is like most 11-year-olds. He sleeps in during summer vacation. And he loves to play video games.
But unlike most kids, it is because of his passion for video games that he and his family will get to take a trip to Hawaii.
Wade won the national Pokémon Video Game Series in Indianapolis in July, and the grand prize is a trip this week to Hawaii to compete in the worldwide championship.
Should Wade win that, well, his family will get yet another trip -- this one to Pokémon Park in Tokyo, where this anime craze began.
[+] Enlarge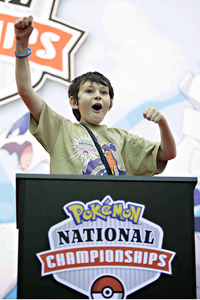 Courtesy of The Pokémon Company International.Wade Stanley will represent the United States in the World Pokémon Championships.
"We go to Hawaii almost every year, but we weren't going to go this year because they made it too expensive to fly," Stanley said. "But now we are!"
The Pokémon World Championships 2010 will be held Friday through Sunday in Kona. The competition is divided into Junior, Senior and Masters divisions. Stanley will compete in the Junior division, which is for players born in 1999 or later. Champions from around the world and top-ranked players were invited to compete in the single-elimination event.
The tournament is a series of "battles," which Stanley said are head-to-head competitions during which players pit fictional beasts in bouts. The creatures, or "Pokémon," have unique powers that can be built through practice, and different powers trump each other. As an example, the most well-known Pokémon, Pikachu, can store power in his cheeks and unleash it as lightning during a battle.
Since the first Pokémon games were released for hand-held units in 1996, more than 200 million units have been sold, and it is among the most popular games in the world.
Wade III, whose nickname is "Tre" for "the third", said he never thought this game would give him so much opportunity when he started playing about five years ago.
"I never looked at it too competitively," he said of his initial introduction to the game, watching his older sister, Tiffany, play. "My sister told me about the competitions and I thought maybe I could do it."
The global tournament pits players against each other via the Nintendo DS system. Tre's white DS, which is not much larger than an iPhone, is a key part of his daily ensemble, and he takes it anywhere he can.
To cut back on class interruptions and disputes, Stanley's school banned video games from campus -- which may not have been such a bad thing for Stanley's friends.
"Sometimes they would beat me," he said, "Maybe 20 percent of the time."
Plenty of athletic teams would take an .800 average. But Stanley needs more than that to succeed at the world championship. Last year, in his first run at the national tournament, Stanley was eliminated at the regional level.
This time around, Stanley will take his Pokémon, including Charizard, Squirtle and, of course, Pikachu, and aim for 1.000.
Kyle Kensing is a freelance writer for Sports Media Exchange, a national freelance writing network.