Commentary
Aly Michalka of 'Hellcats' talks football
Updated:
September 15, 2010, 3:43 PM ET
By
Kelley L. Carter
Yes, yes -- she's the same girl who once dated former Arizona Cardinals quarterback Matt Leinart. And because she was a supportive girlfriend, she was in the stands rooting for her man to win.
But normally? The singer and actress is much more comfortable being center stage. Aly Michalka is starring in a new CW series, "Hellcats" (it airs Wednesday nights at 9 p.m.), that gives us an inside look into the world of competitive cheerleading. On this new series -- it debuted last week -- she's playing a rebel cheerleader who's new to the squad and realizes that being a cheerleader isn't just about wearing cute midriff tops.
Michalka chats with us about the role, how she became a football expert and why she still roots for the Cardinals.
Were you an athlete before? Because this is a really physical role.
"I've been kickboxing and I have a personal trainer, Larry Crystal, that I work with out here in LA and I do martial arts with him. I work out four to five days out of the week, so going into this role I didn't really change anything too crazy about what I did exercise-wise."
[+] Enlarge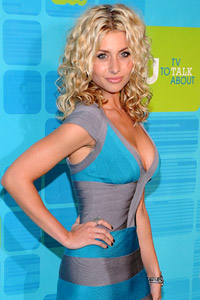 Jason Kempin/Getty ImagesAly Michalka says her newfound knowledge of football could "help me with future dudes."
Where did you fall before you got this role -- did you think that cheerleaders are athletes or were you not sure?
"I wasn't so sure, I definitely don't want to say that I thought, 'Oh no, they're not athletes.' But I definitely would not have been like, 'Yes they 100 percent are.' I think that I was kind of on the fence about it. I don't think I ever really thought about it, but now going to these competitions and now being a part of squad, you know, on our show, and talking to these girls and watching them do these stunts and these dangerous backflips and tumbling passes, it's really changed my perspective. I definitely think they are athletes, and they're not only athletes, but they're a great example to women and men that teamwork is really going to make you a well-rounded person."
What's surprised you the most about the life of a competitive cheerleader?
"I didn't know that it was that common to get hurt. I actually got hurt in the pilot; I twisted my ankle really bad on my left foot. I was doing a form of a stunt and that's when I realized, 'Oh wow. That's why we have doubles!'
Do you do your own stunts for the most part?
"Anything that is involved with the dancing I do myself. But stunting-wise, like backflips, back handsprings, tumbling, that's my double, who's amazing.
What made you want to do this show?
"I think the fact that it breaks a lot of stereotypes. I love when people can underestimate something and then be pleasantly surprised. I think there's something really amazing in that. I just love [her character] Marti's spirit. I love her personality ... the fact that she's a fighter, that she's the hero of this story and it's in a way that's so organic and not contrived and it's nice to see a strong, positive female role centered around on a TV show, centered around them."
And this next episode we see you all go into competition?
"Yeah, you're going to definitely see a lot of the competitions and the competitive aspect of the sport and you're going to see how hard it is to actually get to nationals and to get to sectionals. There's this constant struggle for these teams to be able to pay for their own way, to be sponsored by their school -- you know some schools don't have money to be able to take their teams to these competitions -- and they have to actually raise money themselves."
Who are you a fan of? Who do you root for?
"It's funny because I used to date somebody [Leinart] on the Cardinals for Arizona. I'm a big supporter of the Cardinals, now maybe not so much because he's changed teams, I'm gonna support him. He's changed this year. He was released. But yeah, I'm still a Cardinals fan."
Even though he's no longer playing for them?
"It's funny because I never was really a big fan of sports in general until I kind of was forced to because I was like, 'well, my boyfriend is a quarterback, I've to kind of got to step up; I've got to know my stuff.' So I read books and I watched videos and I really got into it, like genuinely, and I was not like just faking it to be the cool chick that can hang out with the guys, I actually enjoy football. My dad is a big SC fan, he's an alumni, so I enjoy watching college football as well as NFL. But I would have to say that I absolutely love Brett Favre, wherever he is, I'm always gonna have to kind of follow him, I think he's an incredible quarterback and I think it's just kind of phenomenal where his career has been. I think Larry Fitzgerald is one of my favorite receivers."
That's impressive that you really studied football like that.
"I did this whole studying thing while I was out on the road, so I would play a show and then I would read my football book in my bunk and then I would DVR the games so I could watch the games, and the guys made fun of me so much. They were like, 'yeah, we know, your guy's on TV.' It was pretty funny, but it was a great experience, you know, I'm still close friends with them, so it's all good, but it was kind of a great learning thing because I guess now it will help me with future dudes!"
Kelley L. Carter is a Los Angeles-based entertainment freelancer.