Commentary
Boris Kodjoe, from tennis to action star
Originally Published:
September 22, 2010
By
Kelley Carter
| Special to Page 2
It's no coincidence that Boris Kodjoe, 37, plays athletes in almost every role that he takes on.
A former athlete himself, Kodjoe -- he grew up in Vienna, Austria -- came to the United States in the '90s on a tennis scholarship at Virginia Commonwealth University. Back then, he didn't speak a word of English, and learned the language on the tennis courts. A four year letterman with 75 career singles wins on the men's tennis team, he wasn't too shabby.
Still, it was a nasty back injury that forced him to give up his dream of playing professionally; instead, he decided instead to focus on modeling and acting. He still sneaks some tennis in, playing with superstar tennis players (and good friends) Serena Williams and Boris Becker.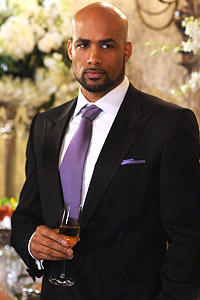 Richard Foreman/NBCU Photo Bank/AP Images)Boris Kodjoe plays an former CIA spy who's called back into action on the new J.J. Abrams show, "Undercovers."
On Wednesday (at 8 p.m. EST), he heads to network TV in J.J. Abrams' "Undercovers," where he plays Steven Bloom, a former athlete who's an ex-spy that gets called back to duty.
So you came here to the states on a tennis scholarship …
"I grew up playing tennis. When I was like three years-old, that was all I wanted to do and I had my sights set on playing professional, and when I was 18 I got injured. I hurt my back and took a long break and after that, I decided to go to college, came here, went to VCU in Virginia, got my degree and stuck around a little bit."
I understand that playing here in the states and playing in college really helped you with learning English. Tell me about that experience.
"Yeah, it was rough in the beginning; when I came to college it was a crazy culture shock. New mentality, new people, you leave your family and friends behind, it was really different. Just by the way I look people would start talking to me, and I wouldn't know what they were saying."
Was there a point where you were considering being a professional tennis player versus acting and modeling?
"Oh absolutely. My whole life was about tennis to that point, the only problem was I had endured these injuries to my back. I had these slipped disks and it was tough for me to play at that level, day in and day out. I could play a match here and a match there, but it would take me a long time to recover from the match just because of my back. When you play professional tennis, you got to play every week and you got to play at the highest level. When you play Grand Slam tournaments, you play best of five sets, you play seven rounds if you make it to the final, and it's just a strain on your back. It was impossible for me to do that. It took a while to get over that because when you spend your whole life living just one dream and have these aspirations and goals, it's very difficult to let that go and to realize 'OK, this isn't going to happen.' So traveling and later on modeling and stuff was really a way for me to find new interests in life and to just figure out that there's more to life than just tennis. So college and later on modeling really helped me to figure that out."
What's interesting is that many of the roles you've played over the years have been sports-related roles …
"You're absolutely right. It's a fun part of playing Steven Bloom in 'Undercovers,' because he's an athlete and he's a multi-faceted kind of guy and I do all my own stunts, I do all those mixed martial arts kind of things and that keeps my endorphins going. It's not the same thing as competing, but it is something that gives me some kind of satisfaction in that department because I'm very competitive and such."
Tell me a little bit more about your character in "Undercovers."
"He's married, he's an ex-spy who lives a normal life with his wife now, whose an ex-spy as well, and then they get called back into service, and now they find themselves traveling all across the world, speaking different languages, kicking some serious spy butt and trying to make their marriage work. It's hard enough to make a marriage work when you're not a super spy, so to add that to it it's a miracle. The show is really hard to define because it accomplishes so many different aspects, from action to drama to comedy and all, you sort of pack your mark, which makes it a dream come true for an actor because you get to play so many different things on a daily basis, rather than just playing one beat year in and year out."
And you said this character was an athlete as well?
"He's got an athletic background. Certainly being a spy renders you fit and you have to be in good shape. As soon as I got the part, I started working out with my martial arts coach and we started doing a whole bunch of different fighting styles because they wanted me to be a fighter. So anytime I have to shoot a scene, I'm flexible at adjusting to different locations and fight styles and stuff and it's an art and I have to keep that up. So yeah he's definitely athletic just by the nature of what he does."
Do you still play tennis regularly?
"Yeah, I play every once in a while. I just play maybe twice, three times a month. I get out there and I still play with Serena (Williams) and actually I played with Boris Becker a month ago. Sometimes I head down to UCLA and play with the guys down there, but with my schedule right now it's tough. It gets tougher and tougher to get some tennis in, but I still try to get out there."
Kelley L. Carter is a Los Angeles-based entertainment freelancer.
Page 2
Kelley L. Carter is an Emmy-winning entertainment journalist who has written for publications including USA Today, the Chicago Tribune, the Detroit Free Press, Vibe and Essence magazines. She also regularly provides expert pop culture and entertainment commentary for outlets including CNN, E! and the TV Guide Channel.