Commentary
Chris Leak in Canada, roots for Tebow
Originally Published:
September 23, 2010
By
Billy Shields
| Special to Page 2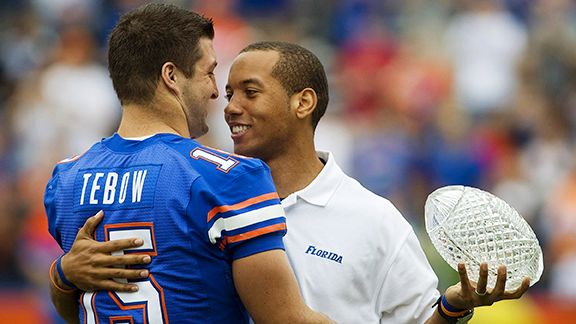 AP Photo/Phil SandlinChris Leak and Tim Tebow both won national titles at Florida.
Quick: Who was the starting quarterback for the Florida Gators during their 2006 national championship run?
No, it wasn't Tim Tebow. That team's starting quarterback was Chris Leak. A high school wunderkind out of Charlotte, N.C., Leak steered the '06 Gators to a 13-1 season that culminated in a 41-14 thrashing of Ohio State for the national crown.
While Tebow's now in the NFL as a rookie in Denver, Leak is a backup in the Canadian Football League for the defending Grey Cup champion, the Montreal Alouettes.
"It's a definite culture shock, but you come to appreciate learning different cultures," Leak said. "You get used to it and you embrace it."
Leak's CFL experience has been checkered. After league legend Anthony Calvillo, 38, went out with a sternum injury last month, Leak guided the Alouettes to a 39-17 victory over the Winnipeg Blue Bombers. But he struggled in his first pro start against the B.C. Lions, and the Alouettes lost 38-17. Calvillo's return became a hotly anticipated topic in Montreal's sports media.
Leak has heard fans shout someone else's number before. In The Swamp during his senior season, the crowd booed Urban Meyer for not handing the offense over to Tebow, something Leak downplays.
"I've enjoyed every minute of being a Gator," Leak said. "I've always felt appreciated by the Gator Nation and that will never change."
Leak responded to calls for his ouster that year by tendering a capstone performance in the BCS Championship Game, passing for 213 yards, a touchdown and no picks. He was the offensive MVP of the game and his victory lap included appearances on Leno and the cover of Sports Illustrated.
But he went undrafted, and the Chicago Bears signed and released him. After Kansas City did the same thing in 2008, he headed north.
A Heisman and another national title later, Tebow's Broncos jersey out sold all others in April after he was picked in the first round.
"Whenever I visit Gainesville, I talk to [Tebow]," Leak said. "I watch from afar like most."
It could seem Leak would harbor some negative feelings about Tebow's success versus his own, but the opposite is true.
"I'm happy to see a fellow Gator get shot at the NFL," said Leak, who didn't say he had adopted Denver as his NFL team. "I wish him the best and am really pulling for him."
Leak now finds himself in Montreal, where the primary language of this city of 3.7 million is French and where football has its own unique rules. As many U.S. football players find out, the CFL has a culture all its own, too. A quarterback is also called a "pivot," the field is wider and longer, there's one less down and one more player.
"You hear this line time and again: 'football is football.' Well, it's not," said Chris Zelkovich, a columnist with the Toronto Star who covers the CFL. "The number of guys who come up here and fall flat on their faces is endless."
Zelkovich said that even CFL stars who went on to NFL fame, like Warren Moon and Doug Flutie, slogged through early years learning the quirks of the CFL game, which favors mobility over pocket passing.
As the CFL heads toward its playoff run, its glitzier cousin to the South is just starting its season. Leak is now an understudy, but if he can flourish maybe he can follow a trail cut by Moon, Flutie and Jeff Garcia.
The CFL game takes time to learn. And Leak is currently third on the team's depth chart.
"It's a day-at-a-time thing. God willing, you get there," Leak said. "If it was easy getting to the NFL, then everybody would do it."
Billy Shields is a freelance writer for Sports Media Exchange, a national freelance writing network.