Commentary
Michael Olajide boxing with the stars
Updated:
October 6, 2010, 2:16 PM ET
By
Lisa Altobelli
| Special to Page 2
---
They called Michael Olajide Jr. "Silk" for his exceptionally smooth footwork back when he was the No. 1-ranked middleweight contender two-plus decades ago. Now, celebrities flock to him to replicate his smooth moves, and ideally gain his insane abs, at his New York City gym called Aerospace.
He assessed a few of his pupils.
Hugh Jackman? "He's extremely coordinated," Olajide said. "He'll be doing something with his left, then his right, and something different with his legs, which is something you can't take for granted."
[+] Enlarge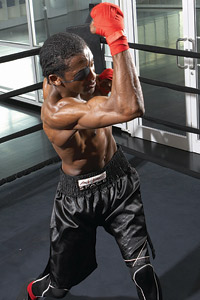 Richard CormanMichael Olajide was a professional boxer until suffering an eye injury in a freak sparring accident.
50 Cent? "He used to be a fighter, a southpaw, and is really quick with his hands."
Mickey Rourke? "He's another ex-boxer and he just loves to fight. I think he enjoys being the underdog. I don't even think he minds getting hit."
And the list goes on, with actresses like Eva Mendes, Jane Krakowski and Liv Tyler taking swings at Olajide regularly. Most recently, he's worked with 73-year-old Dustin Hoffman, who Olajide said "is actually in great shape for his age. He loved hitting the mitts even though he had never boxed a day in his life."
Olajide has also been called on to choreograph boxing scenes in movies, like an eight-month shoot with Will Smith in "Ali," and another shoot with Aaron Eckhart and Josh Hartnett in "The Black Dahlia," to make the fights as realistic as possible.
Olajide knows how to make boxing look realistic. Born in Liverpool and raised in Vancouver, he moved to New York in 1985 when Madison Square Garden bought his contract. A year later, he was thumbed in his right eye in a freak sparring accident. His vision steadily became worse and he retired (28-4, 20 KOs) in 1991, once he became legally blind in that eye and his depth perception became affected.
He then decided to teach classes at New York health clubs, and is known today as the "godfather of boxing fitness," having been one of the first to bring his training to the mainstream. Former professional ballerina Leila Fazel began taking his classes after her own battle with tendinitis forced her to retire from the Dance Theater of Harlem. Fazel, who also designed spas for Ian Schrager's hotels for a decade, decided to open the 7,000-square-foot Aerospace with Olajide in March 2005. No machines. Nothing fancy. Just a ring, some punching bags and a studio.
On any given night, the gym is packed with celebs and locals sweating it out in one of Aerospace's intense classes, alleged to burn up to 1,200 calories in an hour. Olajide weaves in between his disciples, correcting their form and offering soft-spoken words of encouragement, while you try not to throw up on the gleaming hardwood floors -- particularly during the jump-roping segments. Olajide does his best "Rocky" impersonation with double crossovers and triple jumps using his custom-designed ropes called "rainmakers," which are aptly named because you'll be pouring sweat after just a few minutes.
And if you're not in the NYC area, you can buy one of his many DVDs like "Savage and Serene" -- which was just voted the best workout for men by AskMen.com -- or the just-released "Aerobarre" with Fazel that fuses ballet and boxing for the ladies.
And Olajide has his fair share of female clientele. Beside the actresses, he has a growing flock of supermodels like Adriana Lima, Karolina Kurkova and Doutzen Kroes, who regularly come in for two-a-days before a Victoria's Secret shoot. And even Victoria's has taken note. After Lima released a video of her at Aerospace, the lingerie company decided to feature boxing as one of their main themes in their annual runway show next month.
As for Lima herself, Olajide warns, "Watch out for her. Her left hook is incredible."
Lisa Altobelli is a former reporter for Sports Illustrated. She can be reached at alto22@gmail.com.