Commentary
Athletes have chance to do combine
Updated:
October 9, 2010, 3:01 PM ET
By
Joel Poiley
| Special to Page 2
BRADENTON, Fla. -- Athletes gathered in a cavernous gym and, among other things, were asked to leap next to what looked like a giant comb to determine their vertical leap.
For most of us, that meant getting high enough off the ground to slide a bag of Doritos beneath our feet. But it seemed like a freight train could have chugged through the air left beneath the feet of former pro basketball player Trevor Anderson.
A trainer noted that Dwight Howard would clear the measuring device at about 12 feet. No wonder he's always looking down at everyone when dunking.
[+] Enlarge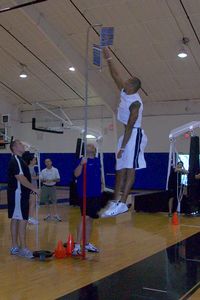 Courtesy Joel PoileyFormer NBA player Trevor Anderson tries out the Combine360 system.
The giant comb is just one of the devices that Under Armour and the IMG Performance Institute in Bradenton brought out in early October as a way of introducing Combine360, which adapts the techniques used by professional athletes to gain the true measure of athletic potential.
"We looked at what [the NFL has] done and combined it with what we've done at IMG Academies for the past 30 years with 8- to 18-year-olds and professional athletes," said Brian Griffin, senior director of performance and sports marketing for Under Armour. "We looked at the things that are happening from a measurement standpoint and a training standpoint that are helping to improve the performance of these athletes."
Most of us know all about the NFL combine, where future college draft picks are pricked, probed and tested physically and mentally for NFL readiness. But we've never experienced it ourselves.
More than 100 trainers from 12 countries went through a Combine360 workout and breakout sessions earlier this week in the first of a four-day symposium to introduce the Combine360 concept to trainers so they can bring it back to the local gym.
The idea is we may never look like Kobe Bryant, but with some effort and desire we don't have to look like Chris Farley either.
To prove it, IMG's head of physical conditioning, Jeff Dillman, put several media members and a former pro athlete through their paces during a basketball drills workout to test flexibility, power and speed.
Participants were weighed and tested for strength and vision in the morning. Then, in addition to the vertical leap exercise, there was a drill that showed how NBA players work their feet on defense, involving a combination of sprinting, pivoting and backpedaling at full speed.
For the NBA-tested Anderson, the maneuver was smooth and flashy. With the rest of us, well, we learned what it felt to be as wobbly as a new-born colt.
"There's plenty of room for improvement," fitness guru Todd Durkin said. "But there's now a system being put in place that will systematically and in standardized ways allow people to compare themselves to other folks as well."
Durkin, who heads Under Armour's Performance Training Council, trains New Orleans quarterback Drew Brees and plenty of Average Joes at his Fitness Quest 10 gym in San Diego. And he has a bit of advice for Joe Sixpack, who thinks that exercise is perfecting the "guacamole dip on a chip to the mouth" move over and over every weekend.
"I say change is inevitable," Durkin said. "You're either going to choose change, or change is going to choose you. … It's going to choose you because you'll have a heart attack, stroke, diabetes or some other thing is going to happen. Or you choose to make the conscious decision to get your mind and body right and then you can choose to change your lifestyle."
Joel Poiley is a freelance writer for Sports Media Exchange, a national freelance writing network.