Commentary
Jared Allen pens cookbook
Updated:
October 9, 2010, 6:05 PM ET
By
Sam Alipour
| Special to Page 2
Back in the day, Vikings defensive end Jared Allen was a cattle-prodded Kenny Powers, a mulleted hunter of sissy quarterbacks and scary wildlife, a three-time All-Pro, an all-time maniac and the last person in the NFL you'd want to mess with.
But in May, Allen chopped his ubiquitous 'do, got married and, perhaps not so coincidentally, got to writing a cookbook. "The Quarterback Killers Cookbook," on sale now, is chalk full of hunting tales and mannish recipes ("Rattlesnake croquette" or "wild boar ragu," anyone?), and if we were to see the seven-year veteran in a dark alley today, the plan would remain the same: scream and run -- or run and scream, doesn't really matter -- and do not pause to ask him about the cooking thing, the marriage thing or if he's gone soft on us.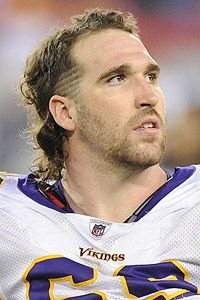 Tom Dahlin/Getty ImagesSince this photo last year, Jared Allen has lost the mullet and written a cookbook.
We did want answers to these questions, though, so we got him on the phone instead. Safer that way.
What do you say to those who say cooking isn't manly?
He's probably an offensive lineman. (Laughs) No, I learned how to barbeque from my old man, and my dad is the most manly dude on the face of the earth. A lot of people would agree with me -- real men cook. And this book was a great way to combine my passions of hunting and eating. I'm a big time hunter and an advocate of eating what you kill. If you're gonna kill it, you have to grill it.
Less manly: aprons or Brett Favre's jeans commercials?
(Laughs.) They're both pretty manly. Wranglers are pretty awesome, and aprons are pretty awesome. My dad had one that looked like a catcher's uniform. I love the corny ones -- "Kiss the Chef" or whatever. I'm a big fan.
If you could cook any QB, who gets cooked?
Oh, it'd have to be Peyton Manning, because he's the best. If you're gonna eat it, it's got to be of the best quality.
Too bad JaMarcus Russell isn't in the league. A ton of meat on that kid.
Yeah, he's big, but he didn't really amount to much. I'm not eating bad meat. I want good meat.
What's the tastiest meat that few people know about?
I'd go with moose. I had moose lasagna once that was to die for. When I was in New Zealand, I had some wild hare, which is like rabbit. That was delicious, too.
Be honest now, who's the better chef: you or your new bride, Amy?
Oh my wife, hands down. She's phenomenal. I do the cooking on the grill, she handles inside, but she's definitely superior.
They say love makes you soft. Has marriage affected your game?
Oh, it's been great. Home and work are two separate things. When you get to work, you turn on your meathead switch. At home, you turn on the husband switch. If anything, marriage has made me better. A happier home makes work great. I'm living the good life now.
Marriage did result in the axing of your mullet. Looking back, happy with your wedding haircut?
Oh, absolutely. My hair will grow back, but I'm only getting married once. To have that day and to see the look on my mom's face and my wife's face, it was great. It's nice to know that my wife thinks I'm handsome. Obviously, I tricked her.