Commentary
Chicago Bulls' James Johnson a fighter
Updated:
October 14, 2010, 3:33 PM ET
By
Matt Lindner
| Special to Page 2
CHICAGO -- James Johnson knows a little something about fighting. And he's applying that knowledge to his latest sports endeavor -- playing for the Chicago Bulls.
When he's not on the court -- or even when he's trying to get more time on the court -- Johnson is all about fighting. He's a second-degree black belt in karate, is 20-0 in amateur kickboxing bouts and won the only MMA bout of his career.
[+] Enlarge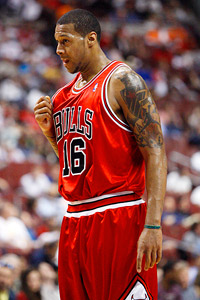 AP Photo/Matt SlocumJames Johnson shed 30 pounds this offseason.
"I'm always gonna love fighting," said Johnson. "It's always gonna be a passion."
"You would never guess that," said coach Tom Thibodeau, who describes Johnson as laid-back and cerebral.
This past offseason though, Johnson was training for the fight of his life following a relatively successful rookie campaign.
"It was one big fight I was training for ... the fight to stay in the league," he said. "It was a good opponent that I had and it was worth training for."
So while most players hit the court to try to improve their game, Johnson went back to his fighting roots and treated his training for the upcoming season like a title bout.
"I was doing a lot of cardio, back to just the training-for-fight style, maybe a little bit of sparring here and there in the ring," he said.
And the 6-foot-9, 245-pound Johnson wasn't alone. In the Johnson family, fighting is a family affair.
His father Willie is a seven-time world champion kickboxer and sixth-degree karate black belt who runs a martial arts school in Cheyenne, Wyo. Johnson's mom Vi is also a world champion martial artist. Seven of Johnson's eight siblings have black belts in karate and the eighth, his 11-year-old sister, is well on her way toward earning hers.
"We were preached to as young kids, 'Don't let nobody work harder than you, don't let nobody fight harder than you and go in there, do what you can,'" he said.
The second-year player showed up to camp this year 30 pounds lighter, and it's already paying dividends. His athleticism was on full display during a preseason game against Toronto when he put down a monster dunk in the second quarter.
"I feel lighter, my knees feel better, my ankles feel better," he said. "You name it, it feels better."
It's a change that has clearly made an impression on his new coach.
"I think that discipline is great, body balance is tremendous," Thibodeau said. "He's a terrific athlete. The things that he can do, he combines strength, speed and quickness. He has all the attributes that you like."
And now that he's had some success in the NBA, he's done fighting, right?
Not necessarily.
"Fighting's always been a passion, always gonna be," Johnson says. "I don't want to stop playing basketball and just get old and fat."
Matthew Lindner is a freelance writer for Sports Media Exchange, a national freelance writing network.