Commentary
Q&A: Zydrunas Ilgauskas off the court
Updated:
October 22, 2010, 4:05 PM ET
By
Mario Sarmento
| Special to Page 2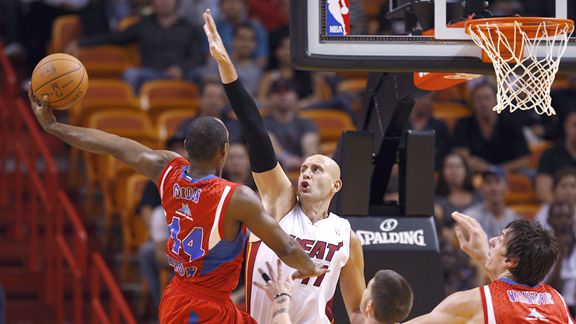 AP Photo/J Pat CarterZydrunas Ilgauskas joined the Miami Heat after 12 seasons with the Cleveland Cavaliers.
LeBron James is not the only former Cavalier on the 2010-11 Heat roster. Amid much less fanfare, center Zydrunas Ilgauskas signed with the Heat on July 17 -- less than two weeks after James announced he was heading south.
Ilgauskas, known as Big Z, is beginning his 13th NBA season, but his first with the Miami Heat. A two-time All-Star during his first 12 seasons in the league (all with Cleveland), Ilgauskas ranks first in Cavaliers history with 2,065 offensive rebounds. He ranks second in Cavaliers history in blocked shots and rebounds.
Ilgauskas shares some insight into his likes and dislikes off the court with Page 2:
What is your favorite midnight snack?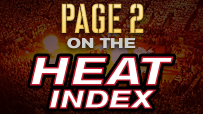 Be sure to check out Page 2's spin on the happenings of the Miami Heat:
• Q&A: Mario Chalmers admires Jordan
• DJ Khaled not worried about his Heat
• Q&A: Carlos Arroyo on being unique
• Q&A: Joel Anthony loves his BlackBerry
• Q&A: Juwan Howard idolized Dr. J
• 'Don't Hate Miami' defends city's honor
• Seikaly: Chemistry hurting Heat
• LeBron's stylist talks NBA style, tips
• Q&A: House wants Obama's number
• 'Grandmothers' standing by LeBron
• LeBron Poetry Contest's famous losers
• LeBron Poetry Contest claims winner
• Is this man a LeBron lookalike?
• Collectors eye first LBJ card with Heat
• Prose flows in LeBron Poetry Contest
• Hill: Miami is now LeBron's town
• Miami mayor: Heat to silence critics
• Seikaly: Why all the fuss?
I'm asleep by midnight, so nothing.
What was the last concert you attended?
I went and saw Coldplay in Cleveland, (they were) great.
What was the first car you owned?
Ford Scorpio in '91 back home (in Lithuania) ...
(it ran) perfect until somebody stole it.
Movie you can't see enough?
"Wedding Crashers." It's just funny.
Person's phone number you'd most love to have?
My wife.
If you had a week to escape to, where would you go?
Anywhere in the Caribbean. I've been there a lot of times.
What person did you grow up most wanting to be like?
I just wanted to be a good person. I didn't follow anybody; my parents instilled good values in me.
What's your most prized possession?
My family.
Mario Sarmento is a freelance writer for Sports Media Exchange, a national freelance writing network.