Commentary
Joe Namath heads All-Overrated Team
Updated:
November 4, 2010, 9:57 AM ET
By
Jerry Greene
| Special to Page 2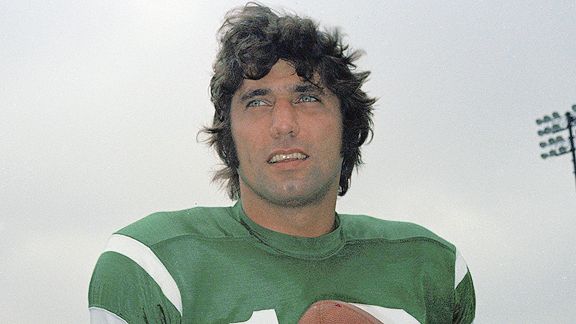 AP PhotoJoe Namath was voted by Page 2 readers as the most overrated NFL player of all time.
Doesn't matter where you are as you are reading this -- clap your hands and chant along with the rest of us:
"Over … rated!" Clap clap, clap clap clap!
Joe Willie Namath, we're looking at you.
But don't smile, Brett Lorenzo Favre, because Joe Willie barely beat you for the honor of being No. 1 on our list of Top 10 All-Time Most Overrated NFL Players, compiled by votes from the unforgiving readers of Page 2.
Our list is pertinent Thursday for two reasons:
• The NFL Network will announce the top 10 names at 9 p.m. ET Thursday to complete its list of "The Top 100: NFL's Greatest Players." Won't it be amusing if one or more names from our overrated list also shows up on its list? Believe me, it could happen. (See No. 10.)
• Last week, Sports Illustrated announced the results of its poll of 269 current NFL players who were asked to name the most overrated players in the game now. Their top five in order were Terrell Owens, Tony Romo, Mark Sanchez, Albert Haynesworth and Eli Manning. Even though three active players made our list, only one is also on the SI list -- and T.O. received only three votes from you, so he was not close to our making our Tarnished 10.
Please remember that calling a player "overrated" does not mean he had (or is having) a lousy career. It simply means he's not as good as his reputation. When you see who made our list, you'll need to remember that (especially thinking about No. 10 again).
More than 40 percent of our voters mentioned Mr. Namath. Josh S. of North Providence, R.I., even provided statistics he pulled from Pro-Football-Reference.com:
• Career Record: 62-63-4.
• Completion Percentage: 50.1 (1,886 of 3,762).
• Touchdowns: 173.
• Interceptions: 220.
Ouch.
Let's get to the list, including a comment for each player from one of you:
Top 10 All-Time Most Overrated NFL Players
1. Joe Namath -- "He's in the Hall of Fame because he was good looking, had a great nickname in Broadway Joe, guaranteed a victory in Super Bowl III, and did a pantyhose ad. Glad they had such high standards back then," said Bill P. of Tualatin, Ore.
2. Brett Favre -- "He gets a free pass from every announcer: 'Oops, he threw into triple coverage again for another pick -- Classic Brett Favre!' Anybody else made the same pass, they would get ripped apart," said Brad F. of Flandreau, S.D.
3. Tony Romo -- "The man is known more for whom he dated than what he's done in the NFL and Jessica Simpson has more talent than he does," said Raj P. of Newark, Del.
4. Peyton Manning -- "Look how he performs in big games. He's been to the playoffs many times but only won one Super Bowl and, in college at Tennessee, he never beat the Florida Gators," said Mark M. of Apopka, Fla.
5. Emmitt Smith -- "Never had a transcendent season but he was so remarkably consistent that people confuse that with greatness," said Tom P. of Appleton, Wis.
6. Warren Moon -- "Lots of stats but no championships. All hat and no cattle," said Jack F. of Falls Church, Va.
7. Deion Sanders -- "The man admitted he hated tackling. He was good but it was his brash personality and that stupid dance in the end zone that created his high ranking," said Jordan A. of Pittsburgh.
8. Mike Singletary -- "Worst hands of any player in last 50 years. Once [Dan] Hampton and [Richard] Dent left the Bears' defense, opposing running backs treated Singletary like a speed bump," said Randy K. of Chicago.
9. Brian Bosworth -- "Boasted before game and then Bo Jackson ran over him, plus does anyone even remember he was in the 2005 remake of 'The Longest Yard?'" said Jeff L. of Seoul, South Korea.
10. Joe Montana (!) -- "Put anyone behind that 49er line with those offensive weapons and the greatest coaching staff ever assembled if you want an instant Hall of Famer. Just ask Steve Young," said Ben M. of Peoria, Ill.
This player didn't come close to making our list, but we must repeat the vote by Casey M. of Columbia, S.C., for quarterback Rex Grossman, who just made a brief appearance on the field for the Washington Redskins: "Grossman is widely considered to be a horrible quarterback but that is still overrating him by calling him a quarterback at all."
That's harsh, Casey. Even Donovan McNabb wouldn't say that.
Jerry Greene is a retired columnist for the Orlando Sentinel. He can be reached osogreene@aol.com