Commentary
Warren Moon lead All-Galaxy team
Updated:
November 6, 2010, 10:03 AM ET
By
Rob Daniels
| Special to Page 2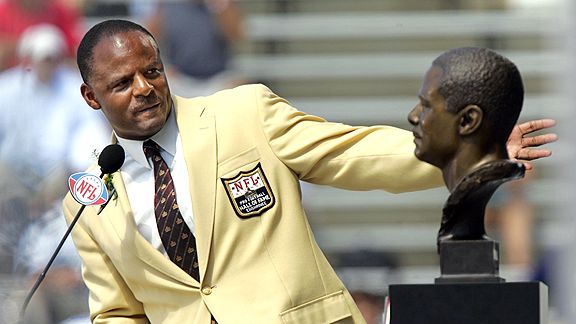 AP Photo/Mark DuncanWarren Moon, who was inducted into football's Hall in 2006, makes our list of All-Galaxy team.
Not to brag or anything, but this collection is out of this world. We proudly present our All-Galaxy Team.
Cal Earthman: Nothing if not human, Earthman played in four pro seasons for the Newport (Ark.) Pearl Diggers and the Ellsworth (Kan.) Worthies, among other baseball clubs. If he didn't see the entire planet, at least he got to play for some cool teams.
Saturnino Escalara: The utility man logged 5,500 at-bats in the minors but got only one brief shot in the bigs, a 73-game stint for the 1954 Cincinnati Redlegs in which he had only 77 plate appearances. Saturnino didn't get a ring, either; the Redlegs, who changed their name briefly from Reds in the height of the McCarthy hearings, went 74-80 that season.
James Hubble: The former minor leaguer shares his last name with astronomer Edwin Hubble, for whom the famed telescope is named. Appropriately enough, James Hubble played for St. Cloud in the Giants system in 1957, but his one-year career didn't have the longevity of the telescope, which is expected to retire in 2014 after 24 years of service.
Bode Miller: The most decorated alpine Olympic skier in U.S. history qualifies for this distinction to go with his five Olympic medals because of German astronomer Johann Elert Bode, who in 1774 discovered a galaxy ultimately named in his honor. Bode also ascertained the orbit of Uranus and suggested the planet's name, thereby giving birth to countless eighth-grade wisecracks over the past two centuries.
Bill Mlkvy: Mlkvy's Way was to score a bunch of points. Known as "The Owl Without a Vowel" during his days at Temple University, Mlkvy led the NCAA in scoring in 1950-51 thanks in some part to a game against Wilkes in which he racked up 54 consecutive Temple points without the assistance -- or interference -- of teammates. He went on the NBA and played one year with the Philadelphia (now Golden State) Warriors.
Warren Moon: Even though they no longer exist, the Houston Oilers must be credited for discovering Moon, who didn't make his NFL debut until he was 28. By then, he had established absurd passing numbers for the CFL's Edmonton Eskimos, and in a 23-year pro career, he threw for more than 70,000 yards, which amounts to 40 miles. String his completions together and you'll be out of the stratosphere.
Michael Rockett: The 13th-round draftee out of the University of Texas-San Antonio in 2009 hasn't sped through the Tigers' system yet, but he does have 11 triples in 171 professional games.
Kate Starbird: The 6-foot-2 forward held Stanford's career scoring record for a decade, but that may not be the most interesting fact of her basketball career. She was employed by five WNBA teams, three of which have folded or moved. (It wasn't her fault.) Starbird is now in graduate school at the University of Colorado, where she is studying the uses of social media in crisis intervention.
Rob Daniels is a freelance writer for Sports Media Exchange, a national freelance writing network.