Commentary
Q&A: Eddie House wants Obama's digits
Updated:
November 12, 2010, 3:22 PM ET
By
Mario Sarmento
| Special to Page 2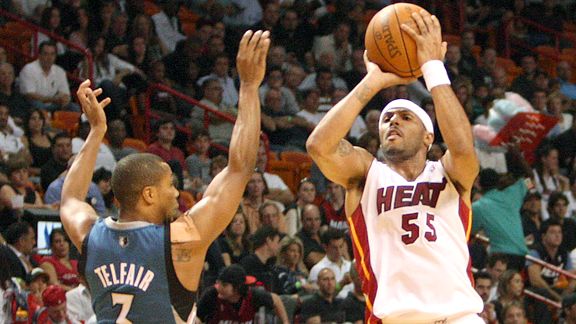 AP PhotoEddie House signed a two-year contract to return to the Miami Heat this year.
Guard Eddie House is an NBA journeyman -- he's played with nine teams since being drafted by the Miami Heat in 2000. But in July 2010, House agreed to a two-year deal and returned to Miami.
Known as a 3-point threat, House was a key member of the Boston Celtics' 2007-08 NBA championship team.
Page 2 spoke to House, who shared some insight into his likes and dislikes off the court:
What is your favorite midnight snack?
I'm off the midnight snacks. Gotta watch the weight, the body fat at this camp. No more midnight snacks.
What was the last concert you attended?
Probably was Redman, Method Man. This was in Arizona, this was back when I was in college ... I just haven't been. There's nobody who makes me want to go and see them.
What was the first car you owned?
'91 5.0 Ford Mustang, maroon with the gray bottom. It ran well.
Movie you can't see enough?
"Harlem Knights." It's a hilarious movie; it just gets funnier and funnier the more I see it.
Person's phone number you'd most love to have?
That's a trick question right there, you're trying to get me tripped up. I'll say Obama, I'll go with the president . . . that's the head of the state. You've got his number in your cell phone, you're doing something.
If you had a week to escape to, where would you go?
Somewhere with my kids, wherever they would want to go.
What person did you grow up most wanting to be like?
Magic Johnson, but I didn't get the size ... Magic's my favorite player.