Commentary
VH1's 'Basketball Wives' tell their stories
Originally Published:
December 8, 2010
By
Kelley Carter
| Special to Page 2
On Sunday, we welcome back the kind of heat in Miami that is found off the court.
It's the return of VH-1's "Basketball Wives," (8 p.m. ET) the show that hoops players love to hate (but secretly watch). The drama is over the top -- just the way it should be.
Page 2 chats with Shaunie O'Neal and Tami Roman -- the ex-wives of Shaquille O'Neal and Kenny Anderson, respectively -- to get their take on this season's show, and have them give up a few juicy details. (One hint: You'll see one former NBA player in family therapy on the reality series.)
[+] Enlarge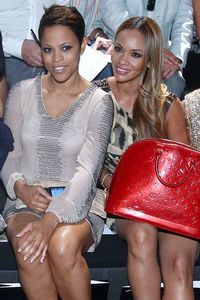 Eduardo Parra/WireImageShaunie O'Neal (left) and Tami Roman -- the ex-wives of Shaquille O'Neal and Kenny Anderson -- return for another season of VH1's "Basketball Wives."
Shaunie O'Neal
What made you guys want to come back for another season?
It was such an immediate success that the network was like, "You guys have to do this. You have to come back," and all the girls were game. They enjoyed themselves the first season.
What shocked you the most about the reaction to that first season?
When people decided to label us all basketball wives or all wives of athletes as groupies and gold-diggers --that was very hurtful. Don't get me wrong, there are some, but there are some of us that nobody was intentionally going out there trying to find some athlete to get with or whatever. But there are those of us that do represent the non-gold-digger, non-groupie, don't-hang-out-in-this-crowd group of ladies. People talked about us on blogs like we were groupies. That bothered me.
You've become quite the business woman; you're Shaunie Incorporated now.
It's always been in me. When I met Shaquille, I worked at Fox in marketing, so I have always been creative. I've always had a bunch of ideas. But living in that lifestyle, you move from city to city, you find yourself in an arena all the time. I had kids and a husband that traveled a lot, and was gone most of the time, and you look around and you're starting it all over again. You know? But now that I'm divorced and I have time to focus on me, I'm able to focus so much more on all the ideas that I've had.
So you were spotted at a Lakers game recently. Does that mean you're still a big Lakers fan?
You know what? I'm from L.A., so I will always be a Lakers fan, let me just say that. Even when I couldn't say I was still a Lakers fan, I was always a Lakers fan! But, no, I was actually at the game because I had a meeting with Jeanie Buss, and all of Jeanie Buss' meetings end up going to a Lakers game, which is fine with me! No complaints there! So, yeah, Jeanie, she's a sweetheart and we've remained friends and all that through all these years, so I had a meeting with her and what better place than a Lakers game? That is a meeting. Lakers games are business meetings.
Who has more drama: The new season of "Basketball Wives" or Miami Heat's basketball team?
You know what? That's a close one, right there! Because Season 2 of "Basketball Wives" is full of drama, but good God, every day I turn on ESPN the Heat are having some drama! So I don't know, we might be running neck and neck on that one. I would love to be a fly on the wall over there. That might be a show in itself.
So what kind of response have you gotten from some of the players in the league about the show? What's their take on it?
You know, it's funny because a lot of them are like sneaky, closet watchers. They know everything that's going on on the show. They're like "Wait, was it real when so and so said such and such?" I'm like "You watch it! See, I know you watch it." I was terrified during Season 1 when I would see a player or something, like "Oh God, they're gonna just hate me." All the guys were scared that we were gonna put people on blast, like tell everybody's business and tell what this person's doing and that person is doing and that never was the intent of any of us. Nobody wanted to do that to anybody. So, believe it or not, I get great response from the guys. Of course, being here in L.A., you could just be having lunch at a restaurant and see these guys, you know, in town playing the Lakers or Clippers or whatever, and I get good response. A lot of them are like, "I'm really proud of you, congratulations on branching out on your own" and "Kudos to you!" and they know what's happening on the show. They don't tell us they watch, but all the questions they ask, they're watching, they know. This summer, I ran into a bunch of the Heat players and they were all still the same, giving me hugs. It was a good response. I've kind of let that sigh of relief go that nobody's wanting to kill me or anything.
---
Tami Roman
You're a reality TV vet -- you were on the second season of MTV's "The Real World." What made you want to come back to reality TV?
I watched the first season, and I kind of felt that my story wasn't really represented. Last season, we didn't really get a sense of who these women were, and what their lives were really about outside of the fact of them talking about their exes. I wanted to introduce my story, and what I'm doing now and what became of my situation after being divorced from a high-profile player.
Your story was highly documented. Can you sum up quickly what your life was like after divorcing him?
I think that people have a misconception that if you are with someone who makes a huge salary, that once you're divorced you get half, you're gonna be fine emotionally and financially. Kenny and I had a prenuptial agreement, so in terms of the financial aspect, the entire world is completely wrong! What I came with is basically what I left with. And from an emotional standpoint, divorce is hard. We have two children, and our divorce was not amicable at all. So, us not speaking and not parenting properly kinda trickled down to my daughters, and we didn't really think that decisions that we were making for ourselves would affect them so greatly.
And you were the one who left, right?
My story is that I walked away from Kenny because I wanted to walk away from Kenny. There wasn't enough money, there wasn't enough cars, homes or anything that would make me stay in a situation that was unhealthy or detrimental, and in doing so, I've stepped off and I've had to basically fend for self, go back to my acting and try to make things work for me and my daughters, individually, because he was not involved and I think that people don't really understand that, you know?
I read a story as few years back that you were on public assistance in order to live day-to-day.
I thought that I would continue -- that my children would continue -- to live the lifestyle that we had become accustomed to, and when I left Kenny, I tried to continue that lifestyle instead of going back to the foundation and the upbringing that I know that I come from. I didn't need the mansion, I didn't need the cars, I just needed for my children to be comfortable and I didn't do that. I didn't make the proper financial decisions, based on the fact that I thought he would be responsible, so it got to a point of trying to maintain a certain lifestyle that I eventually used all of my savings. I had to sell things to just stay afloat, I eventually ended up selling my home and all of that stuff because I didn't make the proper life choices for myself and my daughters.
What is your financial situation now?
We're in a better situation. We're not on food stamps and we're not on public assistance. I have a 9-to-5 job, and you know I just really ultimately want people to take something away from my story. That was my only reason for being involved with this show.
How are things with you and Kenny now? We see him on the season premiere.
At the moment, Kenny and I can actually have a conversation. We can actually have a constructive dialogue and for at least 8-10 years that wasn't the case. So, what this show did for us was a lot. Before, our conversations would always be yelling, screaming, cursing each other out, hanging up the phone, not really communicating properly, and this show allowed us to go to a therapist and that person could basically act as a buffer, and allow us to be able to speak. My daughters speak with him, they have a relationship, or a developing relationship with him, and he and I can actually have a conversation.
And Kenny is trying to coach now, right?
I know that he's trying to coach, and ironically my daughter's actually developed a reality show for him. So we're hoping that that will be our next step, because Kenny's not a bad person, he just did some bad things, just like I'm not a bad person, I'm not a saint, I did some bad things. And I think that he may not have honored his responsibilities, but I think there's a redemption in the fact that now at this age he understands the importance of not having been involved with his kids and now wanting to redevelop and re-establish that. So we put together a reality show that follows his life and how he's now going to try to be a father to all of his kids. Kenny has eight children.
So you guys are shopping that show around now?
Yeah, we're shopping that around now, and we've gotten some great feedback. Lots of people are interested and hopefully something will come of that. I think that Kenny could be a great example for a lot of men who haven't been involved with their children. There are so many children out there that are products of divorced households and may not be able to deal with it, and I think seeing a show like this will help certain people navigate through their own lives.
Kelley L. Carter is a Los Angeles-based entertainment freelancer.