Commentary
Will Muschamp is in 'Sunday Brunch'
Updated:
December 12, 2010, 11:38 AM ET
By
Jerry Greene
| Special to Page 2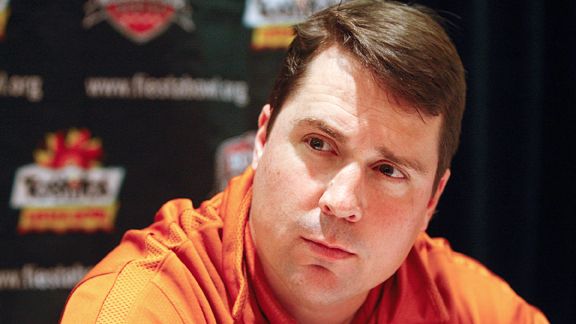 AP Photo/Aaron J. LathamOrlando Sentinel columnist Mike Bianchi questions the hiring of Will Muschamp as Gators' coach.
We're moving along quickly with this "Sunday Brunch" as you must have holiday shopping to do and I have all of my Christmas shopping to get done as I slept through Black Friday and my computer picked up a virus on Cyber Monday. That leaves me with Sucker Sunday to finally get started.
So a quick presentation of short appetizers before we get to the main courses of the Brunch from some of the best sports writers in the United States of America. Cool.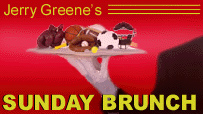 • Have you had enough time to arrange your travel plans to Qatar? Yeah, me neither.
• Late Yankees boss George Steinbrenner didn't even come close in his first year of eligibility for baseball's Hall of Fame. Good Lord, was he on steroids, too?
• This from NBC's Jay Leno: "You see that snowstorm in Buffalo the other day? People were stuck in their cars for 12 hours. They couldn't move. You know what you call someone in Buffalo that can't move? A running back." Bada bing.
• The Hyundai Sun Bowl says it has a sellout, which is the quickest in the bowl game's history. The Dec. 31 game is between Miami and Notre Dame. Wow, who knew the Hurricanes were still that popular?
• Tweet from Brett Favre to Urban Meyer: "U r an amateur. LOL!"
• Perky Jerky has signed a deal to sponsor golfer David Duval. John Daly must be fuming.
• We can all sleep easy tonight. Lee Corso's mascot head is safe.
And now to bring in the heavyweight's for the main courses in this delicious Brunch:
• Florida AD Jeremy Foley wasted no time in replacing football coach Urban Meyer with Texas Defensive Coordinator Will Muschamp. Mike Bianchi of the Orlando Sentinel wonders if this hire will be closer to when Foley chose Billy Donovan to handle basketball or Ron Zook to replace Steve Spurrier as the old football coach. "Foley's Folly II?"
• The Miami Hurricanes are still looking for a new football coach. Greg Cote of the Miami Herald has that covered along with a bunch of other cool stuff in his "Random Evidence of a Cluttered Blog." One tidbit that fascinates me are the current gambling favorites to win the next Super Bowl: "The Patriots favored at 9-2, Steelers and Falcons 13-2, Packers 17-2, and Saints and Eagles 9-1." And much more.
• Kansas City's Joe Ponanski says goodbye to Dandy Don Meredith and notes he gave us something that few others could provide -- appreciation of the joy of playing football.
• Sticking in Kansas City, Sam Mellinger of the Star tells Chiefs fans that having QB Brodie Croyle replace ailing Matt Cassel to face the San Diego Chargers is a classic case of being careful what you wish for.
• Numerous fans in Baltimore seem to be irate with Ravens Coach Jim Harbaugh, while Kevin Cowherd of the Sun respectfully tells those fans that they are nuts.
• Finally, we return to my blog for some predictions of the NFL games although I didn't foresee the roof collapsing on the stadium in Minneapolis. Slacker.
Now get out there and join me in some frantic shopping. Nothing says "love" more than a gift card, right?