Commentary
Is 2010 the Year of the Apology?
Updated:
December 19, 2010, 9:59 AM ET
By
Jerry Greene
| Special to Page 2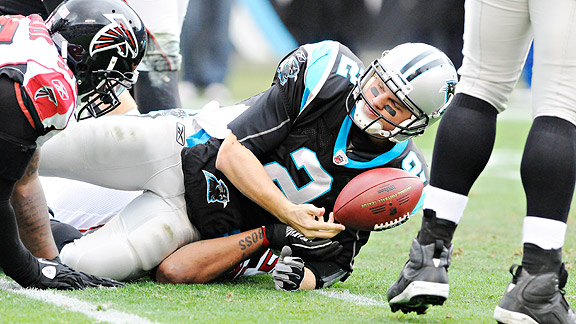 AP Photo/Mike McCarnThis has happened a lot this season: Carolina Panthers quarterback Jimmy Clausen getting sacked.
Less than a week until Christmas, so we should all be "ho-ho-hoing" and full of good cheer. But it can be difficult when Tiger Woods shamed and LeBron James blamed are generally considered the top two sports stories of the year.
And if you are playing or coaching football right now, you may be more mad than merry. Take the Carolina Panthers -- please.
Quarterback Jimmy Clausen apologizes for his poor play to linebacker Jon Beason, and wide receiver Steve Smith isn't happy with that.
Said Smith to the Charlotte Observer: "I'm the last guy to tell anybody to be apologizing. But if you're going to apologize, you should apologize to people that's in the huddle with you. But he has a lot to learn. He ain't at Notre Dame anymore, that's for sure."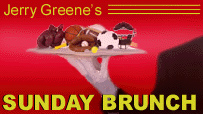 No, at Notre Dame, he had a chance of winning.
How about Maryland Coach Ralph Friedgen? The school wants him to retire and he doesn't want to go. If he forces the school to pay him $2 million for the season left on his contract, is that a good or bad way to end the year? Cheery or not, he's apparently out.
Life was so much easier when we were happy with a Christmas stick. What? You didn't teach your kids to be appreciative each year when they got a new Christmas stick? Worked for me with all three of them.
And now a few more holiday bits of tid before we move on to the main courses of this Christmas Week Brunch from some of the best writers inside -- and outside -- of sports.
• Jets' favorite two words this week are not "Happy Holidays," but "Plausible Deniability."
• Jerry Jones tells "60 Minutes" about his fear of going broke. Gee, who knew we had so much in common?
• You mean the Yankees can't have whomever they want? I thought it was a rule.
• Jay Leno on the weather: "It was so cold that the Vikings could see their last breath."
• And the emir of Qatar awoke and said, "Man, I had the craziest dream!"
[+] Enlarge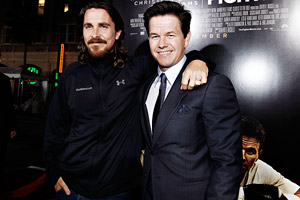 AP Photo/Matt SaylesCast members Christian Bale and Mark Wahlberg pose at the premiere of "The Fighter."
Now we move to the main courses of this holiday Brunch, starting with two of the best movie critics in the biz to give you contrasting views of the generally acclaimed "The Fighter."
• A.O. Scott of the New York Times writes that "The Fighter" is a film that "is quick on its feet and packs a mighty punch." He likes it a lot as most critics do.
• Not so fast, my friends. No, we don't have an opposing opinion from Lee Corso but from Roger Ebert of the Chicago Sun-Times. He doesn't hate the fight flick but concludes "we don't care as much as we should, and the film ends on a note that should be triumph but feels more like simple conclusion." Ouch. Not a knockout punch but sounds like a TKO.
• Gilbert Arena has left our nation's capital for Disney World (not really but it sounds appropriate) and Mike Wise of the Washington Post remembers Gilbert as being responsible for "the single most damaging event in the modern era of Washington pro basketball." But it wasn't all bad, was it?
• What about the feelings in Phoenix, where the Suns also made a major deal with the Orlando Magic that included losing popular Jason Richardson and not-so-popular Hedo Turkoglu? Dan Bickley of the The Arizona Republic describes it as shipping out "their leading scorer and a giant albatross." Hey, they used to like H-Turk in Orlando.
• To conclude this trilogy of reactive columns, what do they think in Orlando where the Magic apparently orchestrated both deals? Mike Bianchi of the Orlando Sentinel writes that we now know the Magic will do anything to keep Dwight Howard happy and prevent turning into Cleveland.
• What? No football? There's always room for football at our holiday table even if it is my predictions for Week 15 in the NFL plus a defense of young Dallas RB Tashard Choice. Why shouldn't he want Mike Vick's autograph for his nephew? Everybody else does. Whether you want my predictions is debatable but they're free, so consider them my early gift wrapped especially for you.