Commentary
Readers: We know who will flop in NFL
Updated:
January 6, 2011, 11:31 AM ET
By
Jerry Greene
| Special to Page 2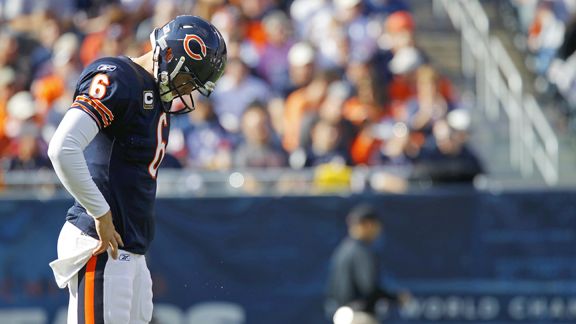 AP Photo/Nam Y. HuhSome Page 2 readers are predicting bad things for Chicago Bears quarterback Jay Cutler.
We don't know who for sure, but we sure as shootin' know there will be guys wearing goat horns during the NFL playoffs that begin Saturday.
That's right -- flops, failures, losers, busts, duds, lemons, washouts, Favres. Call them what you want, there will be no country big enough to hide these men.
It always happens. The dropped TD pass, the fourth-quarter fumble, the shanked field-goal attempt -- oh, the shanked field-goal attempt, how many lives has it ruined? Of course, the real failures may not even be on the field. We're talking about the head coaches or in the case of the New York Jets, perhaps the strength and conditioning coach.
We know the flops are going to be part of the playoffs because they always are. But who will they be? You made some excellent guesses and that's how we have made this week's Top 10 list.
As for players, kickers were named the most, closely followed by quarterbacks. No team was mentioned as often as Seattle, which is hardly shocking. But our No. 1 pick is not a player or a team but a coach that has brought a lot of attention -- good and not so good -- on himself and his team. You can probably guess his identity but, just to be sure, read on:
Top 10 NFL Playoff Flops
10. "Green Bay's Clay Matthews and New England's Tom Brady in the Super Bowl, because both will be ejected after getting into a hair-pulling hissy fight," said Mark M. of Apopka, Fla.
9. "Jay Cutler simply because he's Jay Cutler," said Ben M. of Peoria, Ill.
[+] Enlarge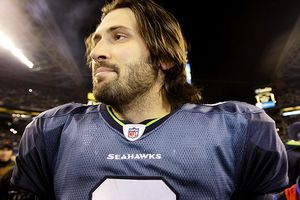 AP Photo/Ted S. WarrenSeattle quarterback Charlie Whitehurst has the Tom Brady look but will he have the Tom Brady skill?
8. "Ben Roethlisberger, because sand-lot football only works so long and running around like a kid must end badly. Just ask Brett Favre," said Paul K. of Fort Wayne, Ind. -- who gets bonus points for mentioning Favre.
7. "The entire Ravens team, because nothing is less intimidating than Edgar Allen Poe and the color purple," said Casey M. of Columbia, S.C.
6. "Seattle coach Pete Carroll, because 'Two Consecutive Wins Forever!' just doesn't have the same ring to it," said Nathan H. of Waverly, Iowa.
5. "SeaTurkey quarterback Charlie Whitehurst because with facial hair that would frighten even a porno director and that offense behind him, how could he not end up badly?" said Curt C. of Orlando, Fla.
4. "Kansas City offensive coordinator Charlie Weiss, because -- talk about distracted -- his bags are already on the plane along with a ham sandwich," said Sandra K. of St. Louis, Mo.
3. "Mike Vick will be rattled into a game-losing interception when the Packers defense begins to sing 'Who Let the Dogs Out," said Arlene B. of Milwaukee, Wisc.
2. "New Orleans kicker Garrett Hartley, because if Seattle somehow is leading and he misses the winning field goal -- don't even think about getting back on the plane because you might be cut from the team somewhere over Kansas," said John B. of Houston, Texas.
1. "Jets coach Rex Ryan has been digging his own grave since 'Hard Knocks,' followed by failing to win his division, being embarrassed by Tom Brady and now calling out Peyton Manning, who is 7-1 against him. No soup and no Super Bowl for you," said Nick S. of Des Moines, Iowa.
Hardly surprising that Coach Ryan got more votes than any other individual. But we're guessing he likes it that way.
Of course, the real list won't begin to take shape until Saturday. And are we all absolutely positive we won't see Brett Favre?