Commentary
Power bands, Heatles star in Brunch
Updated:
January 9, 2011, 3:53 PM ET
By
Jerry Greene
| Special to Page 2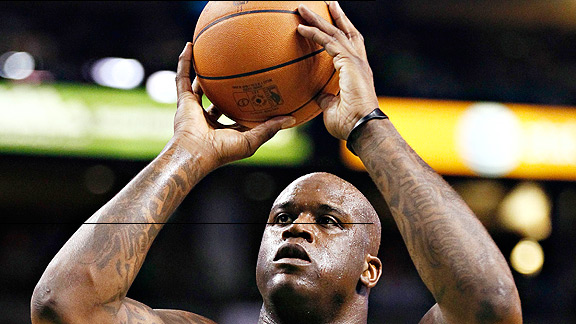 AP Photo/Winslow Townson
Boston's Shaquille O'Neal wears a Power Balance bracelet. Australian authorities said the company behind the popular wristbands don't work. And they even got Power Balance to admit it.
The year of 2011 is new enough that we have not abandoned our hopes of living a healthier life. Disillusionment and éclairs usually don't hit until February. Perhaps that's why the NBA quickly offered its Fit Live Healthy Week, as players, coaches and even league executives in carefully fitted suits were seen promoting healthy living.
Yeah, well, I'll buy into your sincerity, NBA, when you stop selling Size 3X Kobe jerseys.
And speaking of disillusionment, did you hear that the Power Balance "athletic strength bands" have been exposed as not actually doing anything that improves strength, balance and flexibility, as promotions have alleged?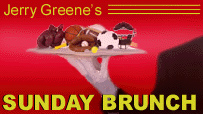 The exposure came in Australia, and customers Down Under are being offered refunds for the wristbands that usually sell for $29 up here. Shaquille O'Neal has been seen wearing one, perhaps in pursuit of lost flexibility. So has, uh, New Orleans quarterback Drew Brees.
How'd that work out on Saturday, Drew? You should have given one to everyone on your defense and two to Roman Harper. Can you say "horrific," Roman?
Still, I'm not willing to abandon the Power Balance concept of wearing something that will make me healthy without exercise and a proper diet. In fact, instead of the wristbands, I plan on ordering the special athletic strength belt, Size 52.
And now a few assorted thoughts before we get to a deliciously large buffet on this Sunday Brunch.
• Did you catch last weekend's open-air NHL Winter Classic when the Capitals drowned the Penguins 3-1? Instead of ice hockey, it debuted the new sport that's sweeping the nation: slushie hockey.
• The Ouch Quote of the Week from Mavs owner Mark Cuban after Lakers coach Phil Jackson commented on Mavs' Caron Butler being lost to injury for the season: "I love that Jeanie Buss' boy toy had something to say about us."
• Maybe there's something in the Texas water, because here's the Houston Chronicle's John McClain on the Texans' owner: "I'm stunned Bud Adams listened to his people. That's smart on Bud's part. I don't know that I've ever used Bud and smart in same sentence."
• The NASCAR Hall of Fame in Charlotte has been offering free admission in an attempt to get somebody inside. Hey, Charlotte, how about a free tank of gas?
[+] Enlarge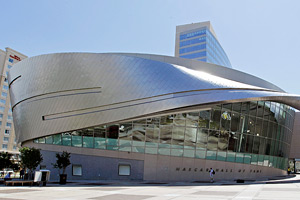 AP Photo/Chuck BurtonThe NASCAR Hall of Fame in Charlotte, N.C., needs patrons.
• Golf Channel has put a microphone on golfer Jonathan Byrd, who is a co-leader in the PGA Tour's season-opening Tournament of Champions. Terrific. Looks like I can finally remove my "What Is Jonathan Byrd Saying Now?" bracelet.
• LeBron James said the Miami Heat should be called "The Heatles" because they draw crowds like the Beatles did. Yeah, and if they are still together in 20 years, they can do a Super Bowl halftime show as "The Hoo."
• Surely you have heard about the Ted Williams who was a homeless man with a great voice for radio and is now a YouTube sensation and has been offered a job by the Cleveland Cavs even though he has a history of drug abuse, alcohol abuse and theft. Apparently in Cleveland, that's the new triple-double.
That's enough because we have a main buffet that is chock full of goodies. Let's get to it.
• We begin with a video from "Late Night with Jimmy Fallon" in which they created a "rock power ballad" for the Oregon Ducks. Hear Sebastian Bach sing "Don't [bleep] with the Ducks!"
• The Ducks had far more success than Michigan, where Rich Rodriguez got fired. Author John U. Bacon was there all season and, in the Wall Street Journal, gives us an idea of what it's like for a grown man to choose a career that essentially rides on the arm of a 20-year-old quarterback or the leg of a 19-year-old kicker.
• We return to NPR.com for another Sweetness and Light column by Frank Deford. This time he charges the NCAA with being "like the Soviet Union as it struggled to maintain communism in a changing world that wouldn't tolerate its outdated nonsense any longer." I've heard the NCAA called a lot of things but never old-fashioned Rooskies before.
• While we're being critical, how did you feel about the Hall of Fame decisions made by the baseball writers? Michael Silverman of the Boston Herald is one of those writers, and he's not impressed with the "twisted logic" apparently used by other voters.
• Now for something completely different -- an Associated Press story found in the Toronto Star about a 15-year-old, 7-foot-2 basketball player who happens to be from India but is practicing in Florida right now. This story really gets around.
• NFL? We've got some NFL. How about John Elway criticizing Tim Tebow? Gasp. Oh, Elway thinks he's a great person, solid leader and tremendous competitor -- but is he, you know, a pro passer like Elway was? Break up into small study groups and debate.
• Finally, how do you feel about Tiger Woods? How does EA Sports really feel after announcing that he won't be seen on the cover of "Tiger Woods PGA Tour 12: The Masters" on Xbox 360, PlayStation 3 and Wii when it is released March 29? John Gaudiosi of Reuters reports that the company swears it loves Tiger as much as ever, but putting that iconic Augusta National flag on the cover makes more sense than the image of a golfer who went winless last year. Nah, they didn't put it exactly that way, but it is true.
And that's it for the Brunch. Enjoy while you wonder whether the Seahawks could really get to the Super Bowl.