Commentary
Fray, Madden, T.O. get parties started
Updated:
February 4, 2011, 1:31 PM ET
By
Laura Lane, Carrie Stewart
and
Kareem White
| Page 2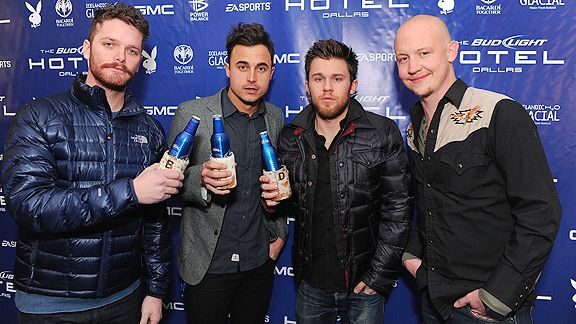 Jordan Strauss/Getty Images for Bud LightBen Wysocki, Joe King, David Welsh and Isaac Slade of The Fray attend the Bud Light Hotel party.
DALLAS -- Howdy, cowboys and cowgirls! Welcome to Dallas, which could easily be mistaken for Aspen, Colo. It's snowing, temperatures are in the low 20s and our cabbie from the airport told us party tents were collapsing from ice on their roofs. Although flight cancellations seem to signal Friday night will be the real kickoff to the Super Bowl parties (at least the wildest and most celebrity-filled ones), Wednesday and Thursday parties rallied on.
"The Situation" is once again on more than one guest list this year, but we're out of Miami and no longer rating parties based on our adoration of the "Jersey Shore." This year we've brought our cowboy boots, lasso and we're ready to giddy up. We're rating Super Bowl parties by the horseshoe and wondering: What would a cowboy think of this?
Worth noting: There is more than one party being held on an actual Texas ranch. There is Dallas' own star, Tony Romo, pretending it's fraternity rush week and reveling in the Super Bowl party scene, rather than lamenting it. And the gift lounges are back, meaning the recession must really, really be over!
We've got three party hoppers keeping tabs on this rodeo. We'll once again rate the No. 1 party of the week on Sunday and our city slickers are delivering a daily behind-the-scenes look at the Super Bowl party circuit in Dallas, so keep checking back. Party on, ya'll!
The Bud Light Hotel Super Bowl Kick-off Party
Why that title? The Bud Light Hotel is throwing parties for four nights straight. This is the kickoff. Pretty self-explanatory.
Where and when: The Aloft Dallas Downtown. It's been transformed into the Bud Light Hotel for Super Bowl weekend. Literally transformed. Maid came in to the hotel rooms and changed the phone to say Bud Light. The pillows? Bud Light. The soaps in the shower? Bud Light. Let's just hope that doesn't mean I'll be bathing in beer. … Or maybe I do.
Performers: The Fray and Lifehouse. They were practicing hours before, so hotel guests were able to get a pre-concert before the concert.
Celebrities we saw: Guessing celebs were just held up at the airport or possibly they were across town at the EA party (30 minutes across town, not suitable for party hopping). Either way, this was a more intimate party with the band and guests.
Celebrities who were confirmed, but we didn't spot: Do the performers count?
Overheard: Guys with VIP passes asking lady guests whether they wanted to meet The Fray.
Food factor: Quesadillas, beef brisket sliders, chicken fingers and, of course, lots of Bud Light. Yum.
Best party clothes: We saw our first genuine cowboy hat. It was black and had a rope around the brim and we truly felt like we were in Dallas. It was beautiful.
Worst party clothes: Just because a party passes out Bud Light buttons with flashing red lights on them, doesn't mean you are required to wear them. We appreciate the attempt for party flare, but this isn't "Office Space," it's a Super Bowl party. No flashing buttons please, guys.
What would a cowboy think? The Fray and Lifehouse really rocked the house, er, tent. But we felt a little bit like we were back in 2005, and we can't decide if that's a good thing. The Fray took the time for a fan meet and greet, but most young bucks were probably at the Verizon Theatre for the NFL Pepsi Super Bowl Fan Jam Concert with Duran Duran and Kid Rock. We would have been there too, but then we realized it was 25 minutes away and we got lazy. We reckon the Bud Light Hotel will be off the saddle Friday and Saturday, but Thursday's rodeo gets 5½ out of 10 horseshoes.
---
EA Sports Madden Bowl
Why that title? This was the 17th annual EA Sports Madden Bowl. In other words, it's not really Super Bowl week until this party goes down.
Where and when: The Glass Cactus nightclub at The Gaylord in Grapevine.
Performers: Big Boi and Cee Lo Green. Both performances were awesome!
[+] Enlarge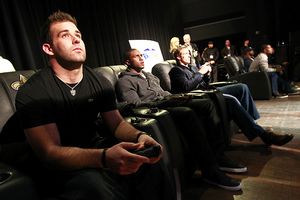 Tom Pennington/Getty ImagesChase Daniel, Reggie Bush and Drew Brees of the New Orleans Saints compete in the EA Sports Madden Bowl XVII in Dallas on Thursday night.
Celebrities we saw: From Michael Irvin to Michael Vick, this party was the place to be for NFL players, past and present. Reggie Bush, Chad Ochocinco, Larry Fitzgerald and Drew Brees were among those milling around the jam-packed VIP section.
Celebrities who were confirmed, but we didn't spot: Dallas Cowboys receiver Miles Austin and Indianapolis Colts defensive end Dwight Freeney.
Overheard: "OMG. Is that snow?" … Typically, not something heard at a Super Bowl. Midway through the night, a winter storm moved in and gusts of the white stuff billowed through the second level every time the veranda door was opened by guests in search of a cigarette break.
Food factor: Lots of barbecued meat on skewers. We realize everything is bigger in Texas but a chicken breast on a stick? That's not an appetizer. That's dinner.
Best party clothes: Boots with the fur. However, we're not sure if it was a fashion statement or simply a smart move … as all the women in stilettos would later concede as they departed the festivities to discover a winter wonderland awaiting them outside.
Worst party clothes: Ski pants. OK, we realize this weather warrants some creative dressing decisions, but unless you have to walk to parties, save the serious snow gear for the slopes.
What would a cowboy think? Any cattleman would have felt right at home moseying on into this more casual Super Bowl event full of denim-clad party-goers … until learning that the jeans worn to this shindig probably averaged around 200 buckaroos a pair. By the end of the night, the Steelers had emerged as the victors of EA's video game Super Bowl simulation -- which is noteworthy given that the Madden Bowl has predicted the Super Bowl champs in six of the past seven years. We'll give this party 8½ horseshoes … and we'll throw in an extra horseshoe if that bet we placed on Pittsburgh pans out.
---
Terrell Owens Grey Goose Super Bowl Party
Why that title: Grey Goose was the sponsor and T.O. was the host.
When and where: Thursday Night at the Grey Goose Lounge in downtown Dallas.
Performers: None (except two women dressed like "interpretive dancers" on stage while the music was playing).
Celebrities we saw: Amy Smart (from "Varsity Blues" and "Road Trip"), David Annable (from the TV show "Brothers and Sisters") and the host, Terrell Owens.
Celebrities who were confirmed: Amy Smart, David Annable and Terrell Owens. Reggie Bush was supposed to be in attendance but was a late scratch.
[+] Enlarge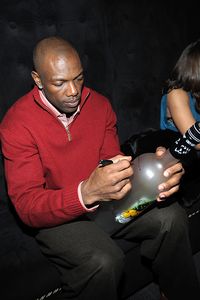 Charley Gallay/Getty ImagesTerrell Owens attends the Grey Goose Lounge Series party on Thursday night.
Overheard: Owens told reporters: "This party is just the appetizer for the weekend. You had better get your popcorn and your hot chocolate ready." Owens is having another party Friday night. Also David Annable talking to his friends about having an all-boys weekend while texting his wife.
Food factor: In the VIP section, the spread was nice. There was grilled chicken and beef brisket, along with pork. There were also assorted cheeses and fruits. Overall, the best items on the menu were the drinks. Grey Goose kept the libations flowing all night and even had four specialty drinks on deck. The drinks were called 81 (named for T.O.), Pittsburgh Rush, Green Bay Glory and Dallas linebacker, which seemed to be the favorite among customers.
Best party clothes: Owens hands down. T.O. wore a red cashmere quarter zip pullover sweater with matching red shoes. On the women's side, it was a young lady with a stunning silver dress that resembled rapper Nicki Minaj.
Worst party clothes: The H.A.M award (look it up on the urban dictionary) goes to a guy whose shirt looked like it was made of bird feathers. He also wore a pair of jeans that were at least two sizes too small.
What would a cowboy think? He'd say that dadgum weather almost ruined my night. We aren't used to snow in these parts which put a damper on the night overall. Although the turnout was less than expected because of the bad weather, it was still a nice party. Give it 5 horseshoes.
Laura Lane, Carrie Stewart and Kareem White will be covering parties throughout the weekend.