Commentary
Maxim, Diddy, Usher rock night away
Updated:
February 6, 2011, 11:59 AM ET
By
Laura Lane
and
Kareem White
| Page 2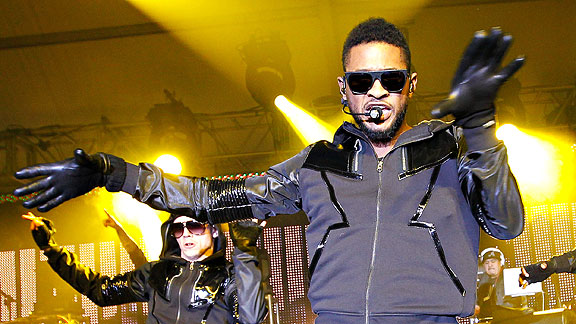 Christopher Polk/Getty ImagesSinger Usher performs at the DIRECTV and Mark Cuban's HDNet Super Bowl Party.
We had an awesome time in Dallas! We saw the best hoedowns and rodeos in town over Super Bowl weekend, but there's no doubt they saved the best for last. We've ranked more than a dozen rowdy celebrity- and athlete-filled parties, but there can only be one true winner that will ride home with all the horseshoes. And this year, it was Maxim. Check out our roundup below to find out why. Thanks for partying along with us and enjoy the game!
DirecTV Celebrity Beach Bowl
Why that title? It was DirecTV's fifth annual celebrity beach bowl over Super Bowl weekend, in which athletes and celebrities face off in a no-holds-barred flag football game in front a stadium full of spectators.
Where and when: Victory Park, Dallas.
Performers: Maroon Five performed after the bash to a stadium full of excited fans.
Celebrities we saw: Alex Rodriguez, Eli Manning, Jessica Lowndes, Matthew Morrison, Chace Crawford, Marisa Miller, Barry Sanders, Brie Larson, Guy Fieri, Joe Manganiello, Josh Duhamel, Chord Overstreet, Hayden Panettiere, Jessica Szohr, Matthew Bomer, Jerry Ferrara, Kevin Dillon, Marlon Wayans, Merril Hoge, Colt McCoy and Warren Moon.
Celebrities who were confirmed, but we didn't spot: The list was constantly evolving and while a few names dropped off in the last week like Kellan Lutz, almost all of the celebrities showed.
[+] Enlarge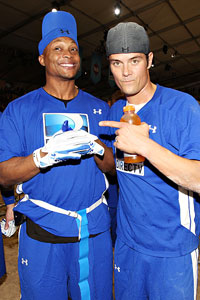 Christopher Polk/Getty ImagesFormer NFL player Eddie George and Josh Duhamel compete in DIRECTV's Fifth Annual Celebrity Beach Bowl.
Overheard: Hayden Panettiere telling a friend: "I wish this was tackle football. I just want to tackle somebody!" Josh Duhamel, who was in town to see his wife Fergie perform at the Super Bowl halftime show, was a bit nervous for the game and said: "I'm going to do a lot of warming up because there's a good chance I might pull something today." When asked about the halftime show, Duhamel noted: "I guess they're placing bets in Vegas about what she's going to be wearing. My cousin asked me yesterday about what she's going to be wearing. I said, 'Why?' He goes, 'Well they're posting bets out in Vegas.' I go, 'What, do you want to get me arrested? I can't tell you that!'"
Food factor: Where to begin? Pesto turkey panini, fresh all green salads, hot dogs, nachos with all the works, crab cake burgers, berry cobbler and a variety of other deserts.
Best party clothes: DirecTV decked everyone out in sleek blue and white uniforms but Panettiere went all out and was even sporting her football gloves when she was in the lounge. We love the commitment.
Worst party clothes: There as a model, who we think was Russian, wearing a royal blue floor-length sequin gown. That's like wearing a tuxedo to a baseball game.
What would a cowboy think? There was a line that wrapped around two blocks of people waiting to get inside the venue to see their favorite celebrities duke it out in the beach bowl. It had the ambiance of an All-Star game, Belmont Stakes and a family beach-side volleyball game. Eli Manning and Colt McCoy coached the group of celebrities while Alex Rodriguez and Glee's Matthew Morrison served as assistants. Why Morrison? Apparently playing a vocal coach on television gives you cred to play any coach in real life. That's just what the beach bowl is. It doesn't make a whole lot of sense and it doesn't take itself too seriously. It's a day time party with drinks, food and great music. The celebrities have fun and we enjoy watching them make fools of themselves. It's quickly become a staple event over Super Bowl weekend whether it's near the beaches of Miami or in the heart of Dallas. We give it 8½ stars.
---
Maxim State Fair Party
Why that title? The party was thrown by Maxim magazine but had an array of sponsors help out including Motorola XOOM, Patron tequila (although they disappointingly ran out of margarita mix), AOL, Armani Code, Jeep and Virgin gaming.
Where and when: Centennial Hall at Fair Park in Dallas. The place was across the street from the Diddy party and was the same area where the Black Eyed Peas and Sports Illustrated bash was the night before.
Performers: DJ Vice, Ross One, Ravi Drums with surprise performance by Jason Derulo and Wyclef Jean. The pinnacle of the night was when Wyclef asked the ladies to come to the stage, which meant a flood of eager females jumping up to show off their moves.
Celebrities we saw: A solid turnout that included Mark Sanchez, who showed up with an entourage of six; Terrell Owens, who mingled with Chris Brown; Chuck Liddell, who stayed until 2:30 a.m.; and Joe Jonas who had a private booth in the VIP area. Other celebrities included Dave Annable, Jessica Lowndes, Adrian Grenier, Cal Ripken Jr., Heather Morris, Jenna Ushkowitz, Kevin McHale, MC Hammer, Adrien Brody, Olivia Munn, Jesse Metcalfe, Melissa Rycroft and husband Tye Strickland, Chord Overstreet, Erin Andrews, Chad Ochocinco, Marcus Allen, Kevin Connolly, DJ Pauly D, Darrelle Revis, Jerry Bruckheimer, Tony Gonzalez, Michael Phelps, Mark Salling and Warren Moon.
[+] Enlarge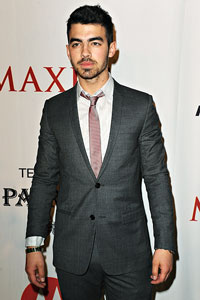 Gustavo Caballero/Getty ImagesMusician Joe Jonas attends the Maxim party at Centennial Hall at Fair Park.
Celebrities who were confirmed, but we didn't spot: The celebrity turnout was exceptional at Maxim. Although we didn't see The Situation, we're OK with that. Any of the celebrities that were on the tip sheet that didn't show were mostly minor players. All of the big ones turned out for the circus.
Overheard: There were so many celebrities at this party, many of them had a tough time getting to the front of the celebrity check-in if they didn't have an entourage or body guard to push them through. We saw Rycroft, who's nearly 9 months pregnant, and Strickland waiting patiently in the cold to get in the party. "It's totally OK," she sweetly said, once party throwers realized she was waiting. We also overheard Erin Andrews politely asking if fans had their cameras ready when she was swarmed at the check-in by eager guys asking for autographs and pictures.
Food factor: I might have missed the food at this bash but all I saw were drinks at the open bar. Despite having plenty of bottles of their sponsored Patron tequila, they ran out of margarita mix and chasers before the night was halfway through. It was the only downside to a nearly perfect party.
Best party clothes: I hate saying this, but I have to give it to Pauly D for looking a whole lot less Jersey Shore and taking a note out of the Ashton Kutcher style handbook. He had the plaid scarf around his neck, nice fitted jeans and a nice casual but dressy look. He still needs to work on the hair, but he's getting there and we're proud.
Worst party clothes: Suspenders should be used only in very rare occasions by the few people who can make them look fashionable. If you actually need them to hold up your pants, you need new pants. There was a girl on stage when Wyclef performed who had thick suspenders over her cropped white tank top holding up her loose jeans. We were worried the suspenders would not hold. We prefer suspenders to undergarments, but we'd rather not see either.
What would a cowboy think? The huge space had apparently been used for a rodeo in the past, but this had to be the best event that has ever been held on the grounds. Maxim went all out on this bash and did a fine job at it. The red carpet was spacious and once you were inside, there was plenty to do throughout the night. It was literally a carnival brought to life with a ferris wheel, skee-ball, balloon darts, go-carts and other theme park staples. They even had prizes for those talented gamers including speakers, headphones and cologne. The dance floor was the busiest I'd seen at any party over Super Bowl weekend and there wasn't a soul in the party not having a good time. The bar was large enough to not be crowded but constantly flowing. We love going home with prizes and we're a huge fan of great music and games. The celebrity turnout was stellar and stars were strolling around the party if they weren't dancing near their VIP table. If only the party had purchased enough mixers for the drinks, we'd be breaking the score by going over the maximum (no pun intended) horseshoe limit, but they'll have to settle on 10 horseshoes. Best party of the week by far.
---
Capital A Entertainment Presents P Diddy XXL Fantasy Super Bowl Party
Why that title? XXL sponsored the event (along with several others) and provided free magazines for guests.
Where and when: The party was located at the Tower Building at Fair Park near the Cotton Bowl.
Performers: P. Diddy did the honors. The man who once called himself Ciroc Obama performed for 45 minutes. DJ Irie and Clinton Sparks did an excellent job on the turntables. Irie kept the crowd going all night with a healthy dose of dirty south, reggaeton, techno, hip-hop and R&B, while Sparks spun later into the night. There were also table dancers as far as the eye could see.
Celebrities we saw: Almost all of the celebrities came in fashionably late. When I mean fashionably late, I mean to the tune of almost three hours late. We were the first to see P. Diddy when he arrived. He did me a solid by giving me a red carpet exclusive and discussed what he wants his fans to take away from his renowned parties. "Whether it's Super Bowl, NBA All-Star Game or a big money fight, I will always have a big party. We are known for our parties and I just want people to have a good time and make you dance." We also saw Hugh Jackman, Sanchez, Tommy Davidson, Liddell, The Situation, Cameron Diaz, Alex Rodriguez and Ryan Kwanten.
[+] Enlarge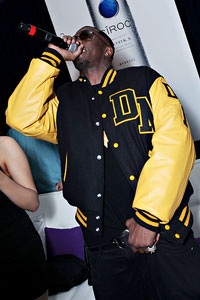 Tiffany Rose/Getty Images Rapper P. Diddy performs at Capital A Presents P. Diddy Super Bowl Party.
Celebrities who were confirmed, but we didn't spot: Ron Perlman, Tim Tebow, Ndamukong Suh, Ray Rice, Vince Young, Craig Robinson, Geoff Stults, Big Black and Adrien Brody.
Overheard: Two young ladies having a conversation about the overly aggressive guys at the party. Lady No. 1: "I might have to start wearing a fake baby bump to the club so these creepy old guys can stop hitting on me." Lady No. 2: "If it's not your property, then stay off of it!"
Food factor: The food was primarily appetizers with tropical fruit, mozzarella cheese with cherry tomatoes, and sliders as the third appetizer. Vodka was the drink of choice. Vodka and club soda was the most popular drink.
Best party clothes: Jackman was suited and booted with a classic navy suit and light-colored dress shirt. His look was simple but very effective.
Worst party clothes: The worst party clothes went to a guy who wore a Pittsburgh Steelers pullover sweater to the party. His attire would be OK for Sunday's game, but not at this particular Super Bowl party. I'm all for supporting your favorite team, but that was a little over the top.
What would a cowboy think? A cowboy would think that Diddy and the rest of the celebrities may have been on the last train to Paris (Texas) given how late everyone showed up. I guess everyone took the old cliché "better late than never" literally. Overall, the party was a success because there were tons of people, the music was some of the best all week, and Diddy performed at his own party. I give it a good 8½ horseshoes.
---
Leigh Steinberg's 25th Annual Super Bowl Party
Why that title?: It's super agent Leigh Steinberg 25th year of throwing a Super Bowl Party. The party was done courtesy of DSA Media Group along with Steinberg's Tweet race sponsored by Mercedes Benz. The winner's were from Team S (Pete Wentz team) and received two 2012 C-Class Mercedes Benz coupes as their prize.
Where and when: The party was located at Eddie Dean's Ranch in downtown Dallas on Saturday.
[+] Enlarge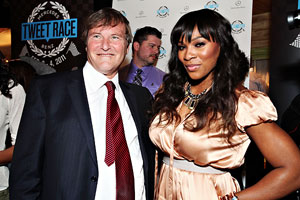 Christopher Blumenshine/Getty Images Leigh Steinberg and Serena Williams attend Mercedes-Benz Tweet Race Winner Announcement at Leigh Steinbergs 25th Annual Super Bowl Party.
Performers: During the day, there weren't any performers, but there was enough music blaring through the speakers to keep you entertained.
Celebrities we saw: Leigh Steinberg, Serena Williams, Nick Swisher, Rev Run, Pete Wentz, Julissa Bermudez and former NFL player Merton Hanks.
Celebrities who were confirmed, but we didn't spot: At night, former president George W. Bush, Ashton Kutcher, Demi Moore amongst many others.
Overheard: "I've got 1.4 (million followers on Twitter) because you know that's how I roll!" Nick Swisher on his Twitter followers.
Food factor: The food was enough to feed a small third-world country. There was food everywhere! There were fried chicken fingers, BBQ beef sandwiches, pigs in the blanket, appetizers, fruit as well as drinks. The food was very tasty and in mass quantities. After eating at Steinberg's party, a person could have easily passed on eating dinner.
Best party clothes: Serena Williams by a nose. Julissa Bermudez was a close second. Williams had a nice champagne colored dress with the ultimate accessory, a bedazzled walking boot that matched her phone. Bermudez had a nice overall outfit, topped off with a designer scarf around her neck.
Worst party clothes: The worst party clothes went to a guy who got suckered into buying (and wearing) a bootleg Green Bay Packers T-shirt that read "Green and Yellow, Green and Yellow."
What would a cowboy think?: Although his daytime party wasn't like one of his legendary parties of the past, the atmosphere was more family oriented. However Steinberg and Mercedes Benz raised money for several worthy causes during their event. Serena Williams was quoted as saying "I was happy to be a part of it [the Steinberg event] because it was for a good cause and it helps me builds schools in Africa." The event didn't have the overwhelming star power as some of his other previous events has, but Demi Moore, Ashton Kutcher and George W. Bush (amongst others) attend his party that night. After having the former leader of the free world show up to your event, you get some points in my book for that one. I gave it 7 horseshoes.
Here's a quick look at the previous nights: Friday and Thursday.
Laura Lane, Carrie Stewart, D'Arcy Maine and Kareem White covered parties throughout the weekend.