Commentary
ESPN the Weekend kicks off at Disney
Originally Published:
March 4, 2011
By
Lynn Hoppes
| Page 2
LAKE BUENA VISTA, Fla. -- "You're never too old for Disney."
That's Hall of Fame running back Tony Dorsett talking about ESPN the Weekend at Walt Disney World's Hollywood Studios.
He's here. So is Tim Tebow. Chad Ochocinco. Darrelle Revis. Julius Erving. LaDainian Tomlinson. Larry Fitzgerald. And so on and so on.
"It means so much to reach out to fans that we have generated over the years," said Dorsett, who has won a Heisman Trophy, a college football national championship and a Super Bowl. "It's also a great opportunity to see current and former players and talk about the game. And my kids, most importantly, are here to enjoy themselves."
Marquee stars from the NFL, MLB, NBA and NCAA, plus well-known ESPN on-air personalities, are here for the eighth annual weekend where fans have a one-of-a-kind opportunity see and hear many of their favorite athletes and ESPN personalities.
This year's lineup features more than 35 athletes and ESPN stars, including former University of Florida football coach and current ESPN college football analyst Urban Meyer, Green Bay Packers Donald Driver and Greg Jennings, New York Yankees pitcher Joba Chamberlain, and soccer legend Mia Hamm, among others.
[+] Enlarge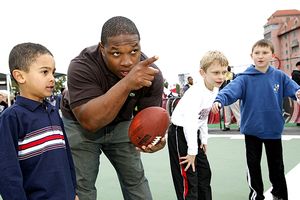 Jimmy DeFlippo/Disney/ Getty ImagesProfessoinal stars mingle with fans, like Jacksonville Jaguars running back Maurice Jones-Drew last year.
Mike Golic and Mike Greenberg, hosts of the "Mike & Mike in the Morning" show, return as co-hosts of the event. They will be joined by several fellow ESPN personalities, such as "The Herd" host Colin Cowherd, "Monday Night Football" analyst Ron Jaworski and MLB analyst Nomar Garciaparra.
For Dorsett, the weekend is always special.
"I don't miss the game of football at all. I guess I got it out of my system. But I do miss the camaraderie, the friendship," said Dorsett, who now does a lot of charity work. "That's why I like the 'Weekend.' Some of us guys are forgotten, but we come back together and celebrate our success again. It makes me feel good. The fans love to show their appreciation."
For ESPN talent, it's also a special weekend:
Trey Wingo: "It's always great to see so many people come out to watch the shows and meet the athletes at Disney. Plus, I don't know if you've heard, but historically it tends to be warmer in Florida in March than it is in Connecticut."
Mike Greenberg: "It's my -- and more importantly, my sports-loving kids' -- favorite three days of the year."
Karl Ravech: "ETW is a great opportunity to be in an awesome environment interacting with the most important people, our fans. Giving our fans access to players and those of us on the show they welcome into their homes every night is a unique experience exclusive to ESPN the Weekend. I love it!"
Jay Crawford: "ESPN the Weekend is the most fun a sports fan can have outside of going to an actual sporting event. For starters, it's at Disney, the happiest place on earth, then mix of all of the A-list sports celebrities and ESPN shows. It's literally a sports fan's paradise."
Howard Schwab: "It is a lot of fun to talk sports with the fans and interact with the athletes. It's casual and Disney does a great job making people feel welcome. I am looking forward to doing 'Stump' down there again."
Skip Bayless: "ESPN the Weekend annually provides my four favorite days of the year. When we're in our hermetically sealed studio, the hilarious jokes or brilliant insight you deliver are invariably met with resounding silence [in part because the line wasn't that funny or wise]. But with crowds of several thousand pushing up to our stage at Disney World, you're reminded that people actually watch us! You get to interact with them, hear what they love and don't love about the show and your opinions, and feel like you're not just ranting to sleepy camera operators in Bristol. On Saturday and Sunday, I get to respond to questions from the in-park audience and even debate some of the fans. It's our Super Bowl Week, a celebration of all that's great about ESPN. Oh, and the park and weather don't hurt, either."
Brian Kenny: "I think of my best times at ESPN the Weekend, and I think of my wife and children smiling and having fun. We've had such glorious times there, and are so excited to go again. My wife Nicole, since going to Disneyland as a child, has always loved the Disney parks. It's especially rewarding to be able to take her here again."
Dana Jacobson: "As one of the original ESPN the Weekend folks, I'll say the weather now is a huge bonus as compared to the first year … in July! I love that no matter how old you are, once you get on Disney property, the kid in you comes out. I love taking our show on the road, giving ESPN 'First Take' fans a chance to see how crazy the two hours really are. I love meeting our loyal fan base at ETW, though I'm a little freaked out by how much people know about us, how devoted they've become and how much they love Skip. ETW is one of my favorite weekends of the year. No better place to talk with athletes I cover regularly and truly get to know them. I mean how can you not be yourself at Disney?"
Sage Steele: "As a studio host, ESPN The Weekend is by far my favorite event. Why? Because it is one of the rare opportunities I get to speak face-to-face with the fans. It's amazing to meet people from across the country who watch and support ESPN every single day. And the feedback I have gotten from fans has also been tremendous. They love getting to see and sometimes meet their sports heroes up close and personal, and that is really fun for me to witness. They also get to see that we are normal people too. True sports fans with families who love Disney World, just like everyone else. It's truly an honor for me to be a part of this special weekend."