Commentary
The Kudzu League
When Indy League ball hits a Nowhere League town
Updated:
March 11, 2011, 10:39 AM ET
By
Chris Bachelder
| ESPN The Magazine
FOUNDED IN 1979 BY SOUTH CAROLINA SUPER-MARKET KING RONNIE LINKOUS, the Kudzu League was, during its brief existence, an eight-team independent professional baseball organization, which is to say its teams were not affiliated with Major League Baseball. Kudzu League teams played a short season, and their rosters were filled with a combination of young, undrafted players hoping to get noticed by a pro scout, lifelong minor leaguers extending their careers and aging former big leaguers who couldn't let go. Place the teams on the sun-kilned clay of dilapidated WPA ballparks, add folksy nicknames, cheap beer in souvenir cups and a national economic downturn, and what you get is small-town gold.
Eight southeastern towns, Perlis among them, opened their gates to Linkous' Trojan Horse, with league play beginning on Friday, May 18, 1979. I attended the opener in Lamb Park -- our Balers hosted the Fort Rouse Fireflies -- and I wore my glove. "If you lose that glove," my dad said, "you're not getting another one."
I'm sure I speak for boys throughout the Kudzu Belt when I say that I never believed I would witness professional baseball. Perlis didn't even have a mall. But that spring, we watched workers install the light stanchions at Lamb Park, and in early May we stood in the parking lot and watched the players arrive for practice. They were, to our mild disappointment, normal-looking men, short or old or fat, with meaty forearms and liver spots. Deep wrinkles radiated from the corners of their eyes as in a child's drawing of the sun. They had spent years of their lives in a batter's box, watching, waiting for a small, fast thing. One Saturday morning a man pulled his truck into the shady corner of the parking lot where we sat waiting to be noticed and given free stuff. He got out of the truck, and we could see he was tall and broad-shouldered. He spit expertly. My friend Michael Ballard rose to his feet and asked the man for his autograph. The man laughed. "Sure," he said, signing the scrap Michael offered. Then he opened the back of his truck and took out his stepladder, his brushes and three gallons of white paint for the locker rooms.
On opening night, I still expected to discover that our team was a hoax or an elaborate mirage conjured into shimmering view by the fervent wishes of boys. With my father, I passed through the tall, stone entrance, the mossy Works Progress columns in all their false grandeur. From his wallet my father removed two tickets (one of which -- halved, creased and bleached by the sun -- was taped to my bedroom wall for years). Blackbirds, accustomed to sanctuary, swirled through the outfield sky, squawking. My father bought me a hot dog that was a color I had never seen. The entire evening, in fact, seemed to exist in a new chromatic scheme. All around me the league was verified, and my eyes ached from my squinting stare.
---
WE WERE EARLY. The Balers were taking batting practice. Our guys, whoever they were and wherever we got them, could hit. This is an important thing to remember, or perhaps to realize: how really good those Kudzu players were. When the Balers took the outfield for running and stretching, we saw that many of them weren't wearing caps. We found out later that the team's hats had not yet arrived from the manufacturer in Raleigh. On the morning of Opening Day, the Balers' equipment manager drove to a sporting goods store in Roanoke and bought out their stock of plain, dark green caps, maybe a dozen, and the players shared those hats for the opening series. The green of the caps did not quite match the green of the uniforms.
Perlis won 6-4 on opening night. In the bottom of the second, as if to suggest that such thrills would be commonplace, Taylor Morse hit a two-run, stand-up, inside-the-park home run. The ball caromed weirdly off the high stone wall in right field, then rolled into the Balers' bullpen. Startled relievers grabbed their folding chairs and scattered as if the ball were set to detonate. By the time I turned my head back to the infield, Morse was nearly to third. He was laboriously fast, cheeks puffing with air, elbows swinging laterally, batting helmet long lost. The bards of sport often extol the ease and elegance of profound athleticism, but here was something real -- an ungainly and vaguely humiliating spectacle of effort. When Morse crossed home plate, William, the mentally retarded son of the town florist, struck a cowbell with a soup ladle. The cowbell would become William's calling, his gift to the community, until the Kudzu League went bankrupt in July 1982, and the trucks took the Balers away.
---
AT 7:30, IN THE TOP OF THE THIRD, the new lights came on -- almost all of them worked -- and we cheered, abetting the glow. Our bugs swarmed the lights, and soon our bats swooped and wavered through the dusk above us. The Balers won eight of their first 10 and stayed in first place until the second week of August. Then, they lost 13 of their last 15 and finished in third place in the league. We all kept coming to the park, even during the August slide.
One night in late June, a Betford player (Ramon Estival, SS, solid glove, weak bat) took a defensive swing at a two-strike slider and fouled a looping line drive into the stands down the third baseline. I leaned into the aisle and snatched it backhanded with my glove, eliciting raucous cheers from the fans. Michael and I took turns holding the dirty ball, turning it like students of geography. My father nodded, but seemed aggrieved that the universe should so encourage me. When the inning ended, I was approached by the Balers' equipment manager -- the same old man, I suppose, who had been sent to Roanoke for the hats. He leaned into my row, reaching out his hand for the ball. I handed it to him, and he inspected its scuffs and smudges like a home plate umpire, and then he put it in a gray canvas bag. In exchange, he gave me a damp green wristband that had been worn, allegedly, by Balers second baseman Joey Alfano (whom I disliked because he didn't run out ground balls). Some people in my section booed the old man. "Hey, sorry," he told me. "We need every one."
Chris Bachelder is a former sportswriter and copy-desk editor for The Roanoke Times and the Greensboro News & Record. He is the author of the novels Bear v. Shark, U.S.! and Abbott Awaits. He teaches at the University of Massachusetts, Amherst, where he lives with his wife and two daughters.
ESPN The Magazine: March 7, 2011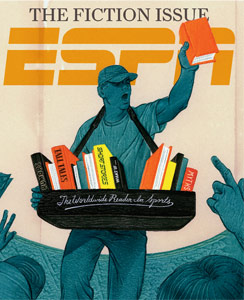 Check out ESPN The Magazine's March 7, 2011 issue below.
Fiction
Features