Commentary
NFL labor pains remind me of 1982
Updated:
March 13, 2011, 5:09 PM ET
By
Jerry Greene
| Special to Page 2
Reality check.
Now that a work stoppage -- call it a strike, call it a lockout, what does it really matter to the rest of us? -- has switched the NFL train onto a track that goes nowhere, we begin to realize what it means.
Especially what it means to the "players," who are not actually players right now. What they are is out of work.
Reminds me of the 1982 NFL work stoppage that lasted 57 days, reducing the 16-game schedule to a nine-game schedule. Are we ready for that, gang? Are the players ready for that?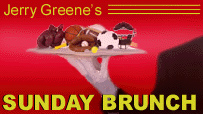 Back then I was covering the Tampa Bay Buccaneers and was actually present when the players held a team meeting on the first day of the lockout so that their leaders could explain exactly what was going on to everyone in the room. That detailed explanation took nearly an hour before it was asked if anyone had a question that had not been answered.
Defensive end Booker Reese raised his hand.
"Yes, Booker? What's your question?"
"Well, if the owners have locked us out of One Buc Place, where do we go to pick up our paychecks?"
Everyone else was dismissed, while Booker was asked to stay for some extra tutoring.
The NFL then and now is comprised of all types of men. Some understand what this means better than others.
I'm just sayin'.
And now for a few more notes of the week's activities before we move on to the Brunch's main courses, prepared by many of our greatest sports writing chefs.
• Tweet of the Week from racer Danica Patrick: "I just got referenced by HLN news as a athlete with desirable DNA. I'm flattered. Thanks mom and dad."
• It was a spectator at the Nets' Prudential Center who threw a beer on Stuff, the Orlando Magic mascot, but it was Stuff who got ejected from the building. "Tell me about it," said Dwight Howard.
• The three blind refs that blew the late calls in the St. John's controversial victory over Rutgers "voluntarily withdrew" from working again in the Big East tournament. At least they were consistent. They left the tournament early just as they left that game a few seconds before it ended, too.
• Possible new fall series for HBO: "Judge Doty -- The Robbed Avenger."
• The WBNA announced it is celebrating its 15th season by selecting the top 15 players and 15 greatest moments in league history. -- Must. Not. Be. Rude.
• NASCAR's Sprint Cup took this week off. Too much competition from the NFL labor talks?
• Talk about an accommodating PGA Tour. After pairing Tiger Woods and Phil Mickelson together for three days, both are starting so early Sunday that you can walk with them and practically still be home for lunch.
Now let's get to the main courses, provided by the best of the best.
• We open with a "running off at the typewriter" notes column by Mike Bianchi of the Orlando Sentinel, who finds room to take shots at David Stern, Jim Tressel, Auburn, the Arena Football League, the Miami Heat, Big East refs, Stern again and Tiger Woods. That's a lot of shots.
• Now that we are officially without NFL football at least for the immediate future (although the draft goes on, which really makes no sense) wide receiver Hines Ward tells Ed Bouchette of the Pittsburgh Post-Gazette that he has a suggestion for Steeler Nation. Support him on "Dancing With The Stars." If nothing else, it's a lot cheaper to watch.
• Of course we could have an NFL season. And Justin Rogers of MLive.com reports that Lions star defender Ndamukong Suh sees no reason his team cannot go 16-0 in 2011. We assume Mr. Suh is really into fantasy football.
• With some extra time on our hands, let's talk about hockey. Jeff Z. Klein of the New York Times wonders if violence is part of the essence of hockey and, if so, is it a sport that is simply too dangerous to play?
• We close with Greg Cote of the Miami Herald taking a long look at Tiger Woods and seeing a lot of similarities to LeBron James and the Miami Meek, uh, Heat. Do you agree and can you cheer for either Tiger or LeBron ever again?
Something to think about as the Brunch ends and you make it the best week you can have.