Commentary
Ochocinco has work to do in tryout
Originally Published:
March 23, 2011
By
Rustin Dodd
| Special to Page 2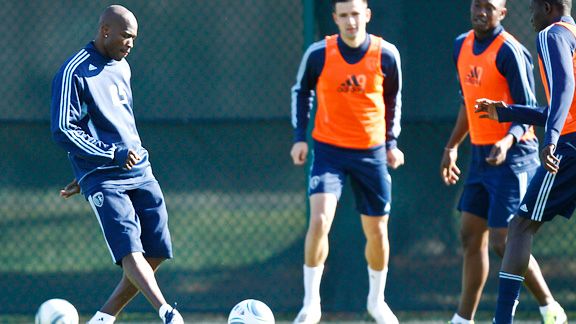 AP Photo/Ed ZurgaCincinnati Bengals wide receiver Chad Ochocinco practices with Sporting Kansas City on Wednesday.
KANSAS CITY, Mo. -- In the final minutes of his first day, Chad Ochocinco dipped into a crouch and waited for the chilly morning air to refill his burning lungs.
He was surrounded by professionals -- soccer players from Brazil and Denmark and Guadeloupe -- and the first scrimmage of his would-be soccer career was nearly complete.
It was a few minutes past 11 a.m. on Wednesday, and as Ochocinco emerged from his fetal position, Sporting Kansas City's morning training session continued.
More than 100 yards away, past the white lines of the field and past the chain-linked fence with the green windscreen, a man named Matt Flaharty looked past his obstructed view and focused in on his favorite wide receiver.
Flaharty wore a Cincinnati Bengals jersey with the No. 85 on the back. He had shown up hours earlier, waiting on the outskirts of Sporting Kansas City's expansive practice facility in the south part of town, straining to catch a glimpse of Ochocinco.
Flaharty, a Bengals fan in enemy territory, had the same curious feelings as everyone else.
Was this four-day trial with MLS's Sporting KC for real? Was it a publicity stunt? A way to stay busy during the NFL lockout -- a work stoppage that could go on all summer? And, of course, the obvious: Can Ochocinco, a Pro Bowl wide receiver -- an NFL player who hasn't played competitive soccer in more than 15 years -- compete with seasoned pros?
"I think he has a few jitters," Flaharty said. "A few more days, he'll get his feet underneath him."
When the training session was finally over, Ochocinco emerged slowly from the building adjacent to the practice field. His Sporting KC practice jersey -- custom-made with an 85 on the front, of course -- had been replaced with an indigo sweat suit.
As the wind whipped around him, he took a seat and began to talk softly about his first day of training.
"I ate the humble pie," Ochocinco said.
He had begun the day with some one-on-one instruction with assistant coach Zoran Savic.
After a few minutes, he was joined by Sporting KC's Kevin Ellis, a homegrown player who had grown up just a handful of miles from this practice field. He worked on crosses and shots -- blasting a majority of his chances over the crossbar -- and fought through offseason fatigue.
"To play this game," Ochocinco said, "there's an art to it. There's a skill to it, and that skill takes a long time to perfect and master."
Ochocinco talked about the years he'd been away from the game, about how soccer had always been his true love and about the day following his 10th-grade soccer season, when his grandma sat him down and told him it was time to focus on football -- a sport in which he could make something of himself.
"It was her choice for me not to play soccer," he said.
Ochocinco said he'd consulted with friends David Beckham and Thierry Henry before arriving for his trial.
"They say over time, [the skills] come back," he said.
So for now, Ochocinco will be back on the field on Thursday. His trial runs through Saturday. And then …
"If we like what we see," Sporting KC coach Peter Vermes said, "we'll continue to keep him around."
Off in the distance, Flaharty waited in a crowd of fans, his Bengals jersey still draped on his back.
"I think he can make the team," Flaharty said.
Ochocinco, standing outside as the morning chill persisted, smiled and gave a more honest summation of his chances.
"The only thing I'm probably good at," he said, "is being fast as hell."